One of the very best things about the summer and early autumn months around here, to us, are the Farmers Markets that are held in town, down near the waterfront, twice a week!
 With local growers who set up their stands, selling their abundance of  farm fresh fruits and vegetables, and crafters with their beautiful and unique goods not often seen in stores, it's the perfect place to be on a Saturday morning.  With a camera in one hand, and the hand of your husband in your other hand, who has a wallet in his back pocket, that hold's a little cash-you can't help but love every second.  The kids love going just as much, not only to walk around, but to express their hopes that we might pick up some of their favorite things.  It also brings me joy, to buy healthy and delicious foods, that our kids are really looking forward to eating!  We are blessed in that they truly love fruits and vegetables of all kinds.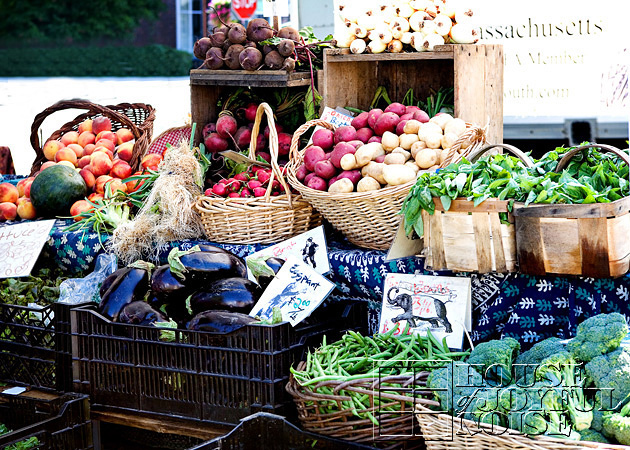 The colors, the scents of 'just-picked', and the endless possibilities of some grand planned meals for the week!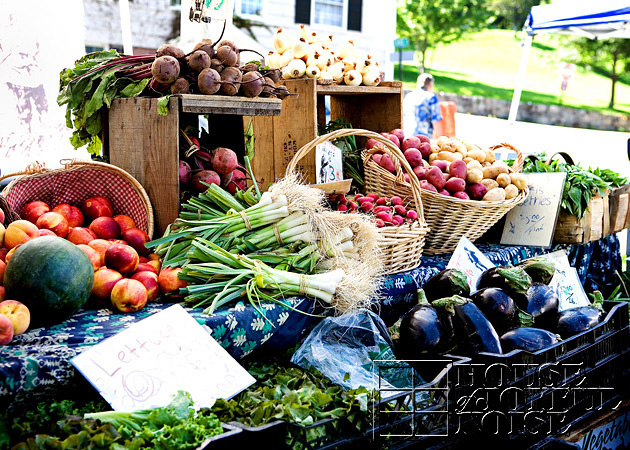 We long for these seasons the rest of the year, when we are faced with less than appetizing choices of produce at our local grocers, that are not as colorful, not as tasty, and certainly not as fresh.   The Farmers Markets always inspire me to cook some really great meals for my family, with all fresh ingredients–or to just kick back barefoot on the deck with them, and have some great big slices of watermelon that afternoon!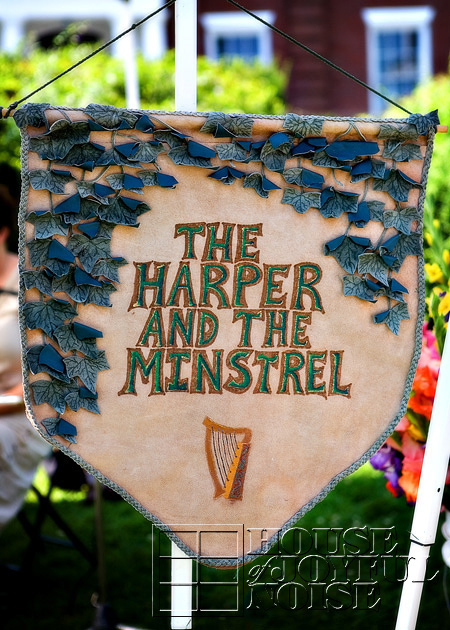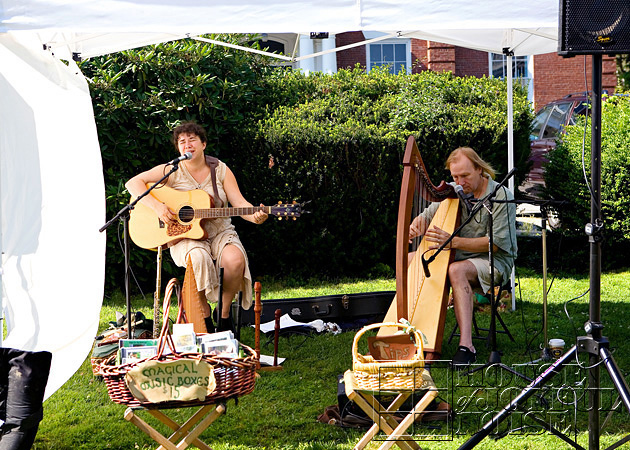 On the way down the walkway towards the market, as we walked from the van, the sweetest music on the air grew louder.  Stepping onto the court green where the market is held, I was expecting recorded music being played.  But it was actually this performing duo, called The Harper and the Minstrel. The style of music is not what I normally listen to, but I really did enjoy it while walking around the market!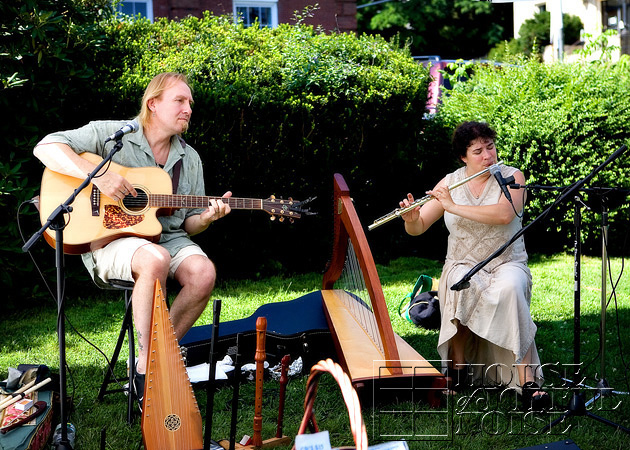 They are both obviously very musically gifted, playing multiple instruments.   You can hear some sample of their music here. They seem to have several cd's out as well, that are available at the links above.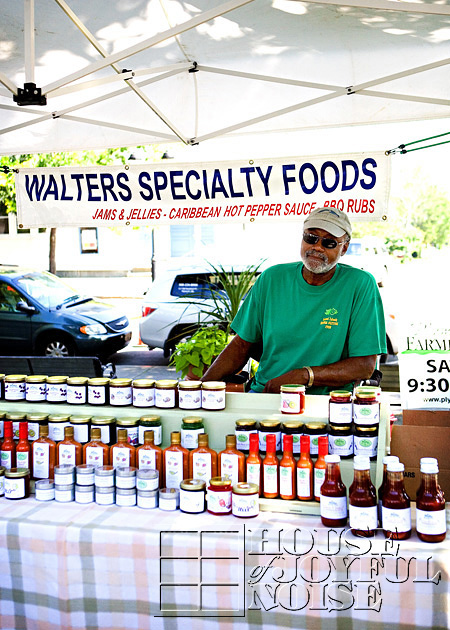 Walter's Specialty Foods is one of our favorite stands!  Selling all kinds of hot pepper sauces, BBQ sauces, rubs, jams, jellies and more, we want to buy and try it all!! This guy is always behind his stand, with a quiet and welcoming smile that pulls you over there to his stand, as much as what he's selling does!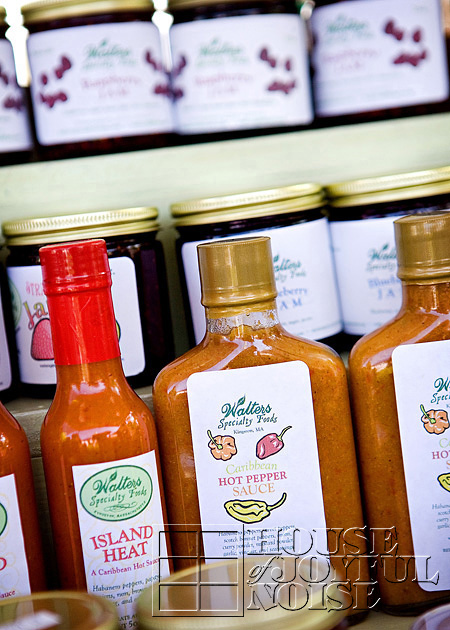 Mr. Philemon Walters makes all of his goods himself, and is always helpful in suggesting various ways to prepare meat using his rubs and sauces, or different ways to enjoy his jellies and jams, if you just ask.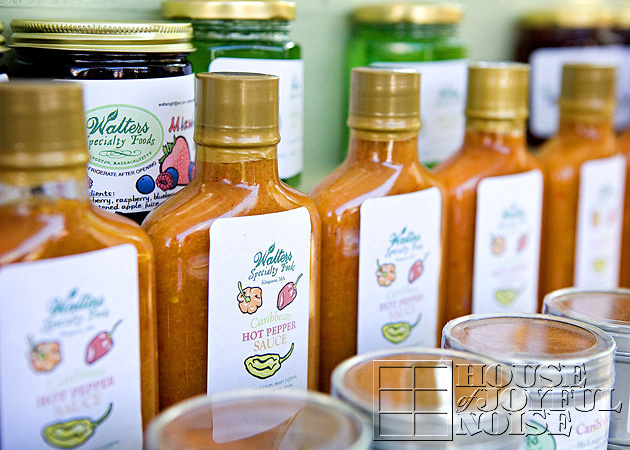 We bought 3 items from him, even though we wanted one of everything else too.  But we know where to find him, about twice a week.  ; )   Plus, he lives and makes his products in the town right next to ours, so we can always get more of his good stuff.  Visit Walter's Specialty Foods web site to get a better look at what other goods he is selling here.   We'll be sharing which of his specialties we picked up from him, coming up in a great cooking post in Vittles very soon.  We can tell you, the items we bought at this stand had most everything to do with the perfect summer evening dinner we just had—and I took photos.  ;  )   It was all-SO-good!
I have to admit…going  to the Farmers Markets, to take photos, is half the excitement for me. But to leave there also, with a bag or 2 of fresh locally grown goods, or creations by a local, and purchased at such reasonable prices…..well, lets just say I'm a happy camper.   Of course, with our own gardens going this year, we don't need to pick up as much in the way of vegetables.  But the fresh corn alone is worth the trip!  Boy do we love fresh local corn in the summer. There's nothing like it!  But if they didn't have corn, I'd still go to take photos.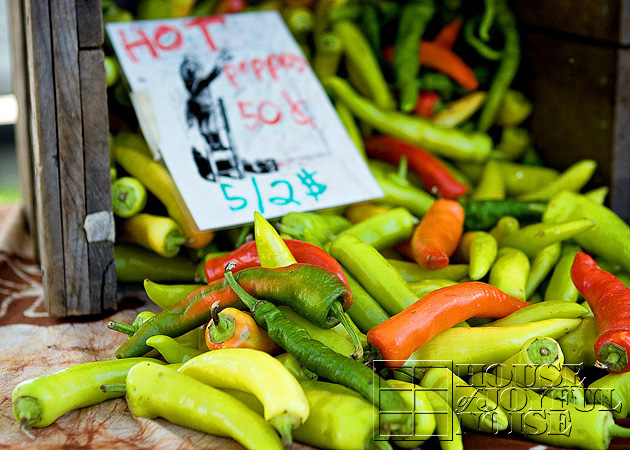 Who might this lad be?  Living in Plymouth, we see frontier people like this often enough that we hardly look twice.  We don't stare, with a puzzled expression, like that little boy in the background there in the blue short. lol.   I think he's so cute, and chuckled when I noticed him in my photo.  I guess he's not used to seeing this yet.
There was a crafter there today with some very interesting furniture pieces made of sticks, limbs and large pieces of rough wood.  Very 'unfinished' and rustic….which I love.  I spotted this little chair right away, and knew it would be great for some of my child portrait work!  I'm hoping I'll be able to get it, or something like it, at some point soon.  But today wasn't the day.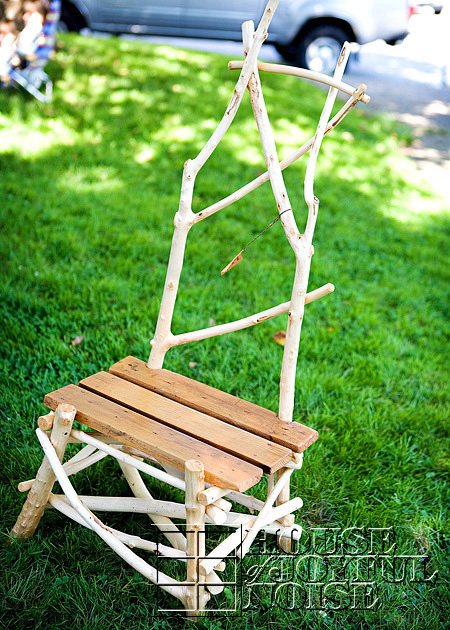 I grabbed a card, and it turns out they have a simple web site called Rustica,  that shows some of this woman's other creative wood pieces.  The artist's name is Susan Grose Rioff, and she donates all of her proceeds made from her furniture sales to help the Boston Minstrel Company, which sings in Boston area homeless shelters and prisons.  That's obviously another wonderful passion of hers.
I saw a piece on the site that would make a lovely gardener's table near my gardens!  There was also these pieces below at the market that I thought were really nice too: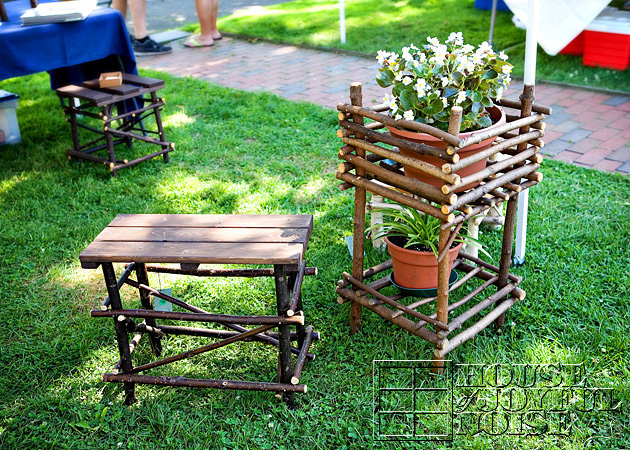 The Farmers Markets are just a happy place to be.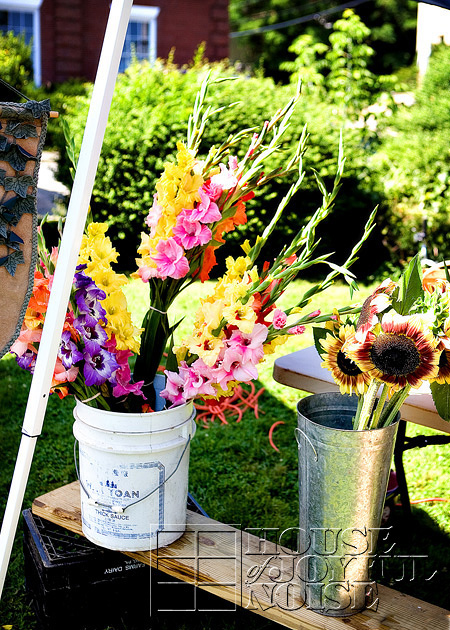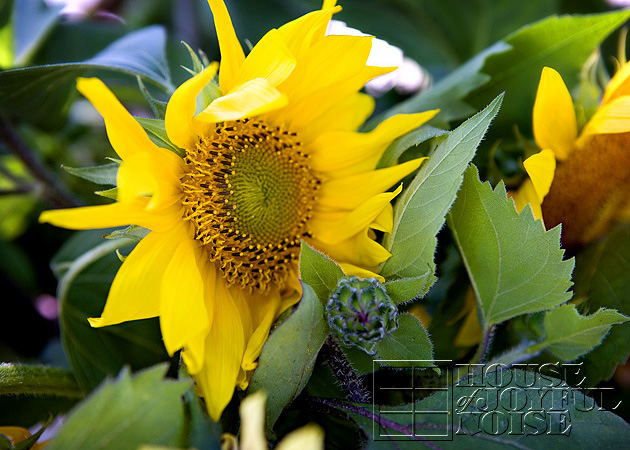 These photos are dedicated to my good fellow-photographer friend, Gina, who was as excited to see my photos, that I took at The Farmers Market this morning, as I was to take them!  May they inspire her to lug around her camera, a little more often. : )
Save
Save