As promised, today I am sharing with you our spring mantels decor for March, the month of St. Patrick's Day, and the beginning of the spring season. (Calendar-wise anyway. God-willing the weather will reflect the same.)
The decor for these mantels is super minimal and simple. It also features artwork I recently did, 4-Leaf Clover Art, which I blogged about most recently. Visit the link to see more about the inspiration for the piece. But right now in this post, here are some photos to take a closer look at our mantels this month.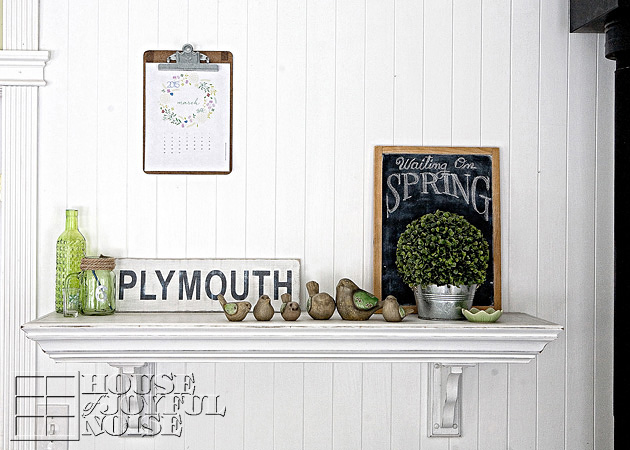 Mantel One.
–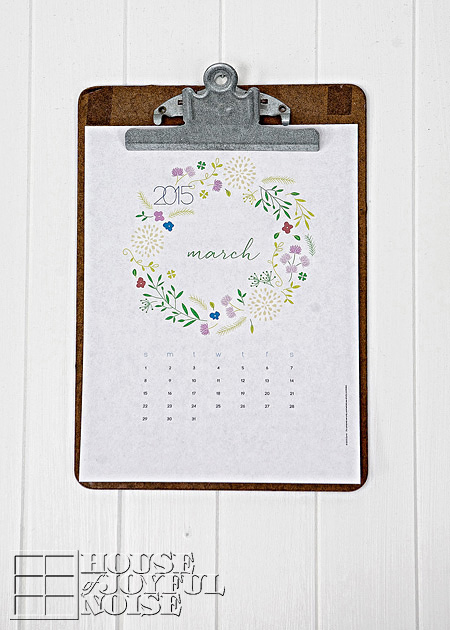 I thought it would be fun to hang a clipboard with something related to March, and quickly found this simple but sweet calendar page, and printed it off.
I liked this idea, and think it will come handy in the future, for many months, themes and holidays.
–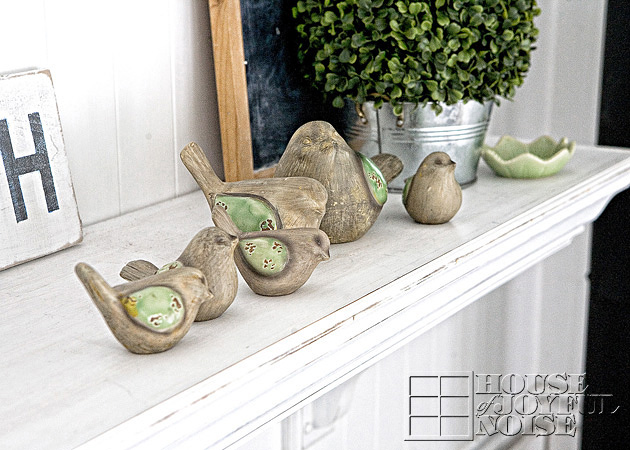 I saw these birds at the store recently, in various sizes, and fell in love with them. As usual with these sorts of things, I was compelled to recreate our own family. So here we have our family of 6. It's my favorite part of our mantels decor this month!
–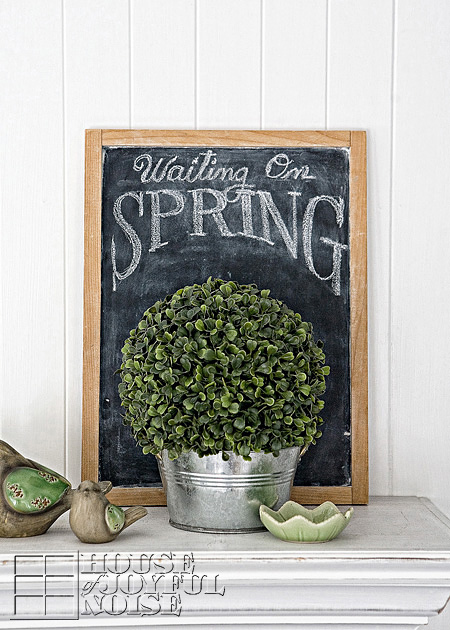 I love the look of this faux tub-potted plant, in front of the vertical chalkboard. Michael is the chalkboard artist, more times than not, around here. He's just better at it. I tell him what I'd like, and he whips it out. Actually did this one and the one you'll see in the next photo, on his lunch break, while chewing!
–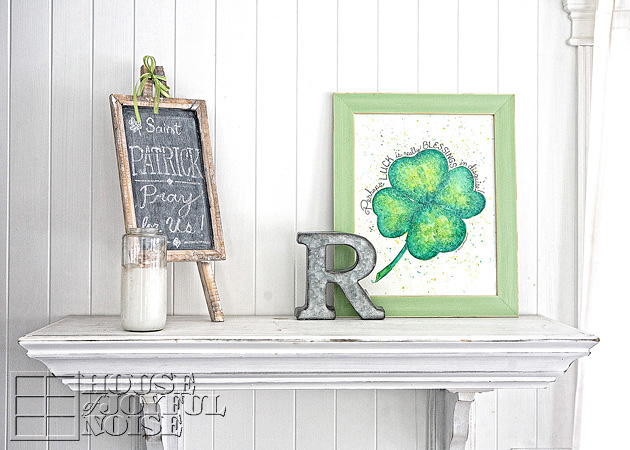 Mantel Two.
–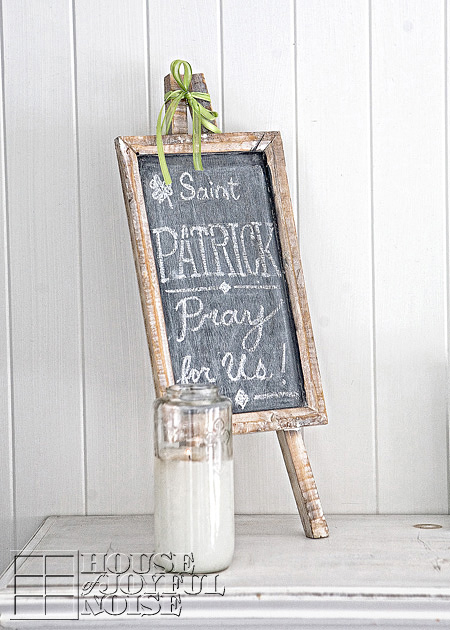 It's hard to ever leave this tripod chalkboard out. It's always so handy. The perpetual handle, discarded from our church, gave me the grand idea of asking St. Patrick to pray for us, this month!
–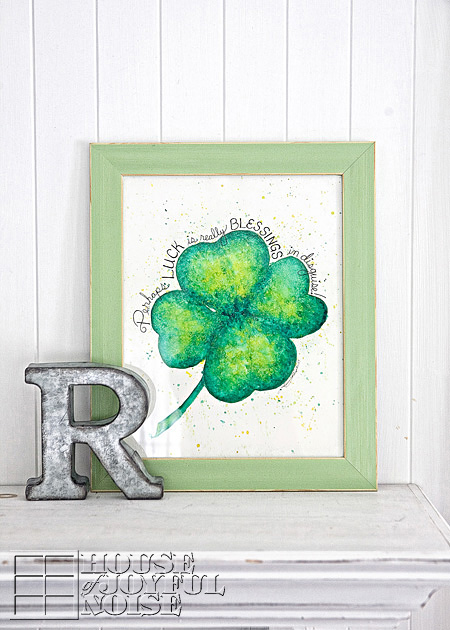 The metal welded R is new, also. It is our family's last name initial. I'm sure I'll incorporate it often, in future mantel-decor arrangements.
And there of course, is the painting I created just for our mantels this month. We aren't Irish in the least, so I knew it wasn't going to be easy finding pieces as decor, to feature on the mantels this month. But I did have some green paint!
I just needed to find a cheap and suitable frame for it, and I managed to do that from the Christmas Tree Shops.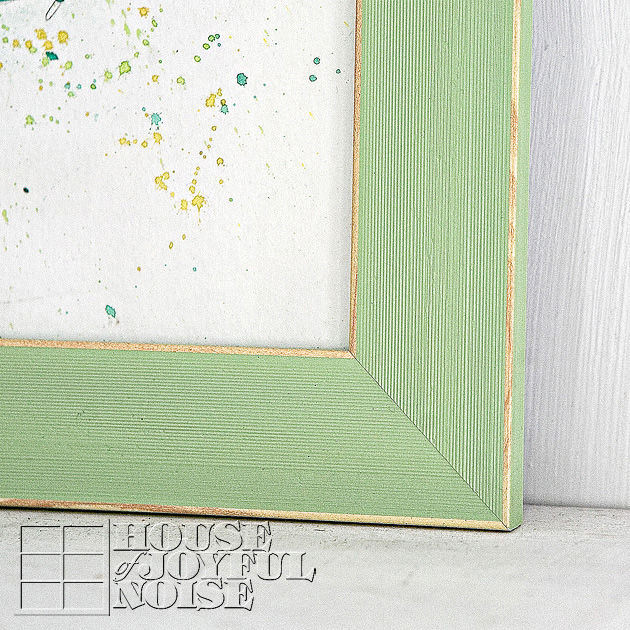 Here is a closer look at the finish. It works for me!
–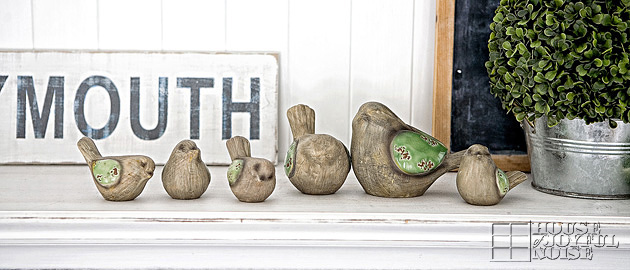 And there you have it. Very simple, makes for a very quick tour. I think come April, I'll just elaborate a little more, and transition the mantels slightly into the Easter/spring theme. Our family is so very excited for that season to arrive! Winter has been brutal this year, but that will make the arrival of spring, all the sweeter.
Thanks for visiting, and coming over to take a look at our current mantels decor. It was lovely to have you! Please come again soon.