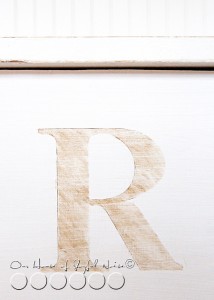 Our Doors to Storage home project, has been a bigger hit than we ever dreamed!  I've even run across it on Pinterest a few times now! CraZy-Ness!   Well, we knew there would be people who thought it was a pretty cool idea, out there somewhere. But we're glad so many have loved it, and what's more, have been inspired to make some benches and shelves, using old doors, in their home.  Sharing and inspiring is what 's all about, people! Love it!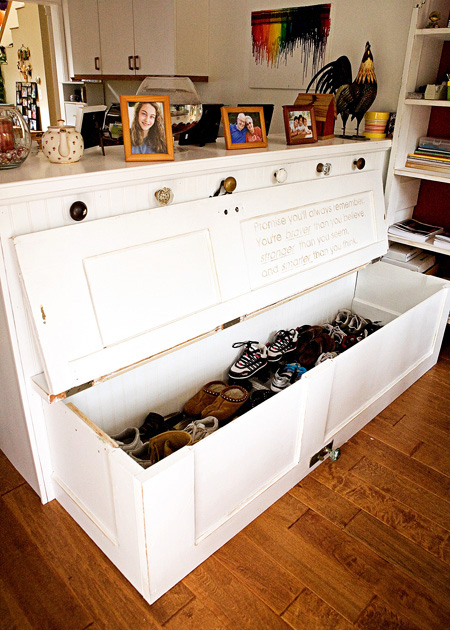 That project post was big enough as it was, so we told you were would share how we went about embellishing the bench with lettering in a future post, and this is it! : )   I apologize that it took a little while here.  The last quarter of the year gets a little busier with my photography business (in addition to our normal schooling & practice/game schedules and l i f e.)  It's a fine line between keeping the blog going, and getting fired by my clients. ; )    But you know I always come back around.  Thanks for sticking with us.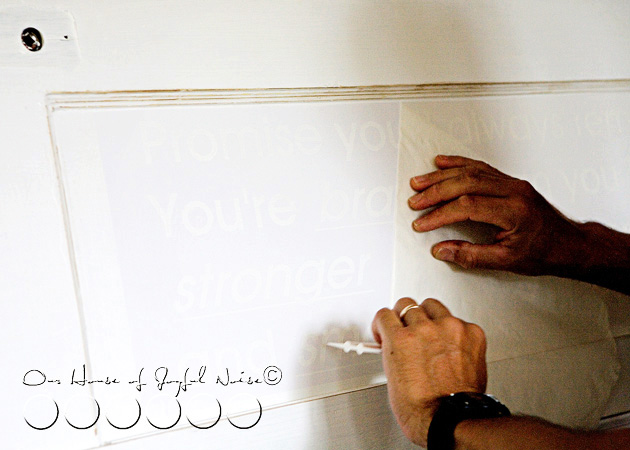 The first lettering was to be applied on the inside of the bench, to be seen when the bench seat was open.
To start, we laid out our lettering in a design program in the computer, and cut a mask out.  Michael has been a letterer (of large company trucks, signs, boats and windows) since we met (in art school.)  So he has a program of his own, and a huge plotter/cutter machine.  But I know many of you crafters  have similar little machines now. (Silhouettes, Cricuts, etc).   This can be done with that equipment as well.
After weeding the letters out of low-tack vinyl we used, and covering it with transfer tape, Michael peeled off the backing and applied the mask centered, onto the inside of bench panel.
I wanted the lettering itself, to be subtle-ish.  Under-stated, and worn-looking.  So rather than painting in the lettering, I had the idea to try using something in a whole new way…..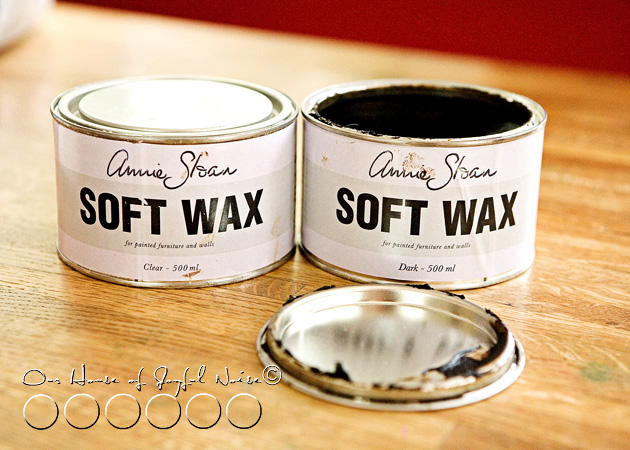 Annie Sloan Waxes. Both the Clear and Dark.
First, with a soft old t-shirt, we rubbed a thin layer of the clear wax all over the cut out letters of the mask, and really rubbing back off, all we could.  The reason we did this, is because we didn't want the dark wax to overly stain the white door, to a point that it came out too dark and unable to remove.  Applying and rubbing off the clear wax, would allow us to control how much of the dark we rubbed off.   Because again, we wanted it light and subtle lettering.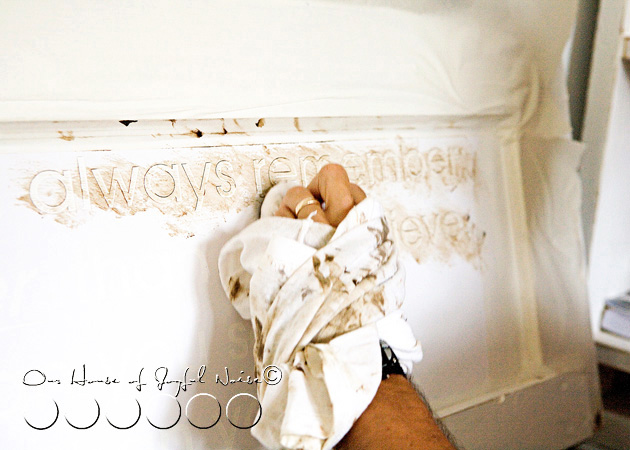 Then, we applied the dark wax.  But this time, as we applied it, we did so in one slanted direction, to try to (and try is the key word in this project, lol…) simulate light.  We really used very little dark wax, pretty much trying to wipe most of it back off. We also intentionally had darker and lighter areas of lettering.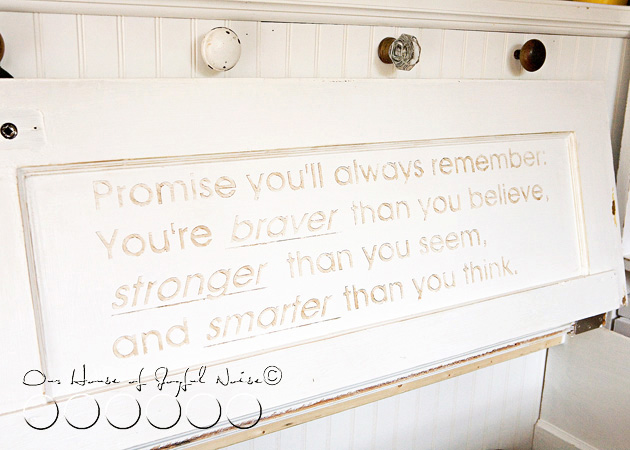 Then we carefully removed the masking, and this is how it came out!  So why the inside of the bench, you may be asking?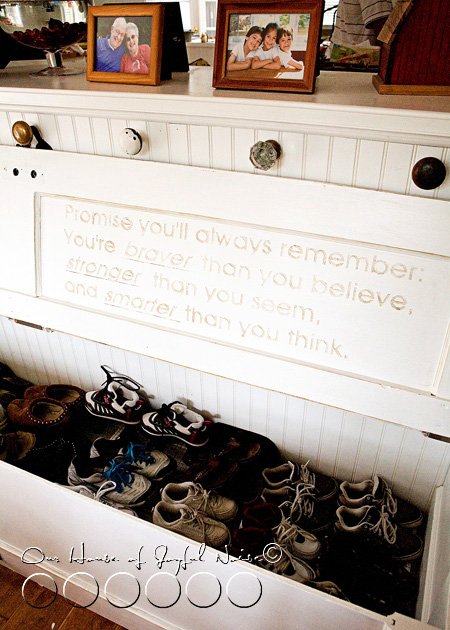 The quote is a message specifically for our kiddos. A subliminal message of sorts, for our kids to read and remember, every time they get their shoes. (And if they know what is good for them…..put them away too. ; )  Now who's quote is it?  Apparently, it's something Christopher Robin once said to Pooh Bear.  Now I'm all for quoting and giving credit to the authors of such wise words.  But, let's be honest here. Christopher Robin is not real, and neither is Pooh Bear. (I hope I didn't just ruin anyone's reality saying that out loud.  Yikes!).  The thing is, I just didn't want it to say "Christopher Robin" on my bench. You know?  I'm not hiding, that he said it first.  I'm admitting it right here and now.  I just didn't want to complicate the power of the message, with such….characters.  It is indeed wise words though, that I would like my children to remember. So I am borrowing them.
Thanks, Chris.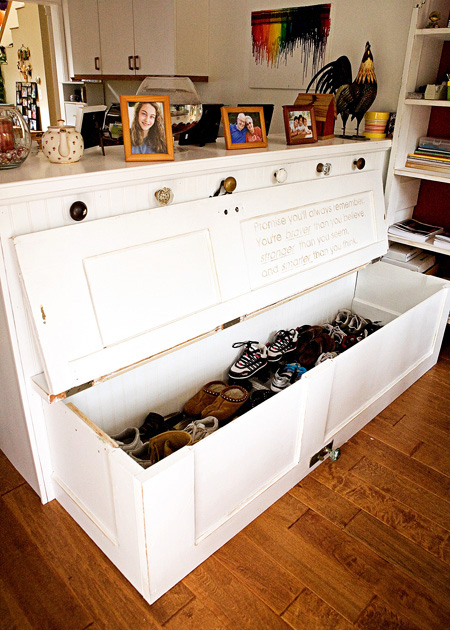 Of course, we wanted to have some lettering design on the outside, as well.  This time, we did so on the panels of the front of the bench.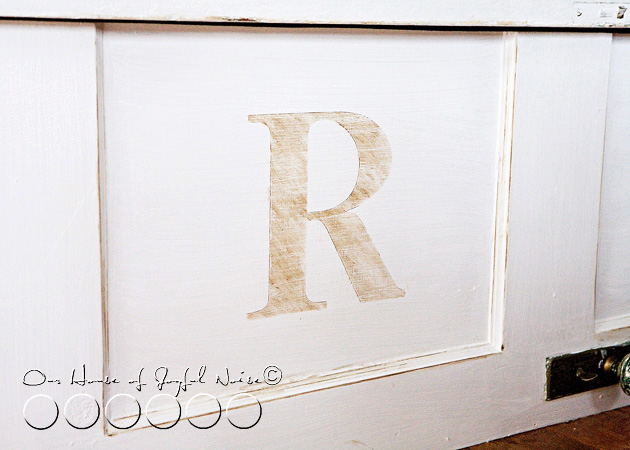 In the first smaller, more square-ish panel, we very simply monogrammed with our last name initial.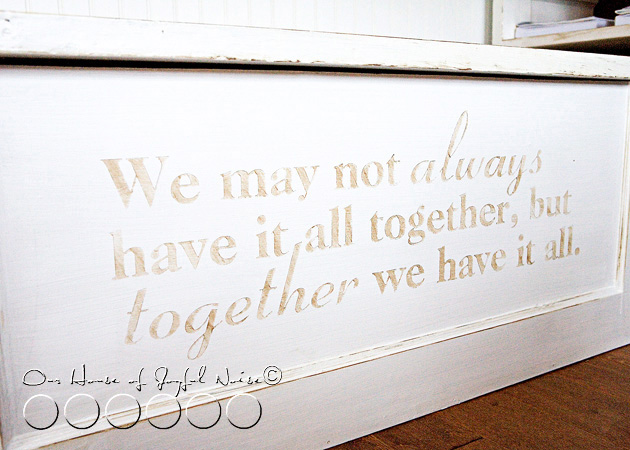 Continuing to use the same techniques, beginning to end, this is the saying we chose for the longer, more rectangular panel.   It was so hard, choosing which quote/saying, to use!  There were so many I wanted to.  But we had to keep in mind others coming into our home and reading what it said as well, (lol…), and we had to narrow the options down to one.    This was the one that won.
True 'Dat!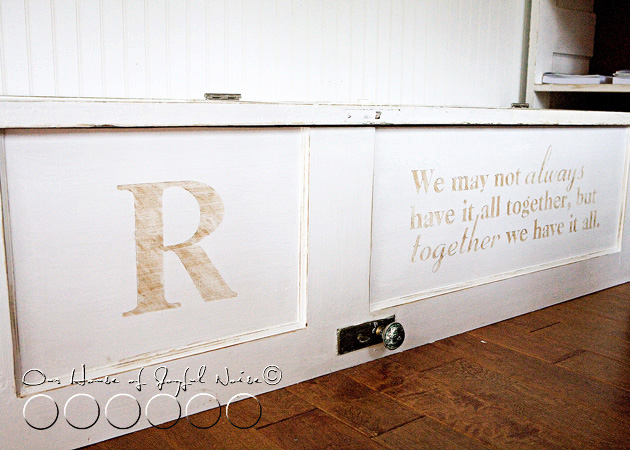 A look at the entire front, complete.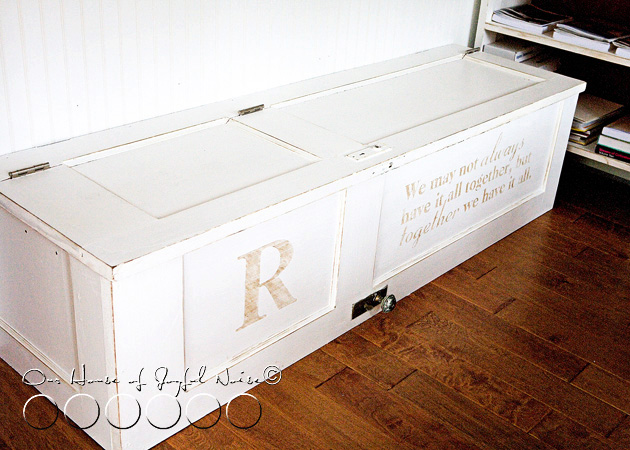 I like it, I like it!  You?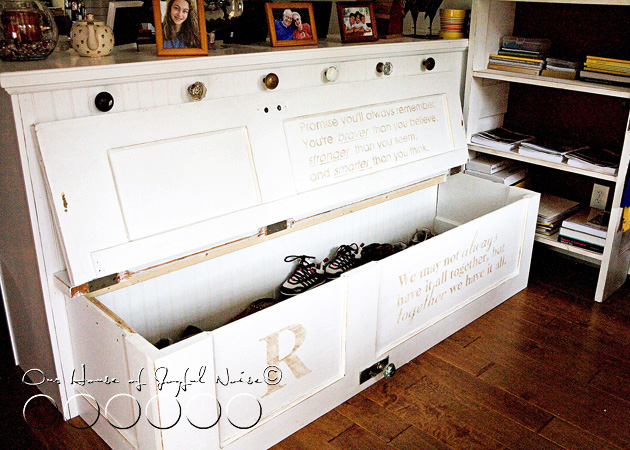 We've had our storage bench now for a couple of months, so we can officially say, it has worked out really really well!  It's been the perfect solution for us, actually, to keep our daily-used family shoe collection in (out of sight), and the shelving next it has been so efficient for our school supplies. The door-knobs have been handy and quick for the kid to hang up their outerwear, as well. Overall, it was not only a big, fun project, but we think it all adds another unique feature to our home, and the lettering just further personalizes it.
So, now that we've tested this new idea out, you can consider wax, as another medium option, for subtle lettering/designing some surfaces.  I think it really has a nice tea-stained look to it, on this project, that's appealing.
Have you ever used a medium, in a different manner, than it's actual purpose?  What was it, and how did it come out? Tell us about it! (And share a link, if you've got one!)

* * * * * *




Save
Save