We're sharing our current Autumn decor with you today!  We're so glad you're here. Come on in!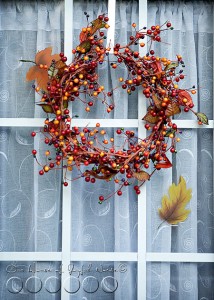 I've been taking a couple of photos here and there, of our homestead autumn decor, simply because it is FUN for me, and I know many of you love to see this kind of stuff.  So, I'm sharing, just as I did last year.  It's just a small collection of shots, and most all of the decor I've done is indoors.  Not much has been done with the outdoors at this point in time, although we did rip out all of the tomato plants and cosmos. It seems we still have some jalapeno and bell peppers growing though, so we've left those for the time being.  Marigold plants remain for now as well, adding some color to the near empty gardens now.  The strawberry beds need to be 'put to bed' before the first frost!  Which feels like it may be soon!  It's gotten pretty chilly around here. Especially at night!  We've even built a fire or 2 in our wood stove, and it's given us that nice cozy atmosphere we love through the cold season.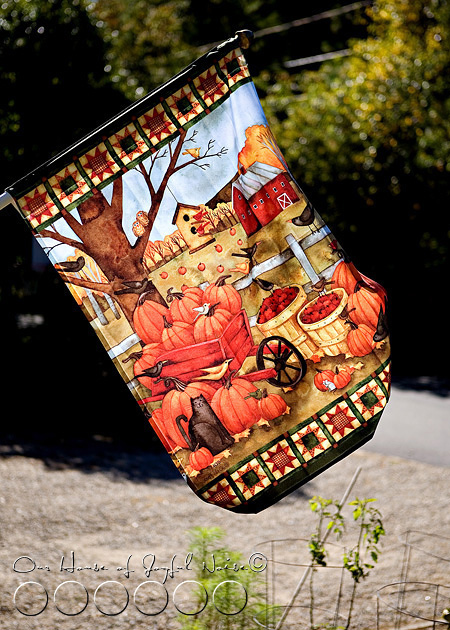 But one thing I do have outdoors,  is this new flag that I picked up for next to nothing.  It was one of maybe 50 designs, and apparently the last one.  It was the one and only I wanted. I made the staff of the store go through quite a bit to get this display one down for me. I really wanted it!  And I got it. And it makes me smile every day.
–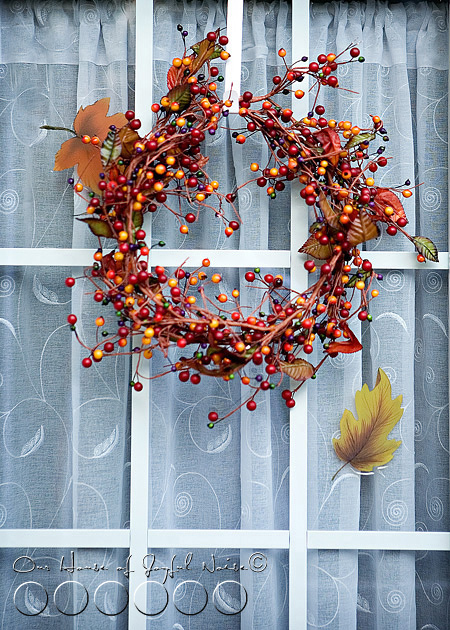 I made this wreath, but don't be too impressed.  It was already vine like, and I made it into a circle, and hung it.
Come on in and take a little look around, to see a few other seasonal touches around the homestead.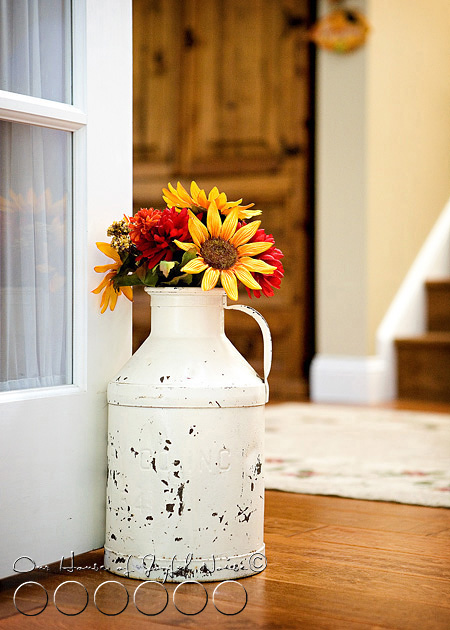 Some faux fall flowers, dropped into an antique milk jug.
–


Our wall table, and some family photos in a big frame, that I just stuck some faux leaves in.   Above on the wall is a new sign I had to have, for the Halloween season.  I got it on sale too.
–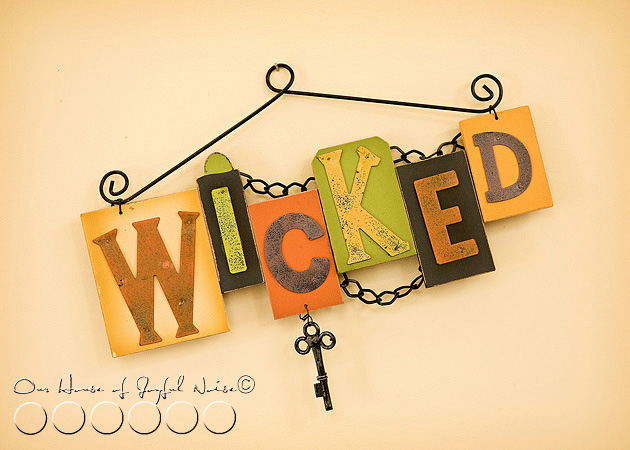 It's so suitable for the Halloween season. But I love it because it's a slang word I have used all of my life.  I'm originally from western MA, and it's common language out there.  When I came out to the Boston area to art school, I quickly found the whole world does not actually use the word like I do.  Or at all.  But I still use it.  I cherish it.  I find the word wicked useful.
–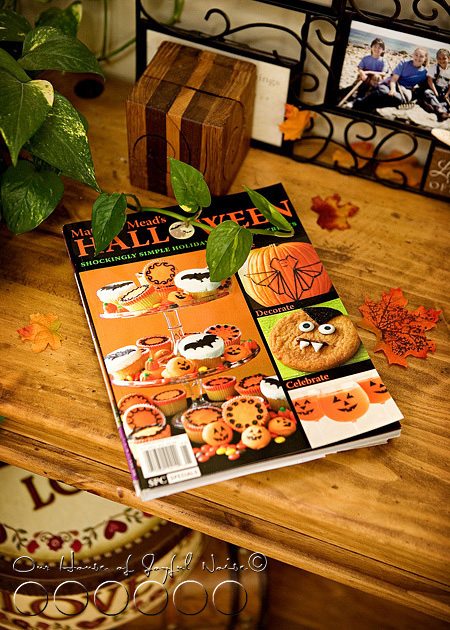 Great craft and treat ideas in this special Halloween edition magazine of Matthew Mead's, from last year.
–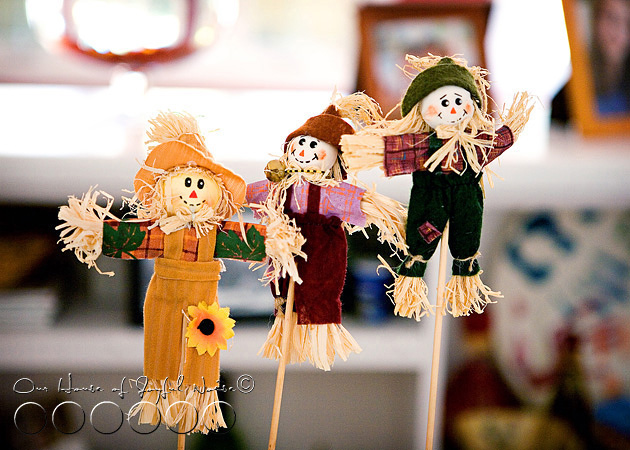 These are the kid's.  And….these are the kids. LOL  (They know which one is them.) But here they are sticking in the weave of a basket in the kitchen.  Until they grab them again. Come to think of it, I don't even know if they are still there.  But I'm not going to look now.  I got my photo.
–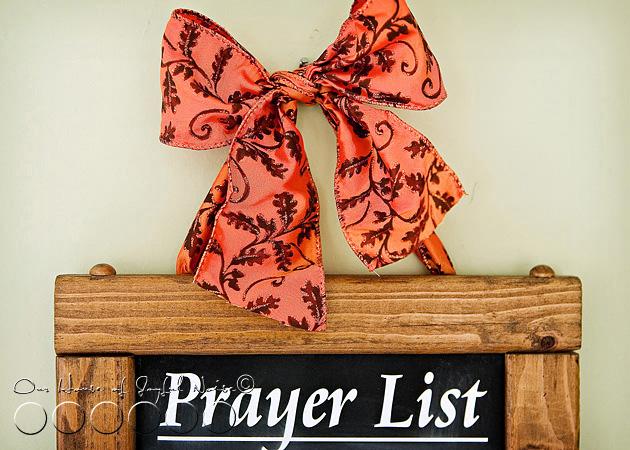 An Autumn ribbon that hangs our Prayer List Chalkboard.  I've mentioned that I love the idea of changing out the ribbon on our chalkboards, to go with current season and holiday home decor.
–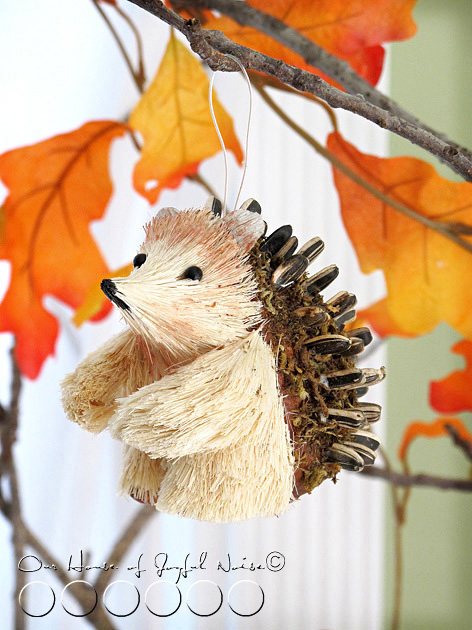 A hedgehog ornament.  Cute, huh? She's hanging on our season tree (branch).
–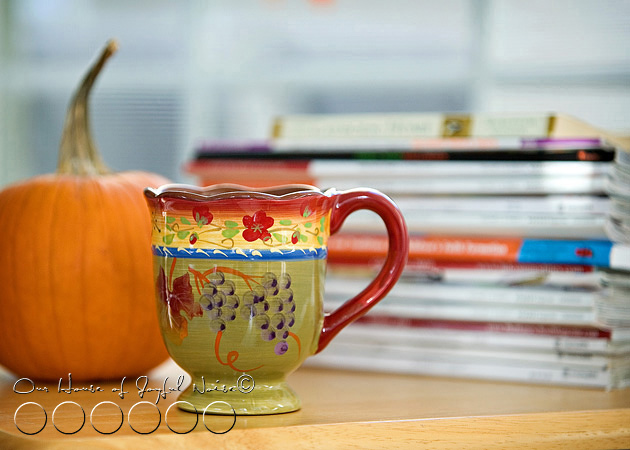 Apple cinnamon tea, in a beautiful ceramic mug, that seems perfect for Autumn.
–


It's been a happy Autumn indeed. May the coming winter be as good to us.
Have you happened to do any autumn decorating at all this year? We'd love to hear a little bit about what you've done, no matter how simple.  And, if you've taken photos and blogged it, leave us a link! We'll swing by your place!

Save
Save
Save
Save