Recently I made a cheesy spinach dip that was delicious, and it would make a nice appetizer or snack.  The kids enjoyed it, of course.  But my father, who was visiting at the time, also enjoyed it, and he is the family food critic.  lol.  So I thought I would share the recipe here,  since this is a nice warm dish for the cold season that is about to come stay with some of us, for awhile.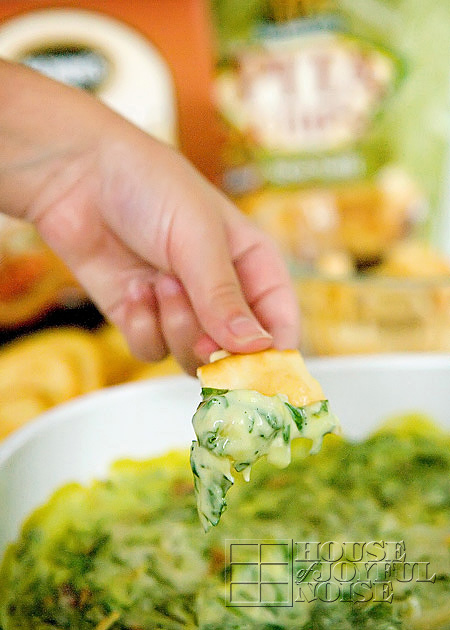 Ingredients:
2 TBS butter
1/4 C. chopped onion
2 cloves garlic; minced (1 tsp.)
1 Tbs. all-purpose flour
1-3/4  C. half-and-half
2 Lg. Pkgs.  fresh baby spinach
(or 2 9oz. frozen pkgs, thawed & chopped)
1 C. shredded cheddar cheese
1 Pkg. dry vegetable soup mix
1/4 C. shredded Parmesan cheese
1)  Rinse spinach is strainer, if desired, and drain. On a chopping board, chop up spinach with large knife into smaller pieces.  In a large saucepan, add a little water to the bottom of pan, and add spinach.  Cook down spinach over medium heat, until leaves are barely wilted down, because it'll cook more later through  the rest of the process.
2)  Preheat oven to 425 degrees.  On stove top, melt butter in separate large saucepan over medium heat.  Add onion and garlic;  cook and stir until onion is crisp-tender and garlic is fragrant, usually about 2-3 minutes.
3) Stir in flour: cook and stir for additional minute.   Add half-and-half, stirring constantly, until mixture boils and thickens; about 2 minutes.
4) Remove saucepan from heat.  Stir in chopped fresh spinach, cheddar cheese, and dry vegetable soup mix. Mix well.
5)  Spoon mixture into a 1 quart casserole or gratin dish. Sprinkle top with Parmesan.
6) Bake until it is bubbly and cheese is melted; 10-15 minutes.   Serve warm with dipping chips or hard crackers.
As you may recall, I received a large gift basket not too long ago, that had all kinds of goodies in it.  2 of those items were some little Italian Toasts, and Pita Chips.  So we dipped and scooped with the chips, and spooned onto the hard toasts.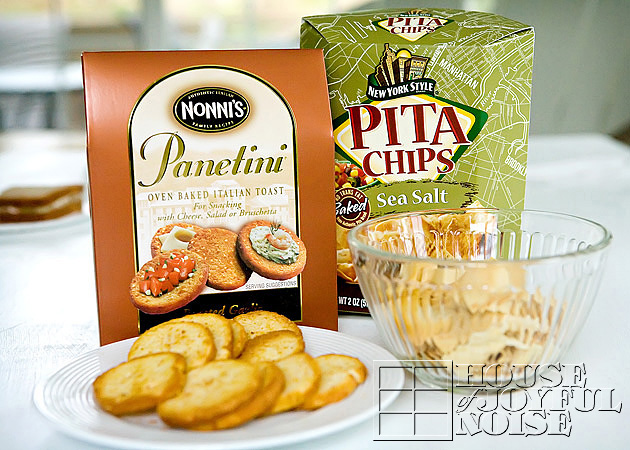 If you try this recipe, come back and tell us if you enjoyed it as well!
Save