We're talking about red, white and blue detail ideas for your 4th of July cookout bash, today.

When the 4th of July falls on a day of the week, that makes for a long weekend, Americans all over the country often either host or attend a good ole' fashioned all-American cookout! It's the summer bash of the season, when families and friends get together, have good summertime eats, and make fond memories together that they remember for many years.
If you're planning on throwing an All-American bash this summer, here's just a couple of detail ideas, that will color your party Red, White & Blue, and remind everyone how happy they are to be an American, and have loved ones to celebrate with!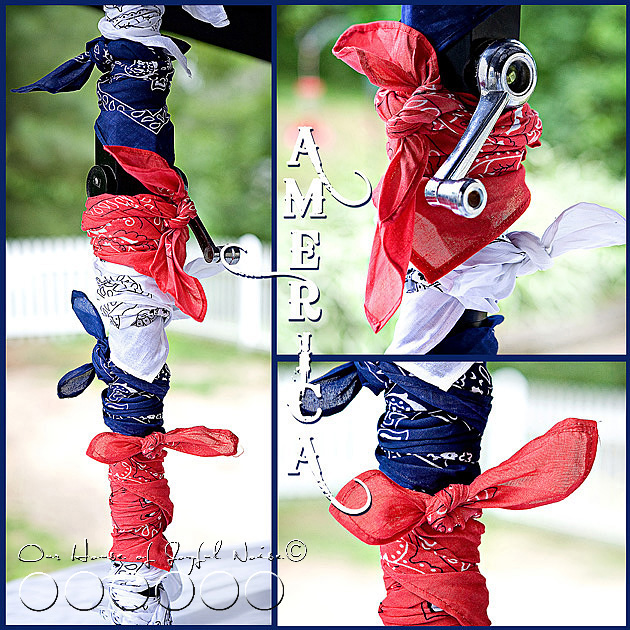 If you've got a patio table with an umbrella, you may or may not be able to relate to the annoyance, of that pole sticking out of the middle of the table. Ours is black, which is not the most festive of colors in my book. It's also a hindrance to the photos I'm trying to take, of the spread, or the loves ones gathered around the table.  If you need the umbrella to block the sun, there is no getting rid of that pole!  But I did think of a way to dress it up, and make it an asset to the party decor! I picked up cheap red, white and blue bandanas, and wrapped them tightly around the pole, making the most of the remaining corners to make a nice bow, and pulling the bottom corner to overlap the bandana below it.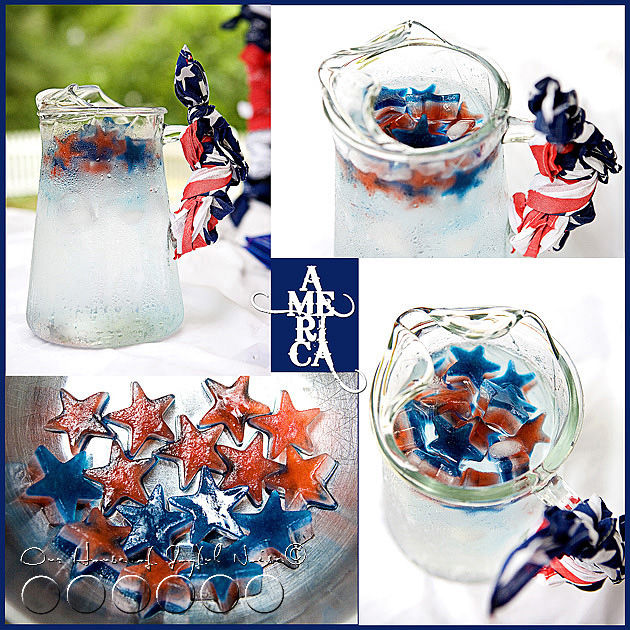 An AmericanFlag bandana can be wrapped around the handle of pitchers, adding a little more festivity, and added grip to that handle.
And what about red, white & blue striped ice, thrown in some refreshing ice water! I picked up some star shaped ice molds at Michael's Arts and Crafts, and using red and blue Gatorade, and plain water, the kids filled the molds *1 colored layer at a time, freezing each layer in between.  *TIP: To get even layers, do this pre-test: Fill one a single star in the mold with water, and then suck it up with a medicine dispenser.  Check out the measurement of the liquid that filled the star, and divide it by 3!  That's how much of each color you'll need to fill the stars evenly.
You're welcome. : )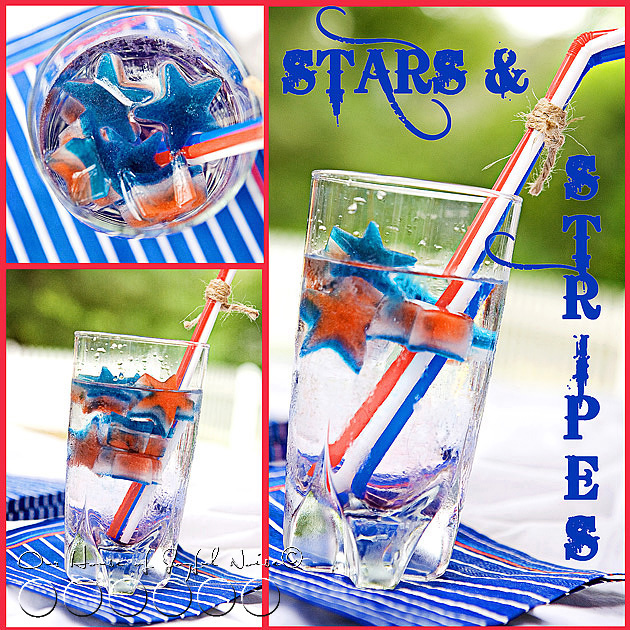 Try tying 3 colored straws together, to make another American-style detail. You could use pretty ribbon, but I loved the rustic touch of gardening twine.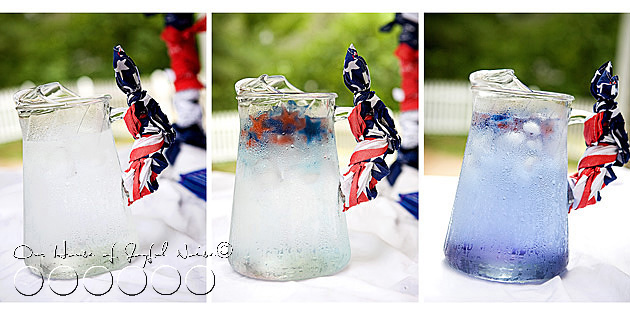 This was the coolest surprise.  Eventually, as the star-striped colored ice melted, it tinted the water light blue! I loved it!  But to slow the process of your colored Gatorade stars melting right away, be sure you fill a COLD pitcher, with ice-cold water, and then throw in a tray or 2 of plain ice cubes. On top of the plain ice cubes, add your star-striped ice.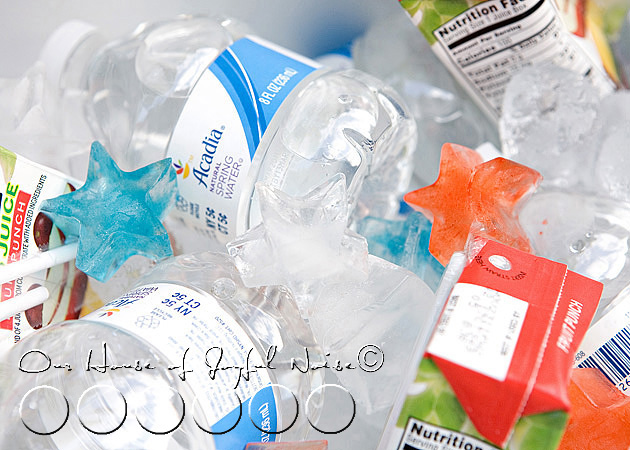 We also experimented making solid-colored stars with just a little food-colored water.  Consider making plenty, and throwing them in with your cooler of cold drinks, for your guests.
If you ask us, nothing makes a good time better, than hanging out & having fun with people you care about, really great food & drinks, and great all-American music, chatter, & hardly laughter in the air.
Make your 4th of July celebration memorable, with a few simple details.



Save