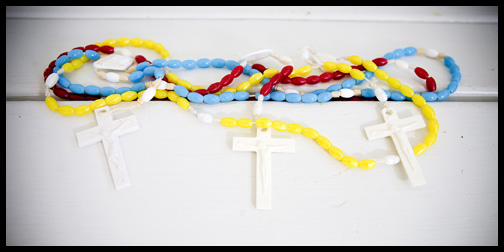 Life has continued to be as eventful and busy as ever around here, with all kinds of fun, activities, learning, and work. Our heavier business work loads, that come with this season for us, has continued to use up our blogging time. But we give thanks to God for His ways in providing for our needs, and know you all understand the less frequent postings lately.
This morning, I wanted to take the time to share a humbling moment I experienced as a mother, one night last week. The little ones had been put to bed awhile before, and they weren't seeming to settle in fast enough for me. I usually don't mind them talking quietly for a little bit before drifting off to sleep, but I was attempting to get some work done, and was feeling quite distracted by the inaudible rumblings I could still hear coming from their bedroom nearby. Perhaps I was low on patience that night, because I was beyond annoyed as stomped towards their bedroom on a mission, ready to tell them once and for all, to "please 'shush it' and go-to-sleep!" But what I heard so clearly now, as I was about to put my hand on that doorknob, was 3 sweet little voices in perfect sync, and it stopped me in my tracks; ".…..Holy Mary, Mother of God, pray for us sinners, now and at the hour of our death. Amen. <Pause.> Hail Mary, full of grace, the Lord is with thee…." Tears welled up in my eyes, as did the jumbled feelings of guilt, shame, and happiness, as I realized they were saying the rosary together, in the dark, and using their fingers to do so. As I took a deep breath, I decided I wouldn't ask them to 'shush it' once and for all, after all, and just stood there and listened for awhile
Mind you, I have heard them pray together in the dark many, many times before. But never the rosary. Where did this come from? I'd love to say from me, or their father, but that wouldn't be the truth, as too young as I mistakenly thought they were. I think likely they picked up the basics from the Catholic TV channel they watch a bit of every day, and their IRL friend on those shows, Fr. Bob. It just occurred to me now to ask them if they saw that on TV. I don't really monitor what they are watching exactly, because they pretty much are only allowed to watch that channel, and after all, Fr. Bob is there! : ) It's often his show! But I am sure at some point we at least taught them about rosary beads, what they are for, and generally how you use them, when they received some as gifts.
The next day they asked for those beads they had received before, and the day after that as well. They all sit lined up, and begin the rosary together. They've actually been all the way through it on their own! Other times it's just a few decades, which is more than I've done in quite a while. Their big sister lent them a book that has 2 prayers in the rosary they do not know by heart yet: The Apostles Creed, and Hail Holy Queen. How convenient they can read so well. I was rather impressed with their discipline and dedication, and felt like I was witnessing a lesson meant just for me.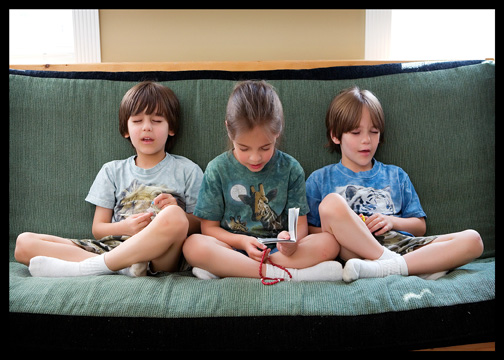 While we usually have daily family prayer together, we hadn't yet attempted the rosary together. I assumed it was rather long for little ones, and maybe not so easy at their age, to mediate on the mysteries. Honestly, even I struggle deeply with an attention span like that. But perhaps we should begin to add the rosary to our family prayer life here and there. Maybe a daily decade would work, as we incorporate and teach the mysteries we are meant to meditate on while we recite the prayers (which would admittedly be an opportunity for us parents, to brush up on our rosary skills). No doubt it would be a spiritually fulfilling experience, and one it appears my little ones are indeed ready for, while the rest of us are long over-due.