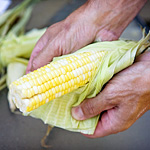 For the 20+ years Michael and I have been together, we have been trying to figure out how to cook corn on the cob, so it comes out just right.  Sometimes it has come out really good, but most times it hasn't.  It's just a gamble. We have tried cooking it a few different ways; over the fire with wet husks, steamed, and boiled.  The fire method corn came out amazing the first time, and not as much the second.  The steamed method we only did once, because we didn't like how it came out. More times than not, we have boiled it.  For us, perfectly cooked corn is- when the kernels are popping right off the cob as you eat it. But we usually don't seem to cook it for just the right amount of minutes.  Then we can't figure out:  Is it over-cooked? Or did we not cook it long enough?
So most every time we have gotten corn, and the kids got it all husked, the conversation usually goes something like this:
Me: "Honey, how long do we boil the corn for again?"
Michael: "Oh my gosh…there's that question again! We never remember. How long did we boil it for last time? Did it come out good?"
Me: "I don't remember now. Do you?"
Michael: "Not really."
Me:  "Is it 7 minutes? Remember the guy at the Butcher Block told us most people over cook it?"
Michael: "Kind of. But I don't remember how long he said. I don't think 7 minutes is long enough, though."
Me: "Wait, I think it's 10 minutes."
Me again:  "Or, is that boiling eggs.  Hmmm. No, I think it's 10 minutes ."
Michael: "Did we bring the water to a boil first, and then put the ears of corn in?"
Me:  "No, that's lobster. And Ramen Noodles."
Michael: "Why don't you Google it and see how long it's supposed to be."
And that, is about how it has gone, for years.  We get so excited to have corn on the cob, but that is because we only tend to remember the times it came out perfect and delicious.
Finally, we have found the absolute easiest method to cook corn on the cob, perfectly. 
And that is, perfectly, every time.  It's crazy how easy and hassle free this is.  So at this time of year, when corn on the cob is such a popular summer side dish, we thought we should share with you the method that will be our one and only from now on.
Pre-heat your oven to 350°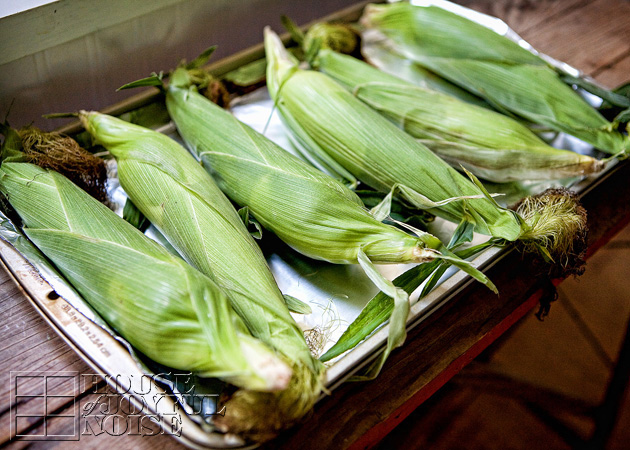 You have 2 options here:
1) You can lay your corn, unhusked, on a cookie sheet. (Tin foil or not is also optional.)
-OR-
2) You can put the corn right in your oven on the racks. If you choose that way, it is a good idea to cut off all of the silk hanging out, so it doesn't catch on fire. << Important Tip there, I think. ; )
Both ways, the corn cooks wonderfully.  I use method 1, because it is easier for me. I can put the whole pan with all of the corn in, and take it out, quickly and easily. Plus I can't reach in the oven very far, and my hands burn easily.  Michael prefers method 2, because he doesn't want to get the pan out, or wash it, and he has longer arms.  He throws the corn cobs, in and take them out one at a time when the timer goes off, just grabbing them without even using an oven mitt. Because he doesn't want to get the mitt out either. Even though the corn is piping hot.  He just doesn't take precautionary safety measures, as a general rule of the fool.  You know . . . . . . protective eye wear when cutting wood, a face mask when spraying toxic paint fumes, or using oven mitts to take hot things out of the oven, for gosh sakes! It been an argument between us for years. I remember his father was the exact same way, about all of the same safety measures, including taking hot things out of the oven mitt-less. His mother would squabble at the father about it too, after he'd say "Ow!!" Throw the thing down quick. (Chuckle.) "That thing is hot!!"  Well HELLO!! What I don't get, is why I thought my in-laws were so cute when they were bickering, and I get so aggravated at Michael about it, and I'm not feeling as cute. Honestly, I love my husband dearly, and I am thankful he is still alive, and well, in one piece. By the grace of God; this I know!  Anyway, you choose the method that works best for you, and I'll leave you alone about it.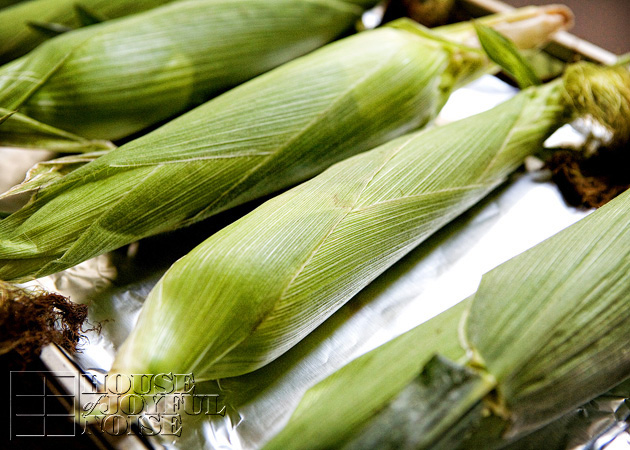 So put the corn in the oven however you choose to, and set the timer for 30 minutes. Oh how I love the smell of the corn cooking this way. A real roasted smell.
After 30 minutes, remove the corn from the oven.
You can leave it in the husks if the rest of your dinner is not ready. But if you are just about ready to all sit down and eat, here is what you do next: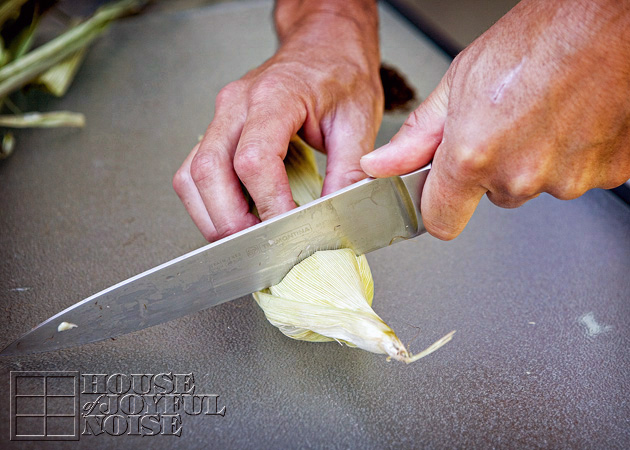 You simply take a big knife, and cut off the tip of the corn, unhusked,  about an inch or so into the cob.
This is where it just gets amazing to me . . . . . .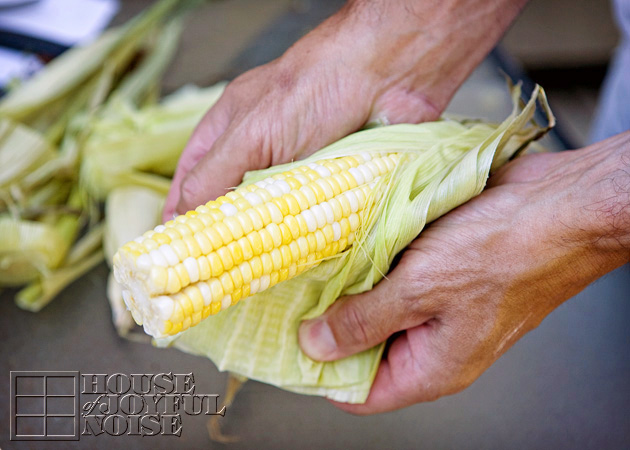 Then you just peel back and off the husks, which come off so easily. And, pretty much all of the silks come right off with it! 
Break off the other end, and season as you wish!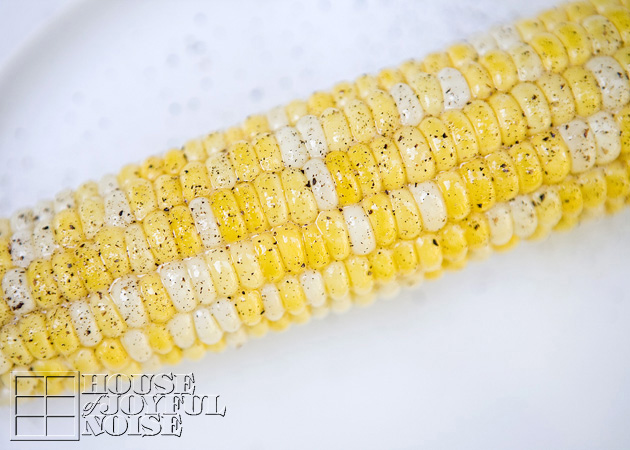 We love it with butter and pepper.  Sometimes a little salt. OH SO GOOD! So very easy, and perfect.
Every time.
If you haven't tried cooking corn in your oven, you must try it this way!
What is your usual way of cooking corn on the cob, so it comes out just right for you? And for how long do you cook it? 
We know there are many methods, and we'd love for you to tell us what has worked for you.
P.S.  As an update, if you want to make the husking even EASIER STILL, you can cut off both ends of the cooked corn (in other words, stem end included), and cob will just roll out of the husks and the silks practically fall off.  But whether you chop both ends or just the tip, stripping the cobs after cooking them (in the oven) is much easier than shucking ahead of time!
We are loving those of you coming back to give us your report! ~ The Richard Family
Save
Save