We thought you all deserved some nice treat ideas. So we'd like to share some steps on how to make chocolate dipped pretzels!
It's a fun treat to make and eat!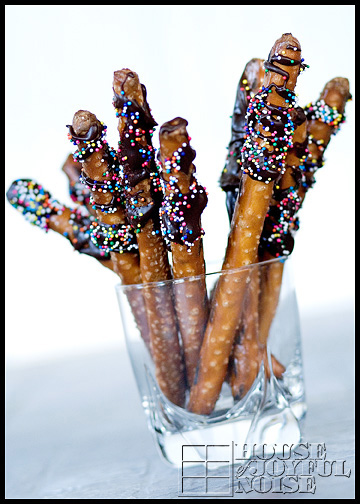 Last year for our Christmas gathering with some family, we made these pretty pretzel rods drizzled with chocolate. Our visiting family even wanted to get in on the fun, and make their own! We simply melted chocolate, and drizzled it over the rod, slowly turning it as we did so. Then we sprinkled on some of our favorite decorative sprinkle balls!
This year, we've done something similar (a few times!), but with a TWIST!! : )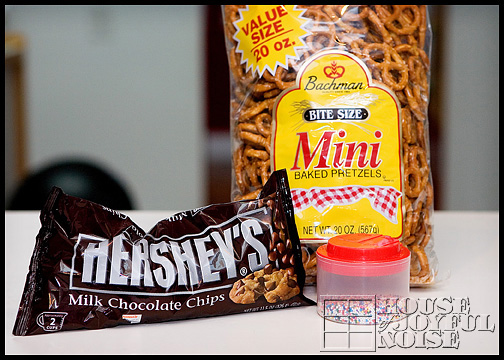 Participating Ingredients.
Get it?? With a TWIST?? (ROFL…..perhaps by myself. I should probably get up now.)
3 Ingredients!:
Mini Pretzel Twists
Hershey's Chocolate Chips
Decorative Sprinkle Balls
These are SO easy to make, and your kids will have SO-MUCH-FUN helping!! Our kids sure do! Here we go……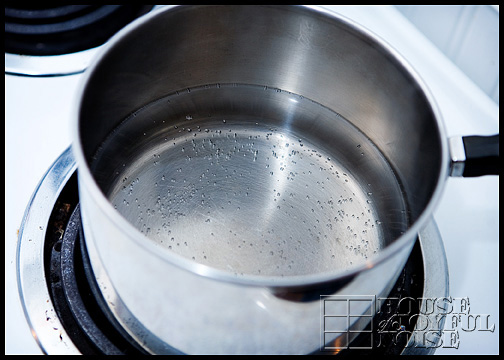 Get some water in the bottom portion of a double boiler pan. You want to put the burner on MEDIUM, and wait for the water to be 'just about ready' to boil. Once it's to that point, it's good enough to turn it down to LOW, and put the top portion of the double boiler pan on.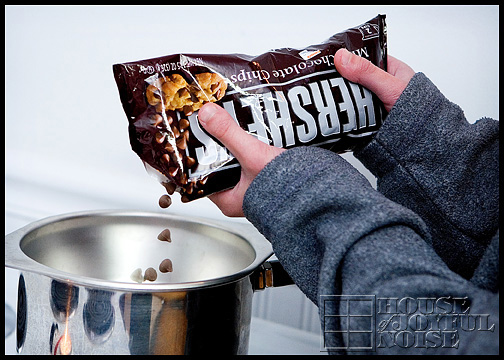 Now pour in the top pan, a small amount (maybe equivalent to a couple of handfuls…but exactness is not that important) of chocolate chips into ONE SIDE of the pan. You kind of want them in a small pile, so that it makes dipping easier.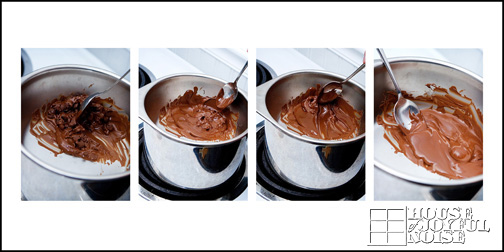 Use a spoon, and keep stirring the chips, letting them slowly melt, until the chocolate is really melty and smooth. Once it is, you're ready for ……..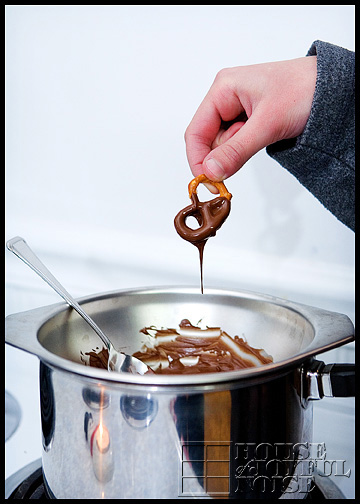 ….some dipping!!
Bring the just dipped pretzel (or 2, if you can do 2 at once) over to a counter space, and sprinkle your sprinkles onto the wet hot chocolate.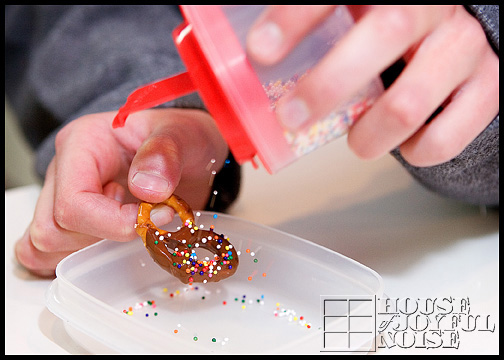 We suggest doing this over an empty container. They are very bouncy……so otherwise you'd be finding them all over the place until Easter 2012. You can also re-use what you catch in the container for other pretzels, over another container.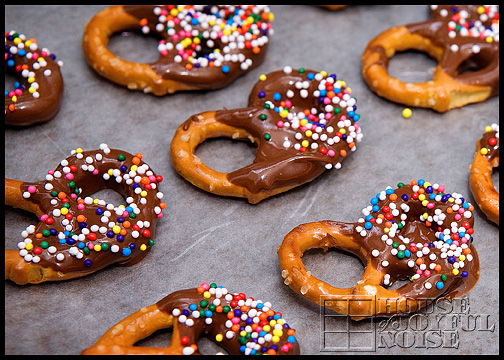 Simply place them on a wax paper lined cookie sheet – spaced nicely so they don't touch each other.
Just another photo, because I had to take it.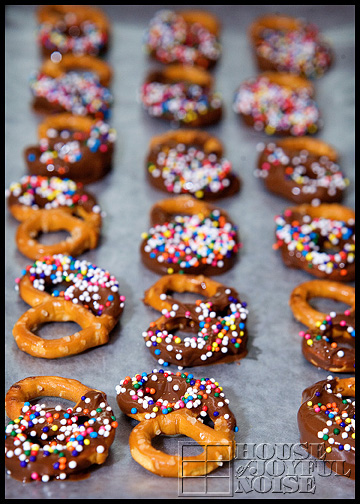 Repeat this process of dipping, sprinkling and laying, adding more chips to your pan as needed, and giving it little stirs to keep it melty and smooth as you go.
Once a tray is full………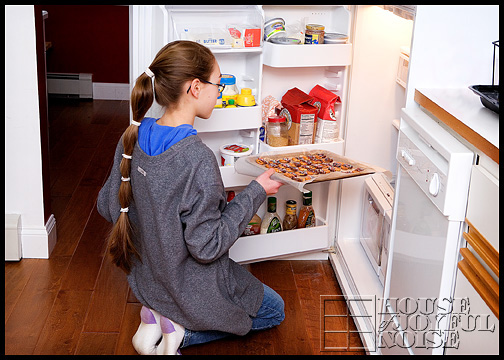 ….pop it into the refrigerator. (And begin a new tray, of course!) Putting them in the fridge will help the chocolate harden. Generally speaking, they need to be KEPT cool, until they are popped into your mouth, or the chocolate on the pretzels will get melty on your hands. (unlike m&m's….and we know why. They do not have that hard candy shell. lol) (These don't talk either. Sorry.)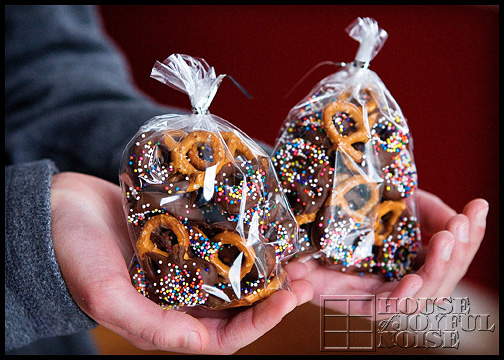 We think they are pretty enough (and tasty enough) to give as little gifts too! We used these nice little clear bags, found in the stores where they sell chocolate melts, and supplies to make chocolate lollipops, etc. (In our case, our local Michael's Arts & Crafts) We tied them off with silver twist ties. Who doesn't love chocolate? Warning though: the sweet then salty thing going on, may keep you popping more in your mouth than you meant to!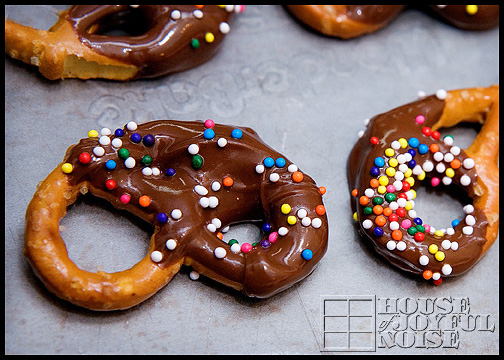 Sweet, huh??
Save
Save
Save
Save
Save