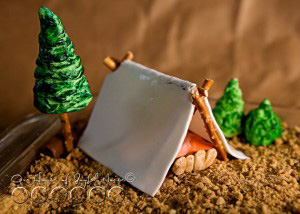 I was brainstorming about a good dessert to have for Father's Day coming up,
when I came up with this idea:  A Camp Site Eclair Dessert.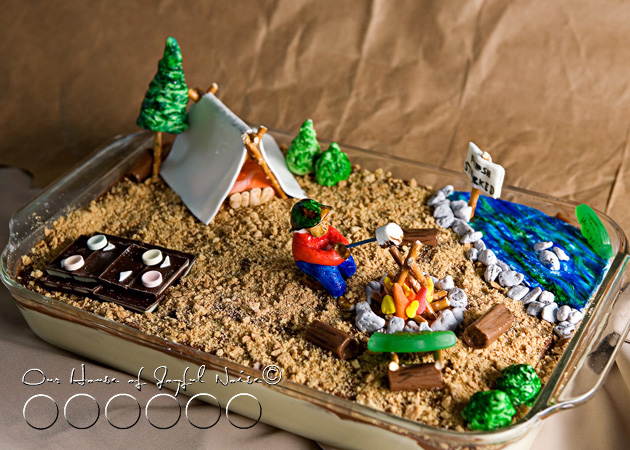 I know the Daddy in our family, loves camping, fishing, and marshmallows! So this whole dessert was going to make him very happy, because there is a whole lot of marshmallow fondant involved! And as a bonus, there are other surprise treats everywhere!
I decided to make it ahead of time (with a little help from the Daddy in celebration, and our kiddos.)  Thankfully, we can save all of the decorations on top, make the dessert again next week, and redecorate.  Because I wanted to be able to share the idea with you all, our blog readers, in case you'd like to replicate the idea, or let it spark an idea of your own in some way.

So this decorated dessert is the pan variation of No Bake Eclair. You may remember we shared this recipe before, as individual cup servings, that looked like this: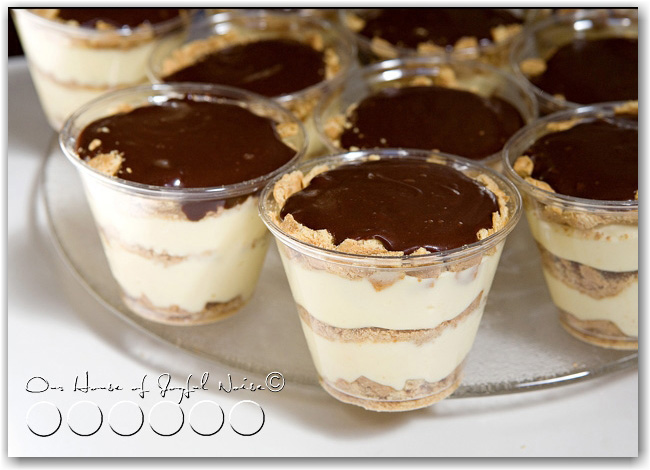 You can find that recipe and directions for the cups version here.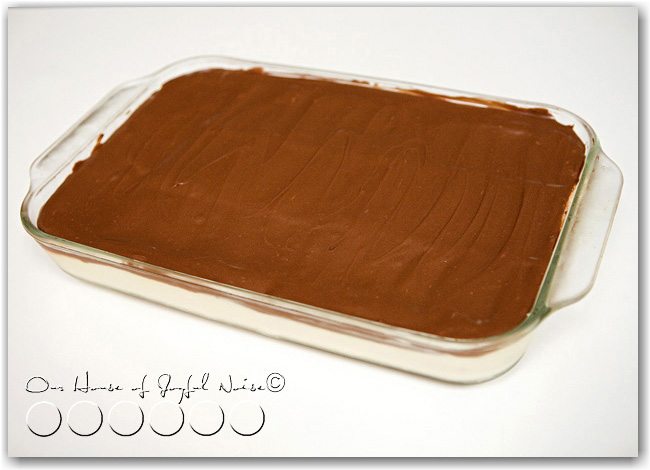 This is what our No Bake Eclair Dessert originally looked like, before covering with crushed
graham cracker, for a nice dirt ground effect, to set the scene for our camp site.  Here is the easy, no-bake
recipe for it. You can whip this part up ridiculously quickly!
::::::
No Bake Eclair
Participating Ingredients:
graham crackers

2 boxes instant vanilla pudding

8 oz. cool whip

1 can of chocolate frosting and 2 tbsp. milk

3   1/2  cups of milk
Directions:
Mix the pudding and milk with the blender- let it get a little thick. Add the cool whip in.
Butter a 9X13 in. cake pan. Place WHOLE graham crackers in the bottom of pan. You will need to break some though.
On top of graham crackers add 1/2 of the pudding/cool whip mixture.
Put on another layer of crackers and then the other half of the pudding mixture.
Place last layer of graham crackers on top.
In a separate bowl empty the frosting and add 2 tbsp. of milk. Mix so the frosting is creamy and easy to spread.
Frost the crackers and enjoy!
 ::::::
Now to share as much as I can, about how we decorated the pan of No-Bake Eclair: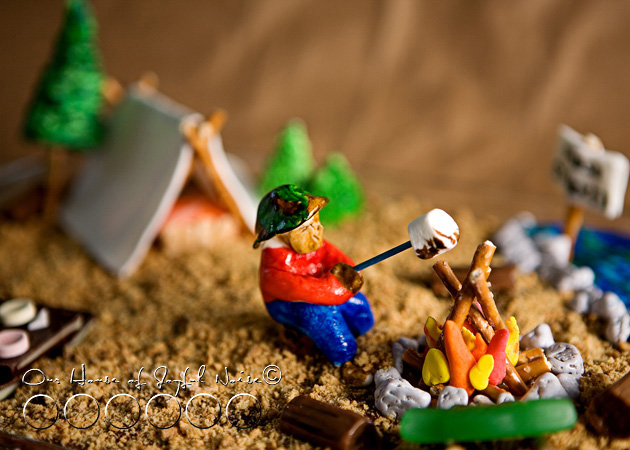 The ground as I said, is the top frosting layer, covered in lots of very crushed graham cracker.  On top of that, everything is made out of marshmallow fondant, various kinds of candy, and little pretzel sticks.
Now please keep in mind, we are no fondant artists, yet! This is our very first time working with the stuff.  This is actually marshmallow fondant, which is made so easily with mini marshmallows, confectionery sugar, and water.   Then of course, we used some food dye. (Not food coloring, but food dye, used for coloring icing.)  I very easily found 2 videos on making marshmallow fondant, and coloring it, just by Googling. I will put them at the end of this post, for your convenience.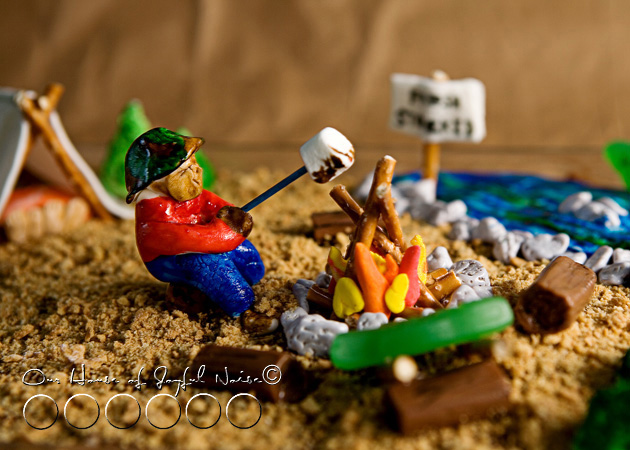 Don't mind the father's face, lol.  We really didn't expect it to show much. It was just quickly smushed together. lol
But we're not sure we could have done much better, if we tried. LOL

He is completely made of white/uncolored marshmallow fondant, and then painted with food dye and a brush.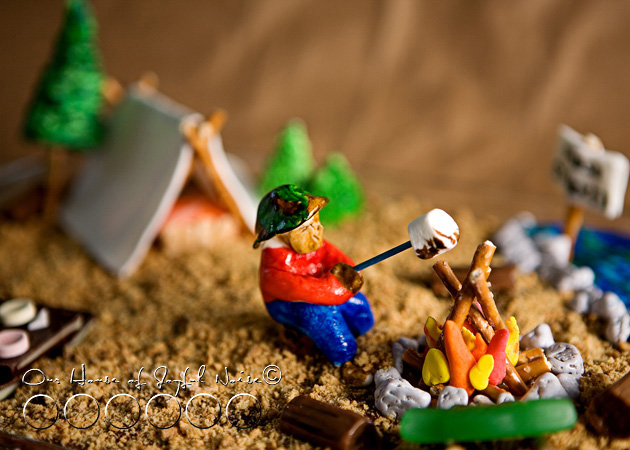 The camp fire is made of colored fondant for the flames, pretzel sticks, and chocolate rocks that we found in the cake aisle of Michael's Arts & crafts.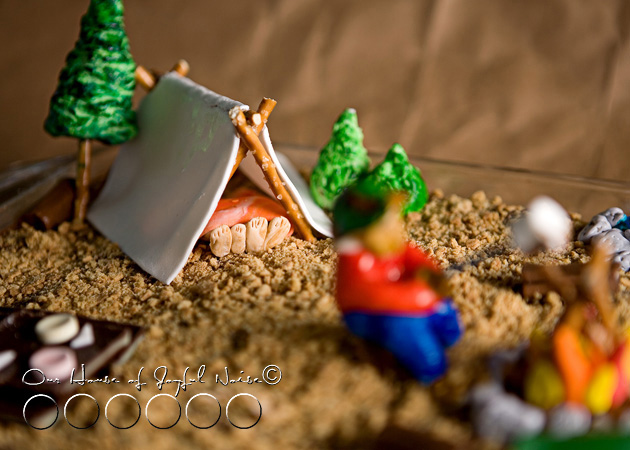 The tent and family feet are also all fondant, and pretzel sticks to hold the tent up.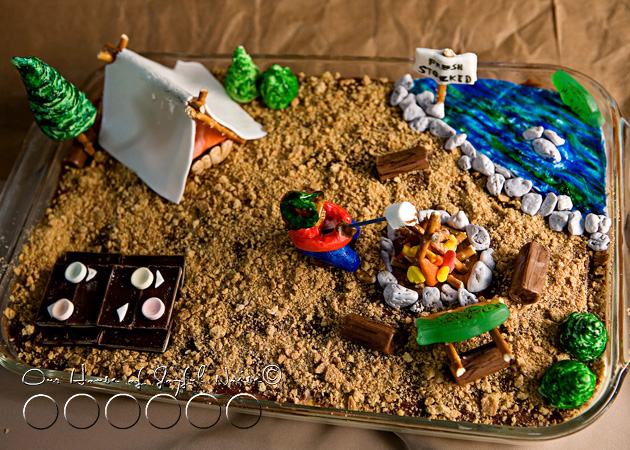 Here's a helicopter view.
The trees and bushes are green dyed fondant, molded around Hershey Kisses, and then more green dye painted on the trees & bushes, for texture.  The pine tree uses a pretzel for the trunk.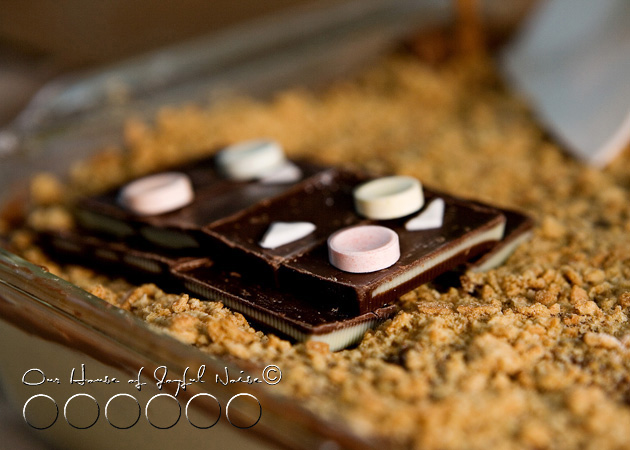 This is a set picnic table.  The table top probably could have been another layer higher.  But the table and bench seats are made of Andes Candies, the plates are Smarties Candies, and the little triangle napkins is plain marshmallow fondant.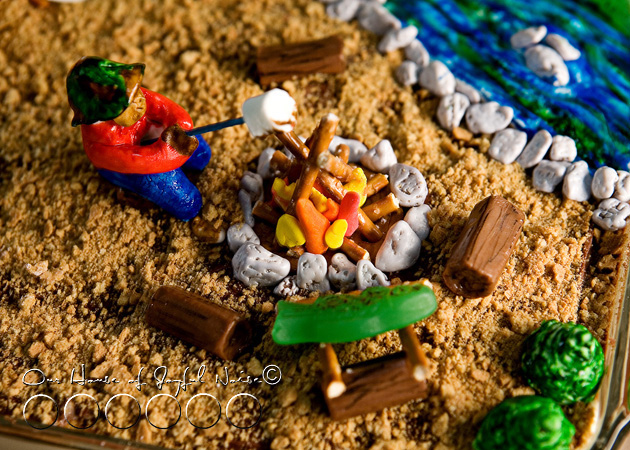 All of the logs you see here and there, are Tooties Rolls, with a little edible black writing pen to show some grooves and bark.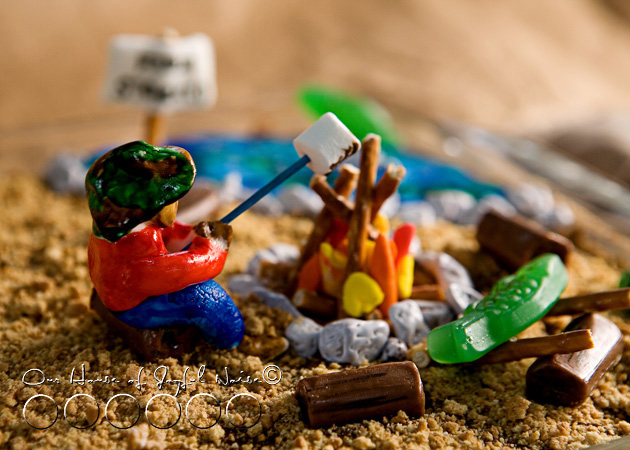 The 2 fish on the scene are Swedish Fish.
The marshmallow on a stick is actually fondant, but we could have just used a mini marshmallow, since we had plenty left from  making the fondant.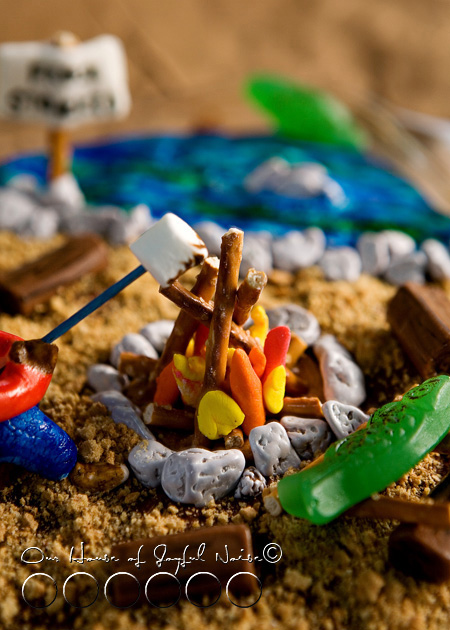 The water is plain fondant, painted with blue and green dye.
The sign face is fondant, with a pretzel stick, and more chocolate rocks. (Love those!)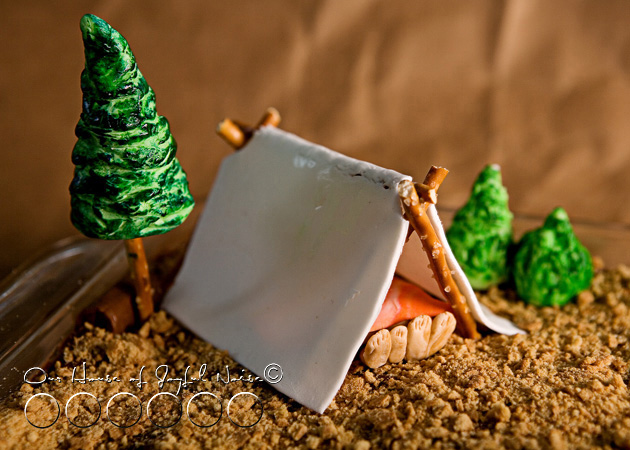 The tent, and the family dirty feet, is my favorite part!
It was so fun to make, and we thought it came out pretty good!!
Between shopping for the goods, and making it all, it was almost a day project, but a fun family one!
We wanted to note too that, while fondant and the colors are all edible, we don't really eat artificial colors. But it is all SUPER fun to get creative with, as decorations.

Please tell us you are a at least little impressed with our work, even if you aren't. 😉   Either way, hope you find yourself inspired to play with some fondant, and get creative with food, too!!
::::::
*(Love this post? How about subscribing to our blog in the sidebar, 'Liking' our Page on Facebook, or following me (Laura) on Twitter? Or all 3? 😀
Making Marshmallow Fondant
Save
Save