Today we have an Easter themed craft tutorial for you! It is beautiful, and so fun to make! It's a stained-glass (looking) tissue paper Easter cross, for your home or school windows. Or glass door!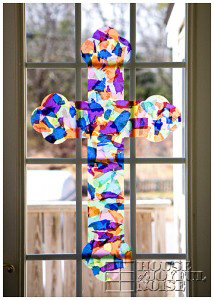 The kids have been working really hard with their school work, and will actually be done with their formal work in just a couple of weeks. So in preparing our hearts and minds for this Holy week, we decided to do some more lengthy study of the Stations of the Cross, and then get creative today and make a big Stained Glass (looking) Easter cross decoration for our Easter celebration come this Sunday. It will be fitting in faith and spring spirit, to leave it up as beautiful cheery decor, for several weeks following Easter.
There were really only 5 things we needed: a very large sheet of window cling, lots of colored tissue paper, a sponge brush, some Modge Podge and a pair of scissors.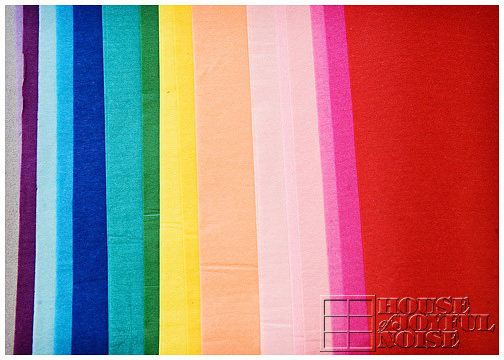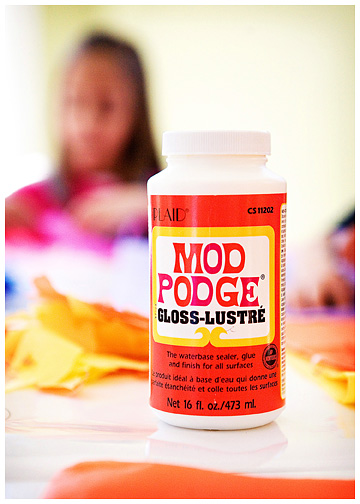 I didn't take photos of this part, but, we first drew out a large cross on the back of the window cling material backing-paper, using a board for the straight edges, and a round container for the rounded decor ends of the cross. Once that was done, the kids all grabbed sheets of the tissue paper, and starting ripping it into pieces 1-2 inches or so. (Might I add, the colors each of them go for are so predictable. lol)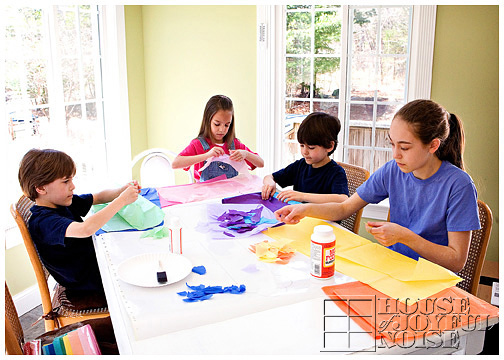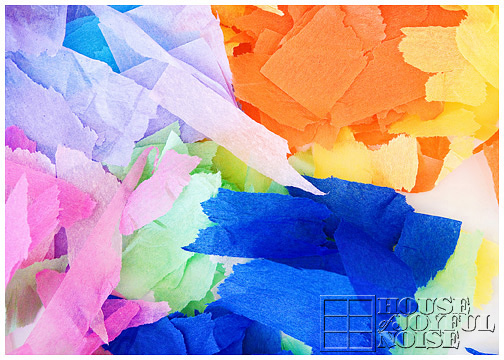 Once we had plenty of pieces ready to go, I started spreading some Modge Podge, with a sponge brush, in small sections (on the front) of the cross at a time, going outside of the lines somewhat on purpose. Then the kids got to work, putting down pieces, overlapping each other, and rubbing them down.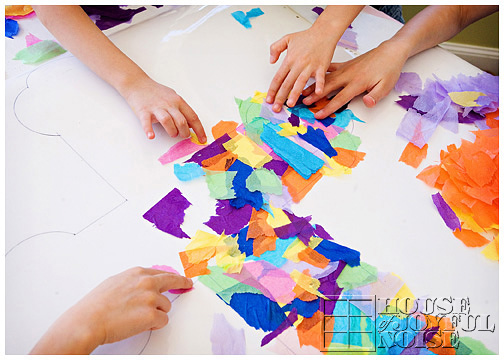 When the entire cross was almost done being covered with pieces of colored tissue, I started on one end, and went over any uplifted corners, or flappy pieces, of tissue, just Modge-Podging them down good with my sponge brush. I LOVE Modge Podge-that stuff is great for so many projects!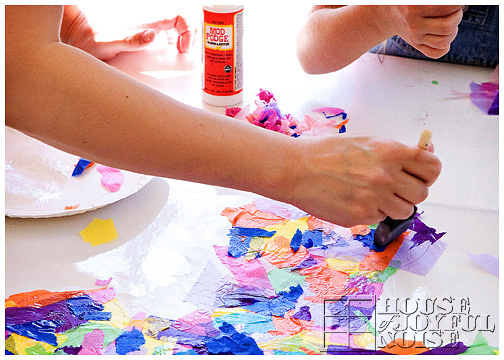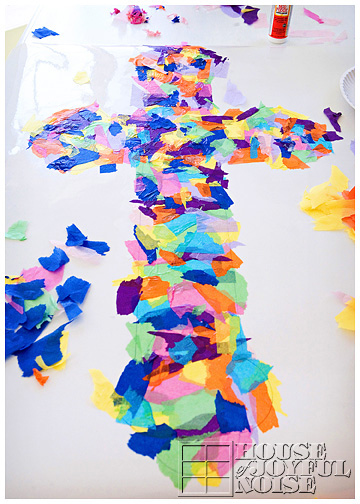 We made the cross 20″x34″.
Once it was all dry, we cut it out!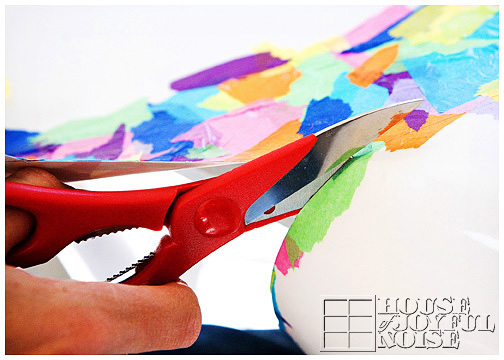 It was a perfect fit for our front door, because we planned it that way. : )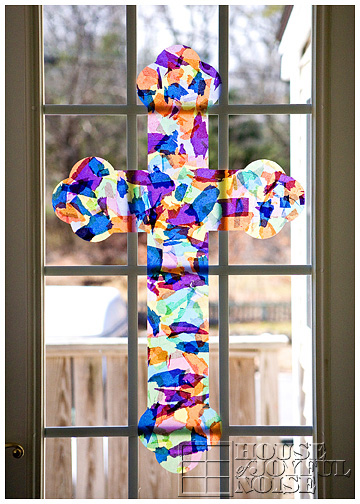 With the main events of Holy Week still before us, we anticipate the somber and difficult remembrance of the journey Jesus has yet before Him-and we will follow Him all the way to His last breath.
But the radiating colors of this cross, brought to life by the sunlight, reflect the state of our hearts come Sunday, when we will celebrate our risen Jesus Christ, in all of His dazzling and promising glory.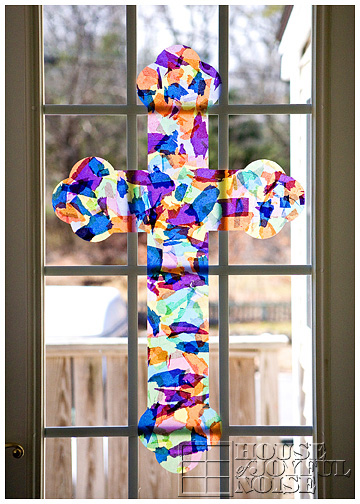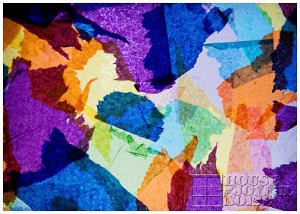 We appreciate the 100's of visits our blog has received in the past couple of days. As we all take part in this holiest week of the year, and end our personal Lenten journeys, may you feel your hearts full of peace, prayer, and the undeniable presence of the Holy Spirit, and find yourself in a deeper, and more meaningful relationship with Christ.
Save
Save
Save
Save