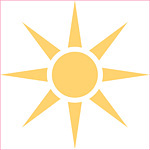 I felt like designing a spiritually-themed Easter printable for us, and to share with you.
So I did!
It's designed to fit an 8×10 frame. I recommend printing it on white card stock.
Please be sure to DOWNLOAD and SAVE the full resolution version, as opposed to the image you see in this post, which is web sized.
Clicking on the colorful printable below, should bring you to the full sized version at my DropBox. You need to click the 'Download' button there.
*Warning Note: Do not right-click and 'Save Image As', or you will not get the sharp printable image.
Download. Save. Print. Enjoy!
I'll share with you mine on display in my home decor, soon.
Hope you like it. : )
~Laura | House of Joyful Noise blog
* * * * * *
Please come follow me here and there:
Save
Save