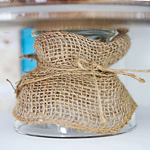 So if you've been following along with us here, you'll know that earlier this week we revealed my new double mantels in our sun room, which Michael custom built for me, and I finished in my own style, to give them the look that I was going for.
As promised, today I am sharing lots of overall and detail photos of how I decorated those mantels (for the very first time) for the spring season, as well as some home decorating ideas, and tid-bits of other information you may find interesting. I can tell you that I had way too much fun, both decorating and photographing my new mantels, but I truly don't mind! Mind you, I'm not a professional decorator, but I do feel comfortable relying on my artistic eye and education, and just what looks good to me. My 'mantel envy' that I spoke of, was as real as I thought it was, too, and my appeasing it is already as fulfilling as I knew it would be. More than ever, I am looking forward to all of the seasons and holidays I can spend being creative in home decor, with these mantels. Even if it does mean more to dust!
So let me show you what I did: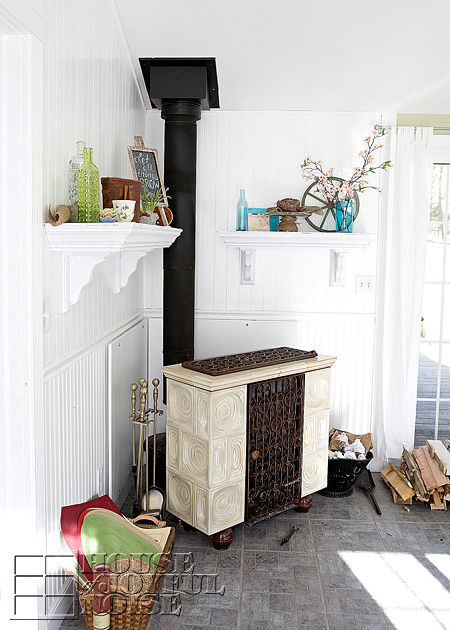 This is the view straight ahead, when you walk in through our front door, into the sun room.
There you see our mantels corner, over our wood stove. We spend a lot of time in this room year round; and it's a favorite of guests too.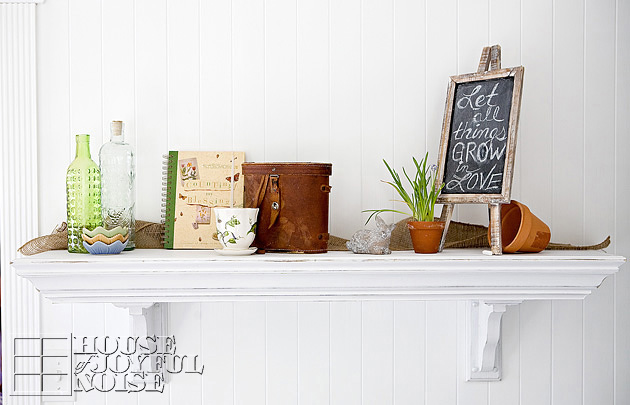 Viewing left to right, here is the first and longest of the two mantels, I've decorated, measuring 4 feet long.
As I was gathering items I had hoped to use for this spring theme, from other places throughout our house, I realized I had two wonderful groupings for both mantels, where I could have a featured color for each mantel, but where also there were common colors that tied the two mantels all together. So I immediately started working off of that kind of color theory in my head. Also, I added some pieces of burlap as texture-accents with both mantels, but were used in different ways for each. For this mantel, I simply took a long piece, and strewn it along he back of the mantel as a backdrop.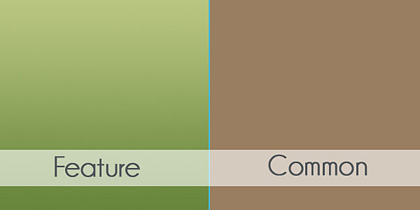 So if you refer to the entire first mantel above), I thought of the greens as much featured color, and then the browns as the common color, because it would be a part of both mantels.
You'll see that in a moment. But first I'd like to share with you a little more about the details of this one.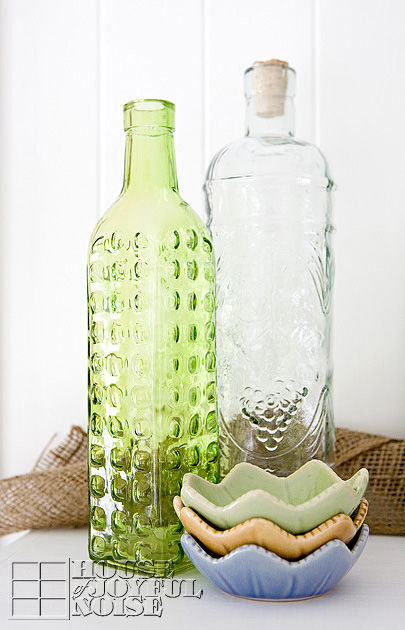 Here we just have a simple couple of glass decorative bottles I had, and a cute set of little dishes, that I picked up at TJ Maxx. There is a fourth dish, the color of teal, which I actually bought the set for, because that one went well with the decor I was putting together for my bathroom cubby shelf, which can be seen in the first few photos of this post.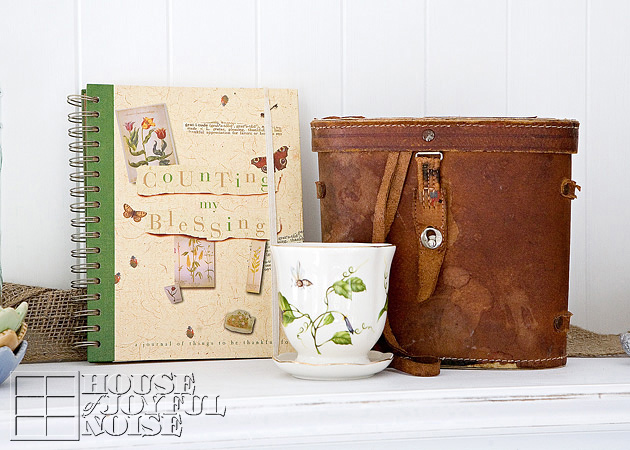 Here are the next few things I grouped sort of together.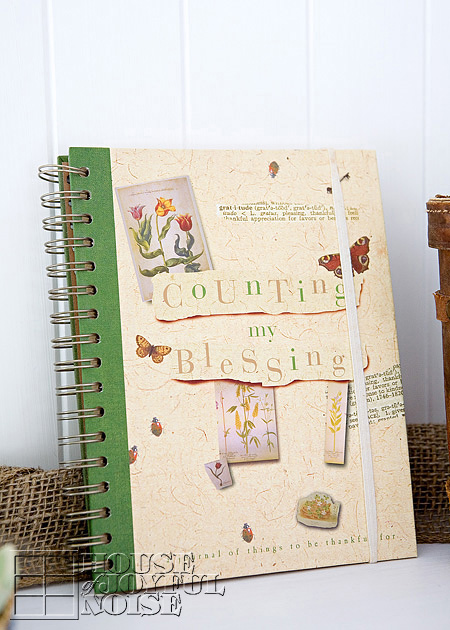 This was one of my mother's personal journals.
The colors and the spring theme went well. And seeing it of course also reminds me of my mother, and makes me smile.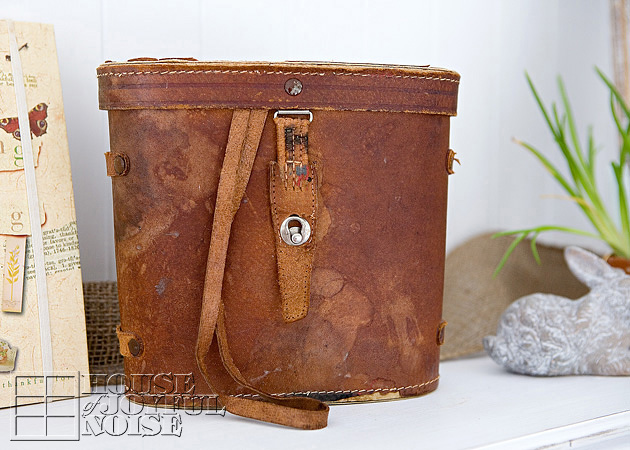 A really good pair of binoculars, in a very weathered leather case. I thought they were once Michael's parents, but, Michael just called and while I had him on the phone, I double checked with him. He says they were actually my grandmother's. (We call her Nana.) Hmmm. I'm not sure how we got them, but I'll guess my father brought them down. He's always bringing us all kinds of things when he comes.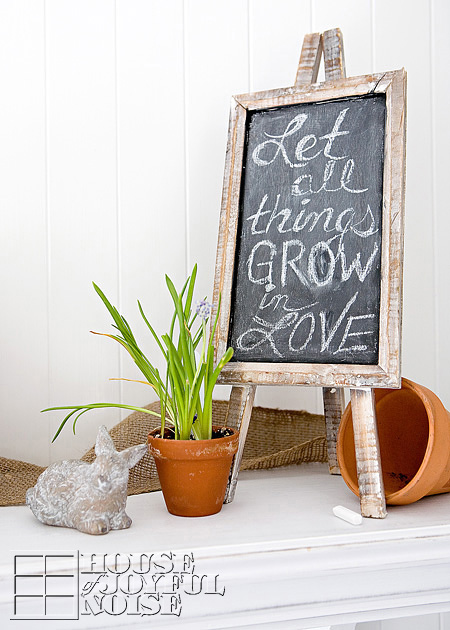 These items are all new little things I had just picked up, specifically for my spring decor. There is an new, awesome, huge 3-floor place in town that is loaded with the most gorgeous inventory! From large furniture of all kinds, much clearly hand-crafted, to a wide array of small home-decor accent pieces, as well as signs, fashion accessories, etc. One could spend hours in this place, and this one has! My kiddos enjoy tagging along with me too. Honestly, I should do a whole post on it for another day. But in this photo above, notice the super rustic little chalkboard easel. The surface is merely wood painted with chalkboard paint, so it's not the easiest to write on, but I love it anyway. I think it'll be a versatile piece, and I'll be using it a lot, on these mantels.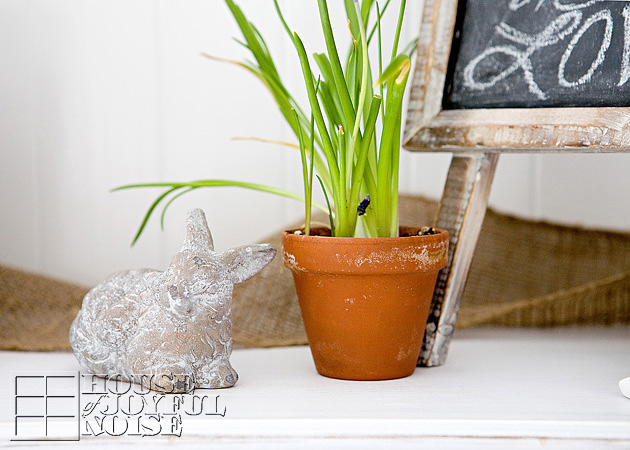 Also there, I picked up this adorable little ceramic clay bunny, and tiny potted Grape Hyacinth bulb plant.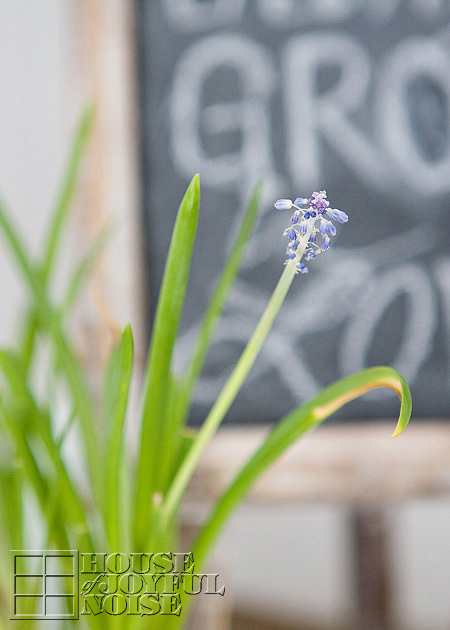 It was a tiny bit limp and dehydrated when I bought it that day, but I knew with some water and sunlight, it would quickly recover, and it has.
And that wraps up the first mantel.
On to the next . . . .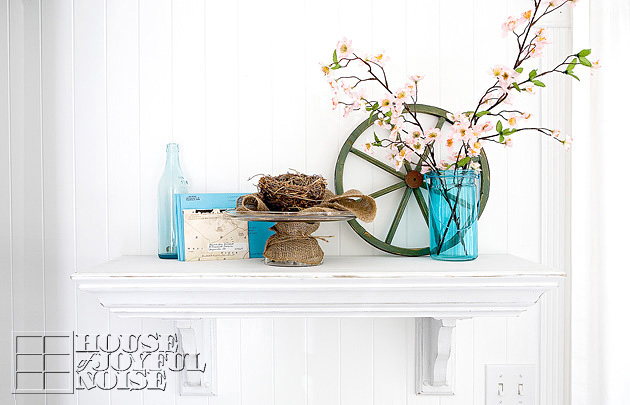 The second mantel is shorter, measuring just short of 3 feet long. I think it's so cute!

The colors for this one are just a bit different, with a teal being the focus colors, and the green and brown being 2 common colors found in the first mantel as well, where the green was the featured color in that one.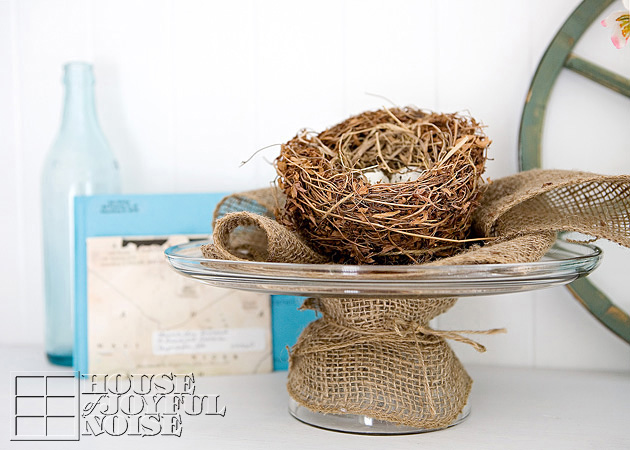 Dressing the cake dish from my kitchen in burlap and jute string, I placed a beautiful bird's nest, which I also finally found at the same big retail space I spoke of a minute ago. I'll give you a closer look at the next in a moment. But notice the mail against the back wall: As I was looking pieces in my house that fit into my color theory, I spotted this mail that was so thoughtfully sent by our fan-friend Julie! The envelopes to the kids' Easter cards from her, happened to be teal. And then I had some mail for me that she had sent, for which she had made the envelope from a mao (LOVE!), that was made up of some of the warm browns I was working with too. So see…..anything can be used as decor. And it's always nice to use the little things that give us warm fuzzies inside, and I think such things also add an element of really personal touch and warmth to your home setting.
I really had been looking for the supplies to make one of my own for weeks, but was having little success. I was even considering making one of my own, if I found the right materials. While I did find a little next at Michael's Arts & Crafts, I wasn't crazy about the way it was made, and the (blue) eggs I found were also not quite real enough for me. I'm really particular about that kind of thing. So when I spotted this bird nest, with much more realistic eggs already in it, I grabbed it.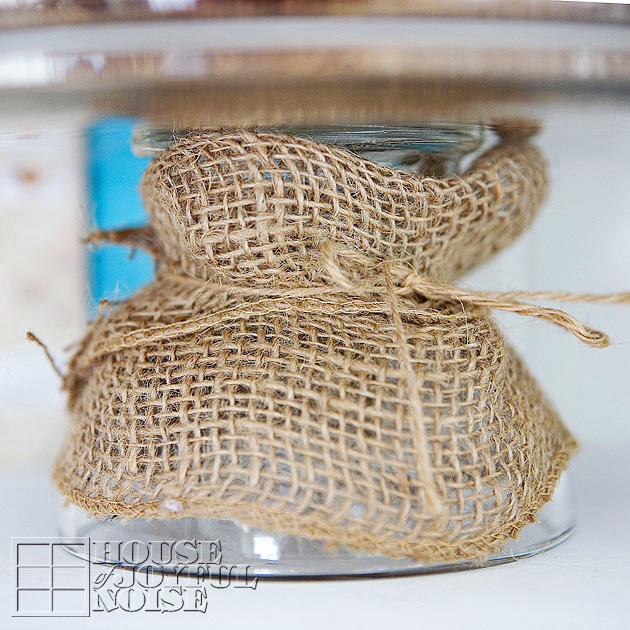 A closer look at the base of the cake dish, wrapped purposely haphazardly, in burlap, and tied secure with jute.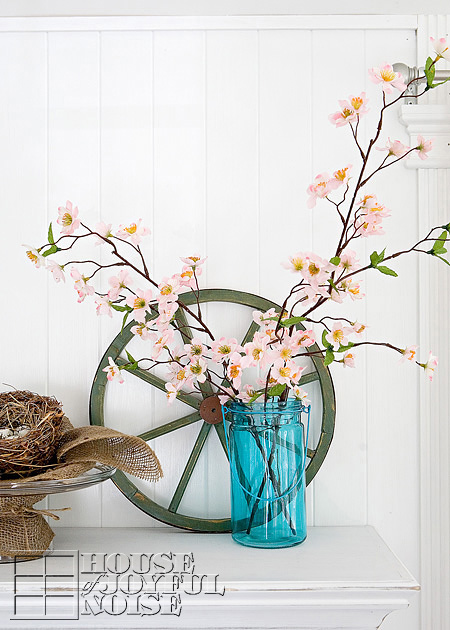 This teal colored canister-jar was the first piece chosen for this mantel, and sort of kicked off the feature of the teal color. So I purchased some faux apple blossom branches to go in it. Then I Googled for a little about arranging such things, and learned more than I knew I had to learn! I had no idea so many parts were meant to bend, and things could be moved around from one part to another, etc. Lots of little tips I found helpful, to help make the bloomed branches look more life-like, and compositionally pleasing and balanced to the eye.
The wagon wheel was elsewhere in our sun room, and I noticed it also fit in with the common color for this mantel, so I threw that in as well.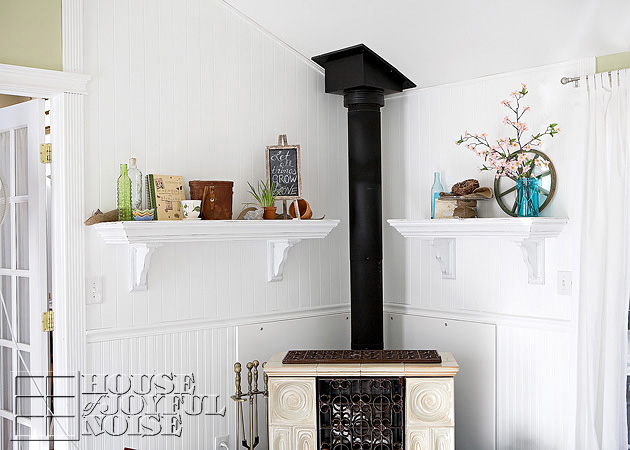 Taking a look at both mantels together, from a different angle, you can see how they are really different enough, and yet compliment each other well, in both theme of spring, as well as textures/materials with wood, glass, burlap, clays, and plants.

As well as in color theory, which is always fun to work with, no matter what the artistic project at hand is.
I really hope you enjoyed this in-depth discussion of decorating mantels, because there will be a lot more of it in the future, all throughout the year!
GOSH IT'S FUN!!
I'm happy you're here! I'd be happy to continue this chat with you all, in a more two-way manner, in the comments!