Here is the kitchen project I have been SO excited to share with you all!  Again, this was one of my brainstorms, and I'll be darned if I should've thought of it sooner!
So….take a good look at the photo below. This is a stairwell down into the middle level where our laundry room is, to our finishes basement (with 1/3 of a side unfinished.)  You see that ledge along the stairs and half-wall?  We are always putting stuff there that needs to go down and put away, that we don't have room for to keep in the kitchen.  Extra platters, our slow cooker, etc.  Plus, we have plenty around the kitchen that could use a better residing place.
So one day it hit me……we could make this area into some really awesome, USEFUL, shelves.  And I knew just how it could be done, more or less. So, I told Michael about it, he drew what he thought, I said "No, no no, like this…."….and drew out what I thought, and we debated some. In the end, he understood my 'vision'…and I got BEYOND excited.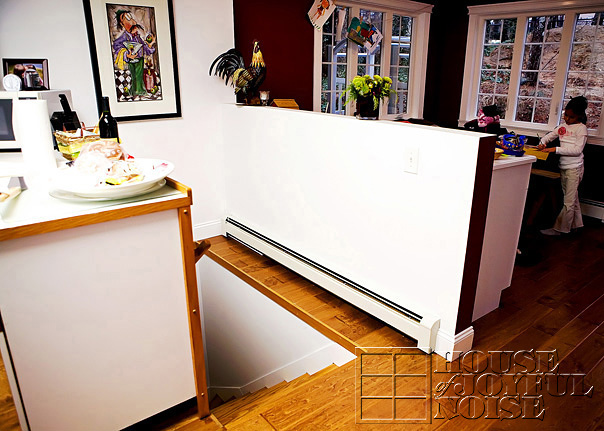 That half wall is about 4.5- 5 inches thick. Pretty useless, as is the ledge.  The half wall is a nice way to keep the kitchen open to the school room (which was one of the rooms added on to the house), but when this hum-dinger of an idea hit me, it all suddenly seemed like long-time-wasted space.
So, here, is the beginning rough framing of these shelves…..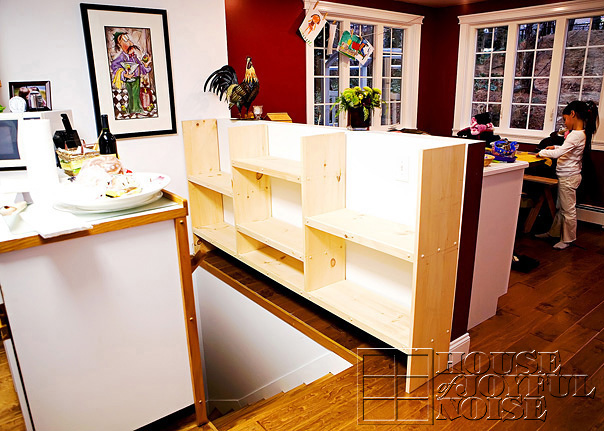 Michael was just testing the fit of it, if it was going to work alright, etc. We talked about how to finish it off.  Which is always a good thing, to bounce each other's ideas off of each other.  Because in the end, we come up with the best overall solutions.  We just love working together on new ideas. Especially when it comes to improving the appearance and functionality of our home.
And here it is finished . . . . . .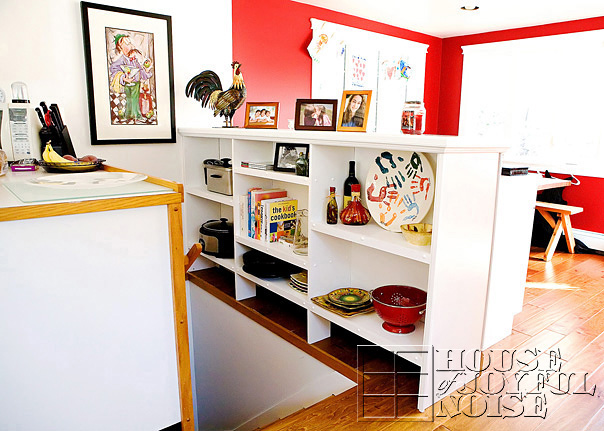 I am SOOOOO in love with it. I can't BELIEVE I didn't think of this sooner!  Notice how we incorporated the 1/2 inch wall, and added the actual shelving space for a new 19.25 inch top surface?!   Ohhhh, the things I could display there.  For now, I just took what I really wanted MOVED…a few photos frames, and a candle.
–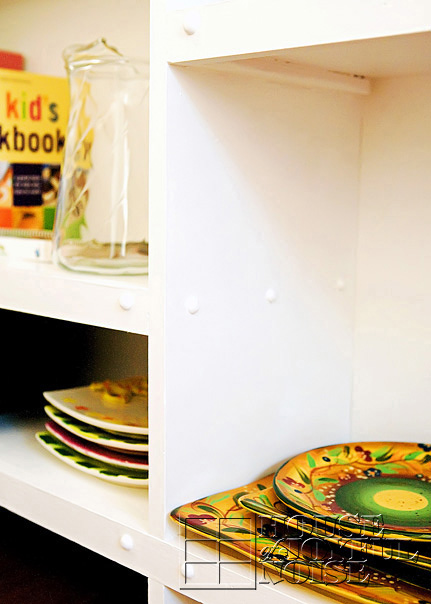 I even love the little nubby things, that cover the screws.  It adds character!
The shelves I have now, will serve in holding things that have just been in the way around the kitchen, and just 'stuck somewhere' as there was nowhere else to put it, as well as many of my favorite things.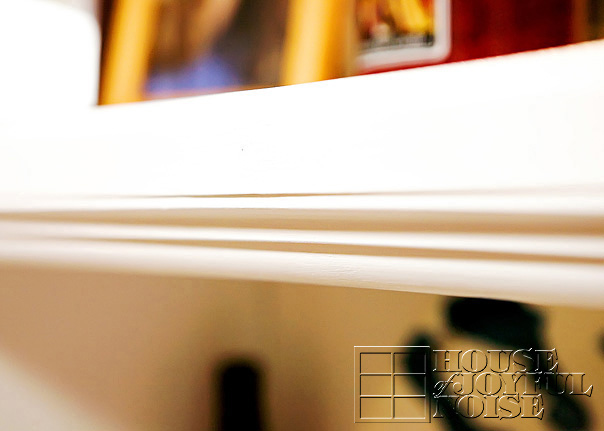 Look at the fine trim work.  Underneath………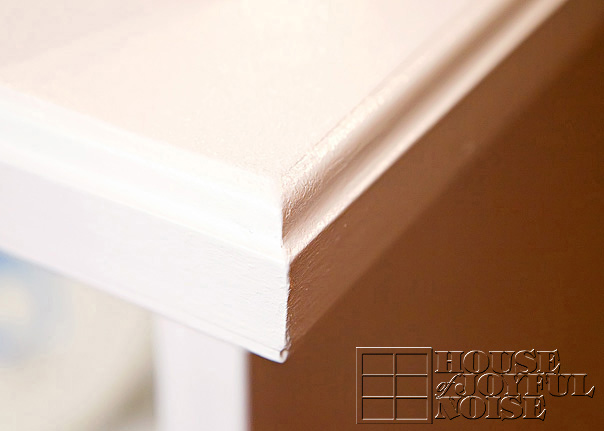 ….as well as on top.  This was purchased trim, primed and painted, and mitered, to fit.
–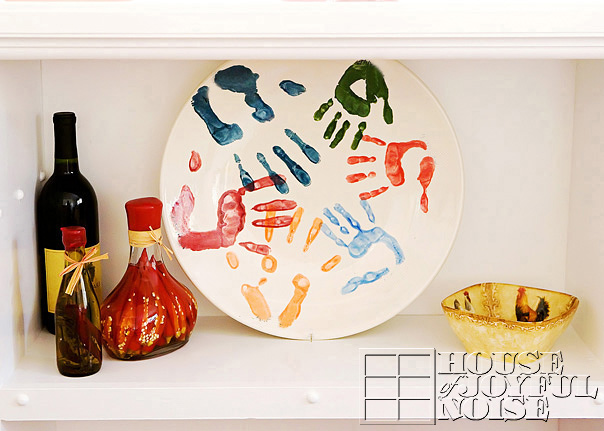 One of the sentimental things our new shelves displays, is our family plate.
Our names are actually under each hand, but I edited them out because…..right, I'm still thinking on that.
–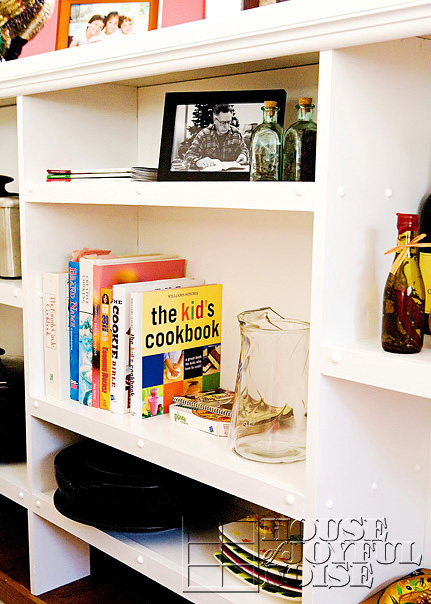 Our growing collection of cookbooks.   Below that on the right is the plates the kids made, for the triplets 6th birthday at a ceramic place.
–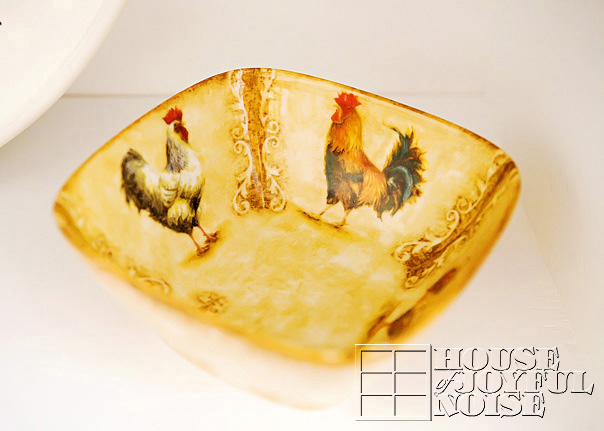 I SO love this bowl.  I love roosters. Love the royal colors. Had to have it.  There was a few other pieces that matched, when I found them at Marshall's.  But I resisted buying every piece. I just got the bowl.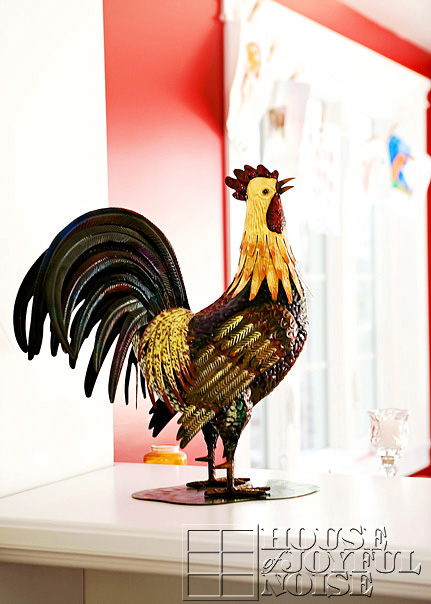 Here's our big guy, who has resided at the far end of the half wall, for some time. He's made of tin.
He looks better and more secure, in a wider platform such as this.   De Colores!  ; )
–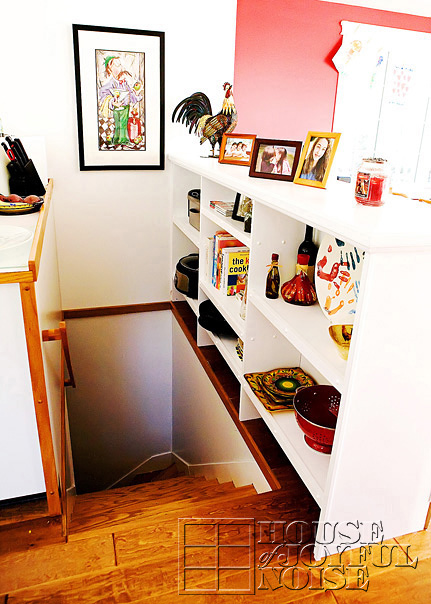 I can't tell you the JOY I will get, going up and down these stairs, from now on.   Or, on second thought, I may think, "Ugh. I need to dust again." lol.
But generally, it makes me happy.
–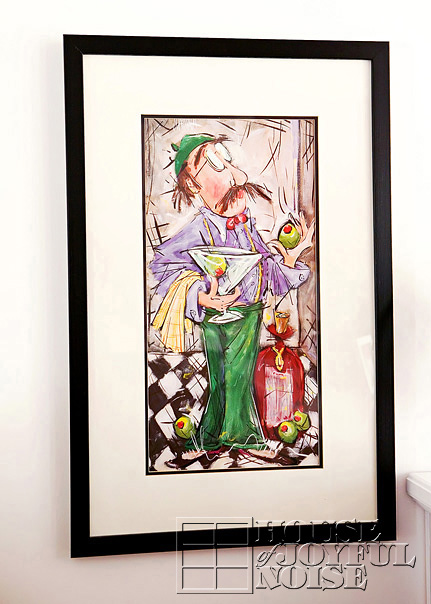 This has been over our stairs for some time.  It's a large framed piece, from a family friend's upscale boutique, Grandma Daisy's, in Dennisport, MA.  It was a gift, and I love it too.
It is nice, to have a husband, who can whip up nearly anything you dream.  His gets such skills and ambition, from his father, who was/is very much the same exact way.  "Why buy it….when we can make it?"  Or sometimes…."We can't afford to buy that, but we can make it!"  Always cheaper.  And again….you just love your home even more, when you've invested such thought and hard-work into it.
So, here is the BEFORE and AFTER, together: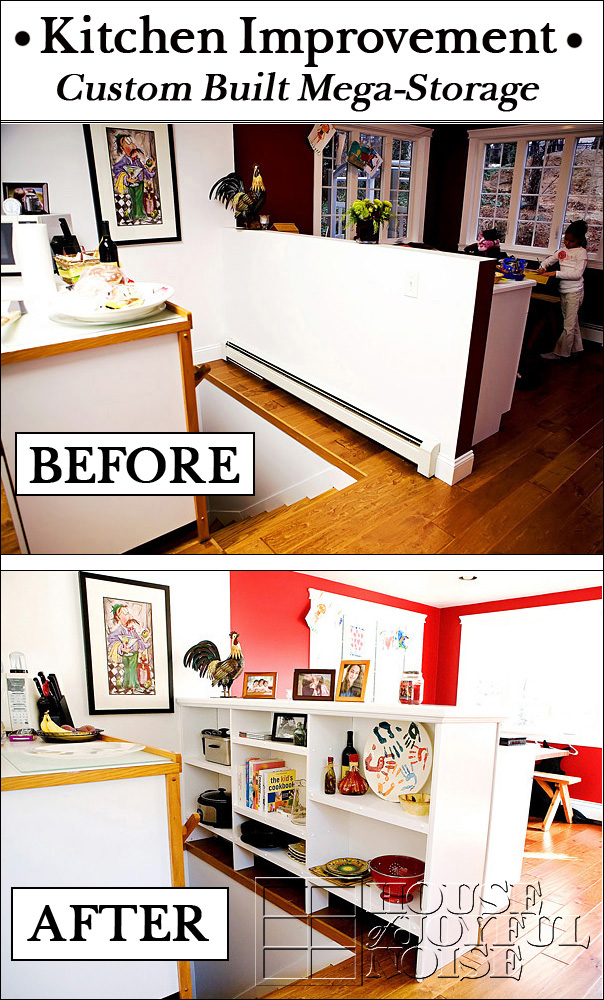 I hope you enjoyed reading about this project, as much I enjoyed sharing it.  Wouldn't you know, no sooner was this one done, did I have another GRAND idea for our kitchen.  The little things that bug me, inspire me, more than you know.  I'm a picky one, but who ever said that was a bad thing?
Thanks for coming by!
Save
Save