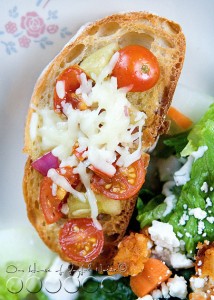 Here's another delicious little something, to make with some of those fresh summer tomatoes!
Bruschetta!!
Bruschetta topping on toasted bread, is a perfect side to a nice salad (as shown here), or an appetizer for luncheons or cocktail parties. (Well, I've heard.  I haven't been to a cocktail party in…..well, I actually can't think of a time I have ever been to one, come to think of it. Or, maybe I'm not sure what one is.  But I know what bruschetta is!)
'Bruschetta' is an Italian word (Tuscany, to be exact), that means to 'toast or burn'.  I prefer to toast my bruschetta.  ; )  There are many variations that can be made to this recipe, so don't be afraid to experiment on your own!  That's generally what I did when I made this bruschetta this evening a couple of weeks ago. My father, with his ever-discerning tongue, was here for dinner, and he gave it all gold forks. (He loved my salad too. He's a natural born food critic. Ask anyone who has ever sat down and eaten with him.)
No complete step by step this time photos for the directions this time, but it's easy enough to follow.  I kind of winged it, with loose measurements, adjusting by eye. You can do that….have no fear. Here's how (generally) I made it:
Participating ingredients:
Ciabatta bread; (can be found at bakery), sliced thick.  French baguette loaf can also be used

1 Garlic clove peeled, and cut in half once.  (Optional)


~ 2 cups chopped tomatoes ( I used Early Girls > It's what I had on hand.)

~ 1/4 cup finely chopped red onion

~ 1 cup chopped cucumber

2 Tablespoons of Balsamic Vinegar

3-4 Tablespoons of Extra Virgin Olive Oil

Shredded Mozzarella Cheese

Salt & Pepper to taste.

1) Put all chopped vegetables into a small to medium mixing bowl.
2) Add olive oil and vinegar, salt and pepper if you choose, and mix well.
3) Place mixture in fridge or just on counter to all sit together in the bowl, while you prepare the rest.

4) Per-heat oven to broil (My oven requires a temp, so I set it for 375)
5) Line cookie sheet with tinfoil, or whatever you use to protect sheet.
6) Place breads on sheet, spaced evenly.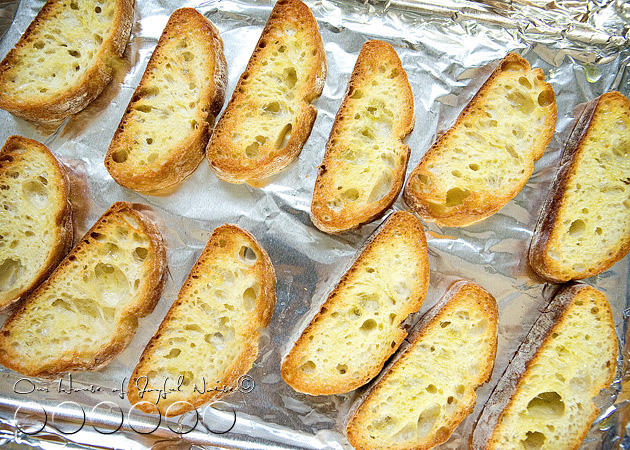 7) Place in oven, and toast for 1-2 minutes, until you see they start to brown or turn golden. (Shown in photo above.)

8) Remove sheet from oven, and brush each bread piece with the olive oil.
9) Rub each piece with the halved garlic clove for added flavor, if desired. (I desired.)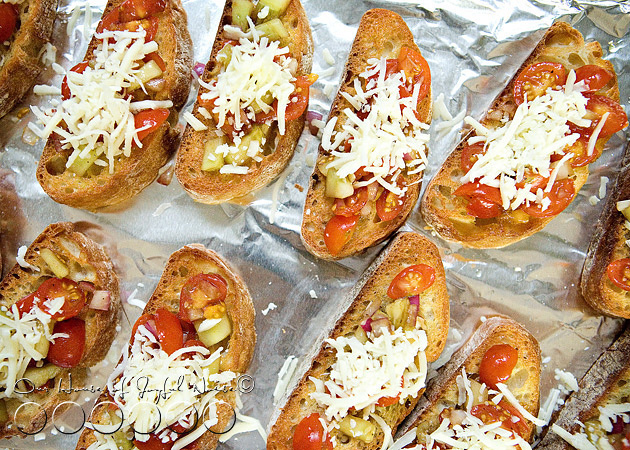 10) Mix mixture in bowl again, and then I drained all of the excess liquid in the bottom.
11)  Spoon tomato/vegetable mixtures onto bread slices.
12) Top with some shredded mozzarella. (Show with all toppings on bread, in photo above.)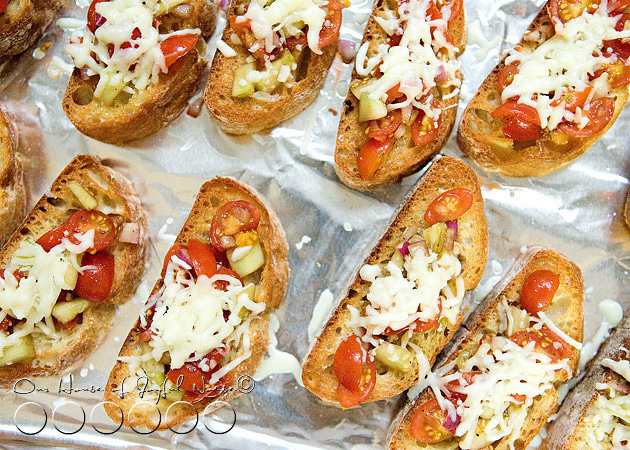 13) Put back into oven for a minute or so, watching closely, just until cheese is melted, and remove.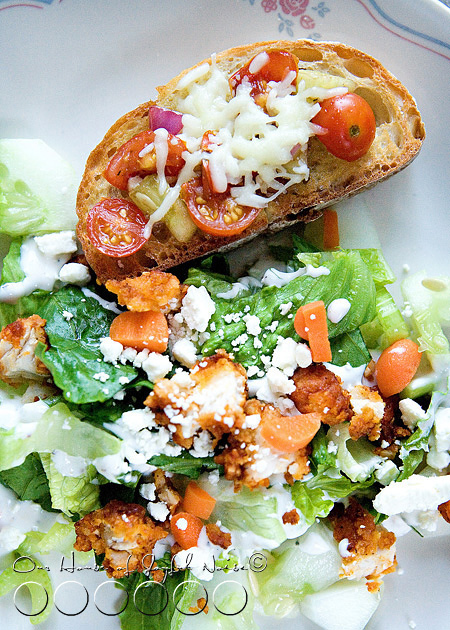 Serve up, and enjoy!!
Save