Everyone should try these at least once in their lifetime: Bacon Wrapped Pineapple Bites.  (Although once you do try them once, it's highly unlikely it'll be the last time.) We made these tasty little morsels for this first time, for New Year's Eve. My girlfriend Paula wanted the recipe, so I told her I would post the recipe on the blog.  And here it is.  Because I'm always true to my word.  And also, we wanted to make (read: eat) these again. : )  Doubt it'll be the last time, either.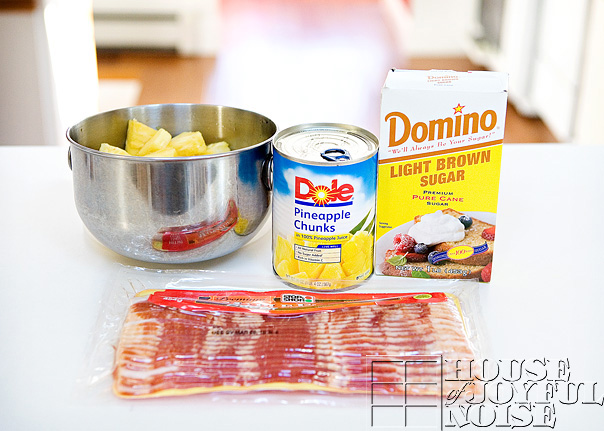 Participating Ingredients:
1 pound of bacon, 1 can of Large Chunked Pineapple (or fresh), and 1/2 cup Brown Sugar.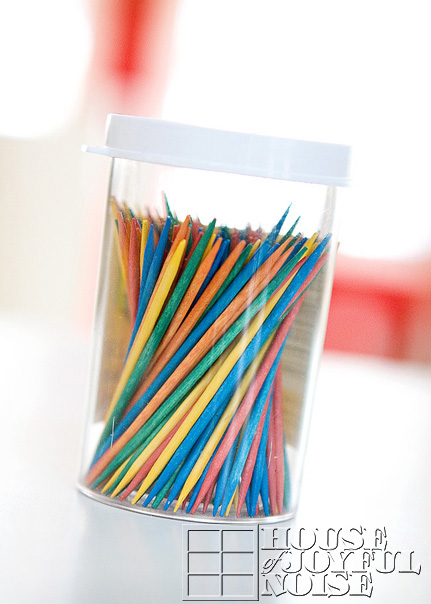 You'll also need toothpicks.   The colors add to my happy, but if they do nothing for you, plain wood color is fine too.
Set your oven for 375 degrees.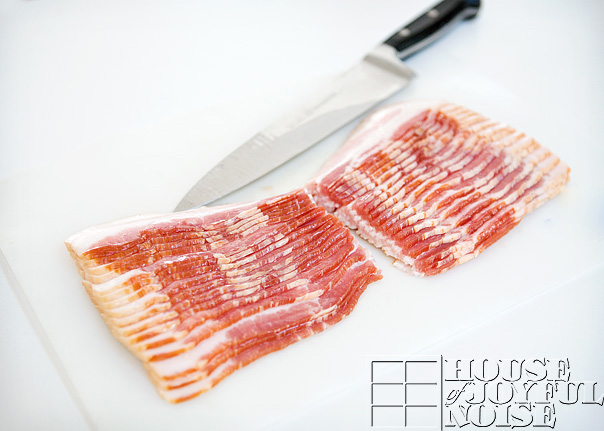 Take the bacon out of the package, and cut it in half, like so.  (Oh my gosh…the things I am starting to say!!  "LIKE SO?"  Did I say that? lol)
Also, pour some brown sugar into a bowl or container.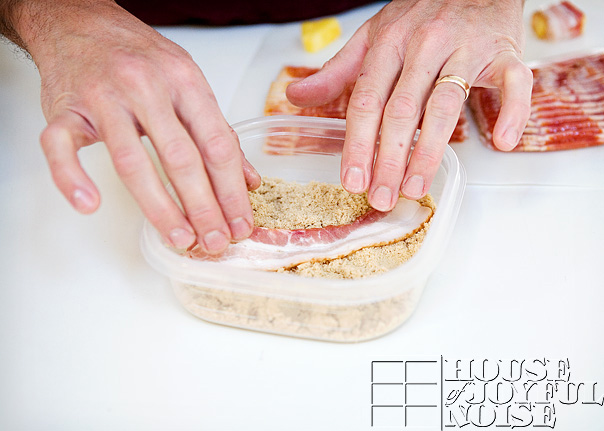 Take a 1/2 piece of bacon, and press it into the brown sugar, coating both sides of the bacon.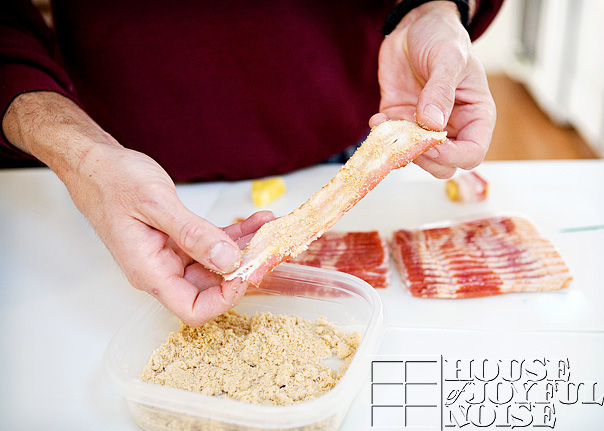 I guess he's showing us what it should look like?  He held it like this for a long time, so I sensed he was waiting for me to take a photo. lol. Yes.  Brown sugar coated bacon piece.  There it is.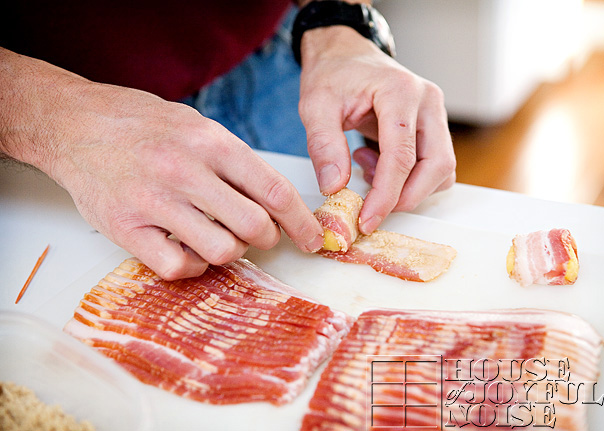 Take a chunk of pineapple, place it on the bacon, and roll it up!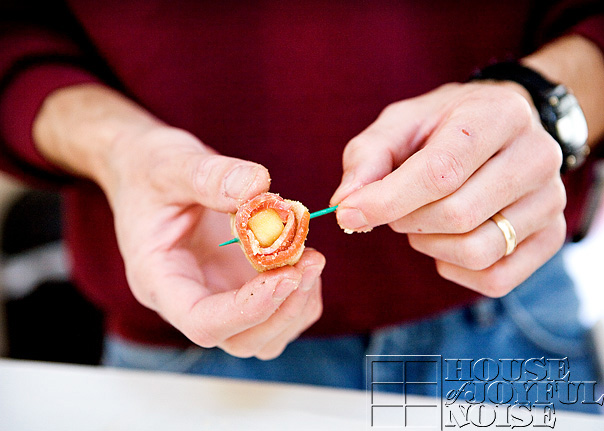 Impale it, with a toothpick.  : )
Place that one down,  and make another.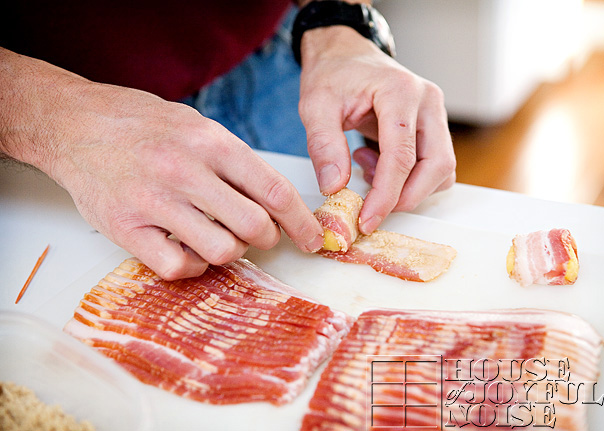 And another.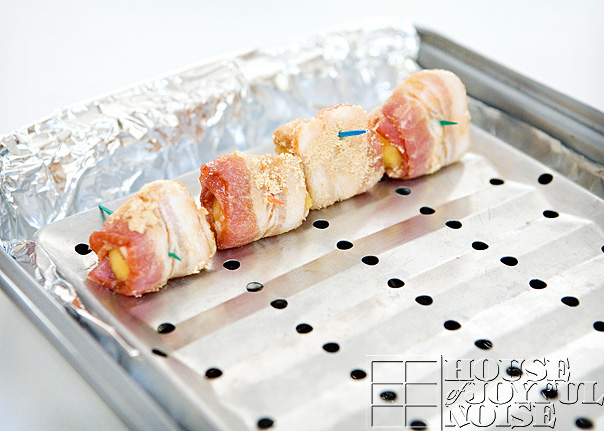 Now the recipe instructions said to place them on a rack on some foil in a jellyroll pan?  Honestly, I'm still not sure what a jelly-roll pan is.  But….like the 5 Qt.  Kitchen Aid Mixer I still covet, we are managing without a jelly roll pan too.  SO….we just covered our toaster oven pan with tin foil, and used the rack from that.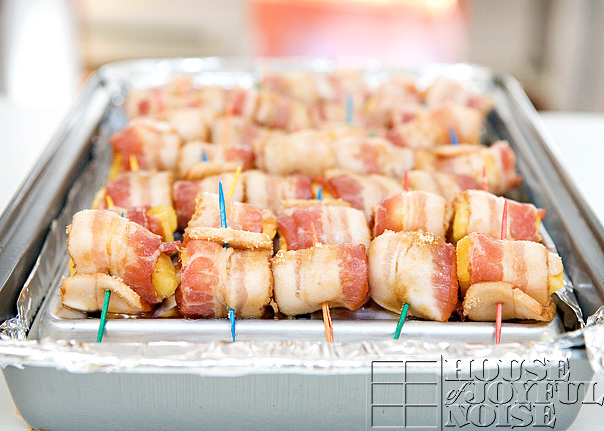 You will notice that the brown sugar seems to disappear.  But it doesn't.  It just absorbs the moisture and is harder to see. Ready to go in the oven!
Bake for 25 minutes, or until the bacon looks brown and crispy.  But keep an eye on them, because if they are in too long, the sugar WILL burn!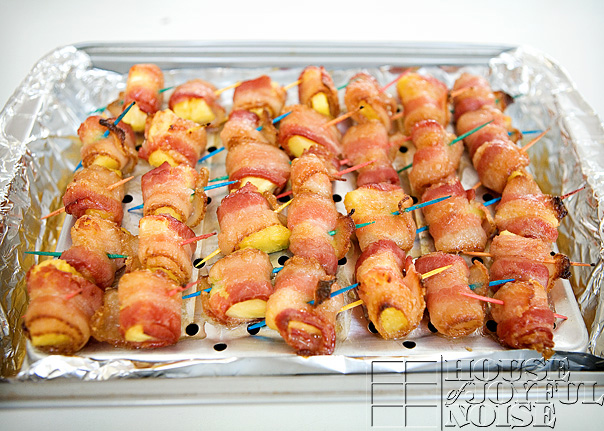 The smell is SOOOO GOOOOD.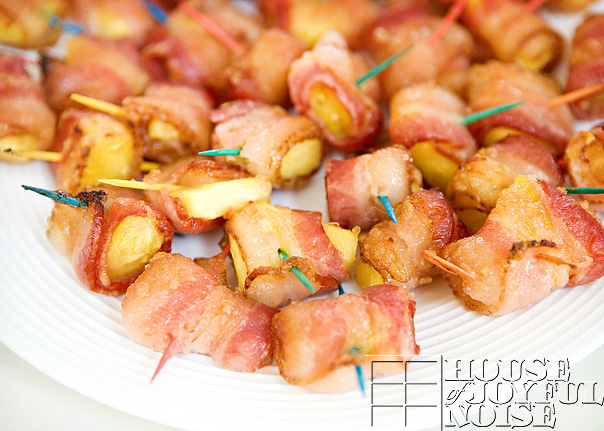 I think the salty and then sweet,  that just busts out in your mouth, is the joy.
WARNING: DO let them cool some, before trying one!!  I mean…..it's sizzling BACON, that just came out of the oven.  And if you eat one too soon, ….well.  Let's just say you won't be able to enjoy any more, with blisters all over your lips and tongue.   I reckon you'll be pretty much done eating for a couple of days,  after that. ; )
We used canned pineapple the first time we made them, and fresh the 2nd time.  Dare I say, I seemed to like the canned better for this recipe.   I'm still puzzled by that, because I am all about fresh fruit and vegetables, whenever possible.  Maybe it was actually the bacon was a little different.  Hmmm…will have to make these a few more times to be sure.  Very good, both times, either way.  One batch was just crispier.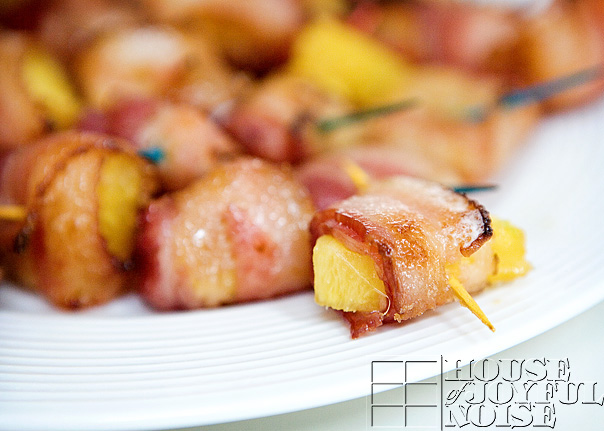 Anyway.  They are DIVINE.  It's hard to believe that something so very easy, can taste so very good.  But, sometimes that's the case.   What a great appetizer for a party.  Perhaps, a Superbowl party??  Our New England Patriot's really blew it, and won't be in the Superbowl this year.  So we'll just, you know, pick the team with the best colored uniforms, cheer them on, and have a party anyway!
Save
Save
Save