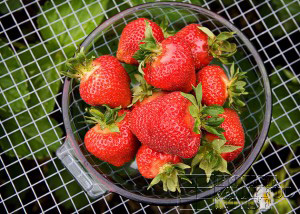 The last time I had checked the strawberry bed, there was 1 strawberry that I was sure would be good and ready the next day for pickin', and I had my name all over it!!
But I didn't actually get out there until 2 days later.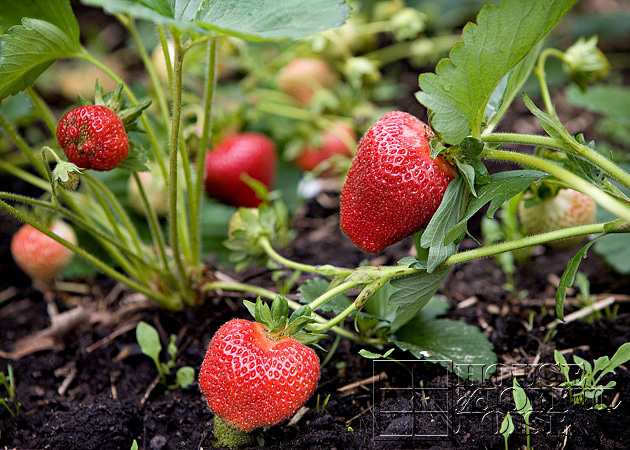 And lo and behold, there were several ready, and some were downright huge!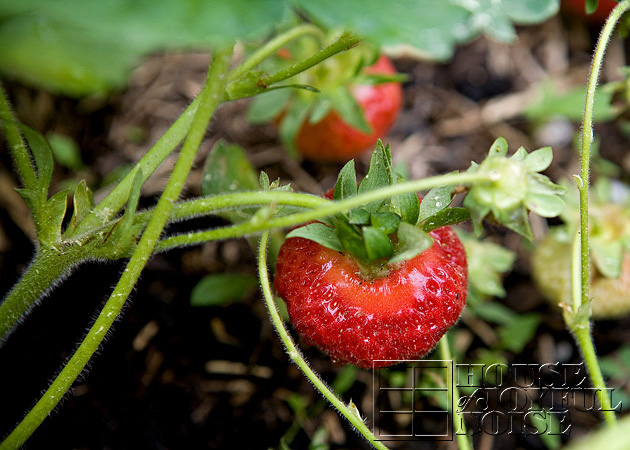 Not only were there a good many ready, it was obvious there would be a good many more ready in the next day or two also.
They always look so pretty among the green leaves, and dark rich soil, that I'm always feeling a little….reluctant, to pluck them off the stems.  I remember having the same hesitations last year.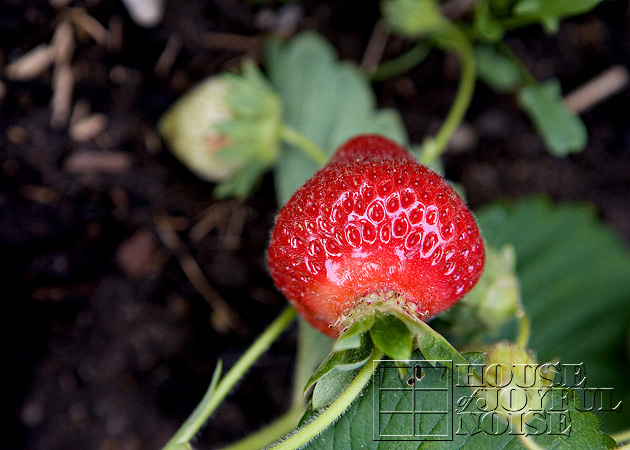 I know. I'm strange.
One more photo. One more angle.
Sometimes, one more day.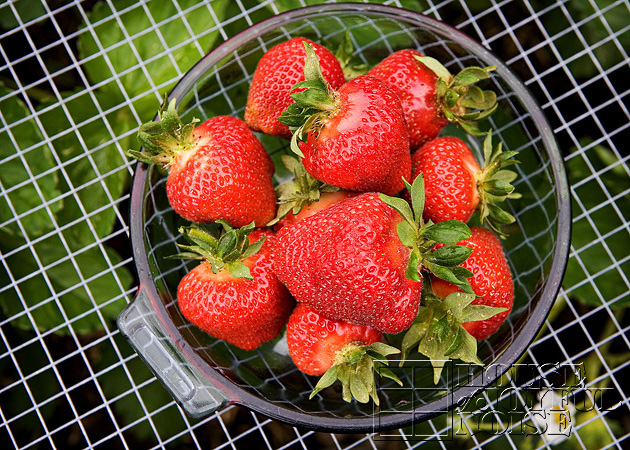 We did get to picking the first ones, and filling up this shallow dish.  As a side note about the dish, it's one that was always in my home that I grew up in.  It's blue, and is a Pyrex piece.  I always thought it was a little odd, but always found it useful.  Somehow, it made it's way to my own home, once I was married.   I have no idea how.  I don't recall taking it, and my mother was not the type that would come over with a dish of something delicious in hand.  But somehow, it got here.
One of the times my mother was here, I took out the dish to use, and told her I didn't know how it ended up here.  She then told me something else I didn't know:  It was once her mother's (my grandmother's), and it used to have a handle that attached to the extended lip there, for when using with the oven or stove. Well, that explained the oddness about it.
It also took on more meaning in that moment.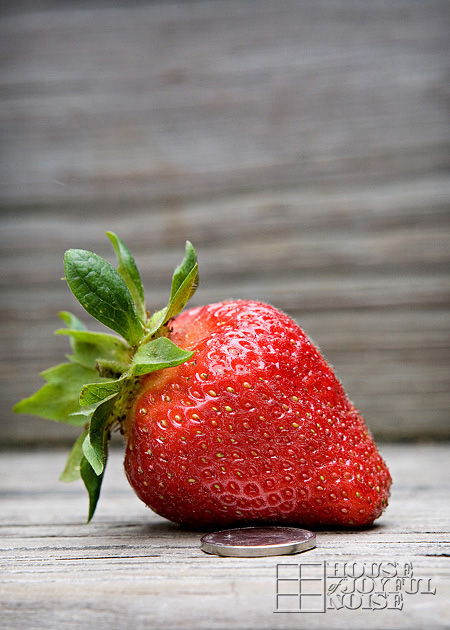 I was determined to somehow show you all, how big this strawberry in particular was.  Here it is next to a nickle.  But…..my comparison photo somehow does not convey my intent.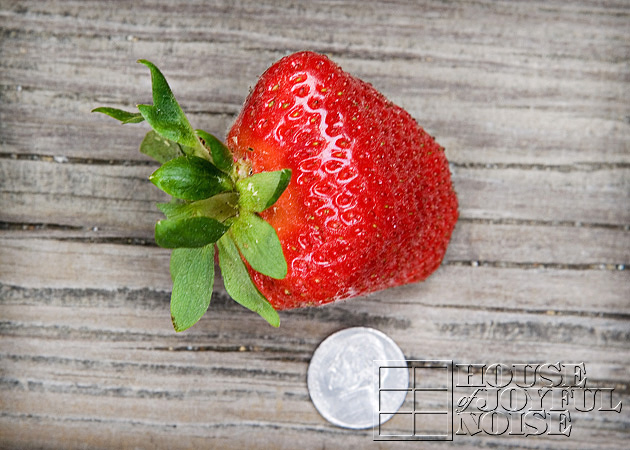 So I tried another angle, looking down at it.  It was a wide strawberry!  But still, it was bigger than the photo looked.
I wished you all could be there, to just hold it in the palm of your hand for a moment, because that is how you would truly comprehend it's size.  It was the circumference, that was impressive.  But there were many that were almost as big.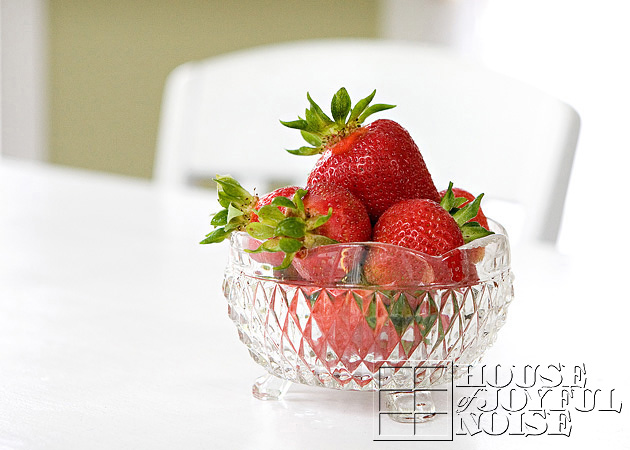 They were so nice to look at, we put them in a pretty bowl for like….a half an hour.
But then the kids wanted to eat some, and Michael wanted to cut one up and put it on his cereal.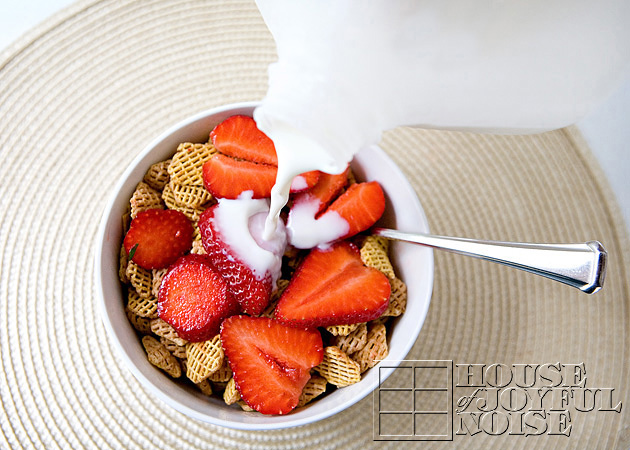 I would LOVE to do more commercial photography. I have so much fun taking photos of stuff like this.  It's yet another reason I blog.  So I have an excuse to take such photos, and have something to do with them.  Can't you see this shot in a commercial?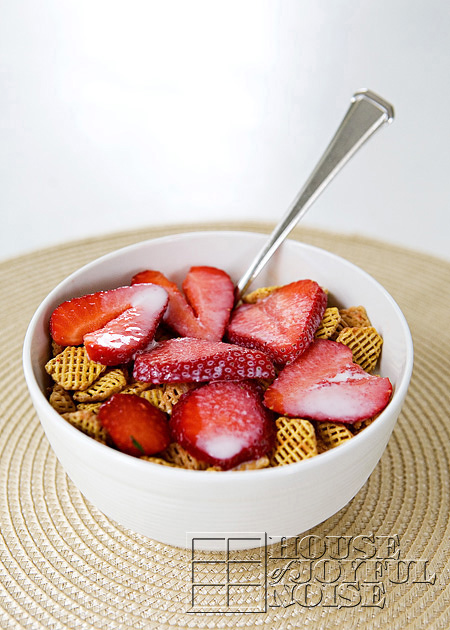 Or this one on the front of a cereal box?
Maybe I can work for Kellogg's.
Do you think I'm good enough?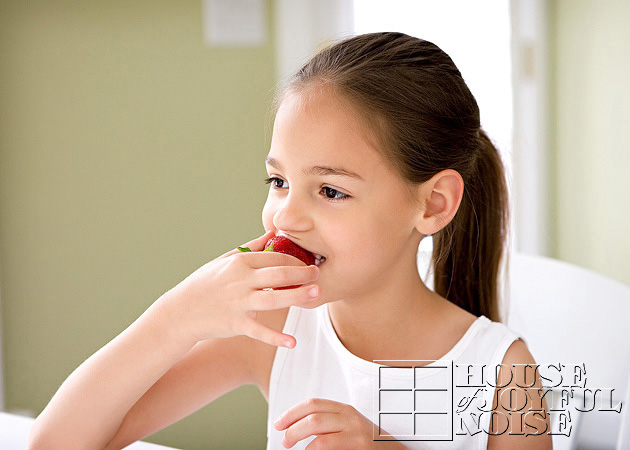 The kids were enjoying them just as they were.  So fresh and juicy!!  The bowl was emptying quickly, but since then, we have filled up that Pyrex 2 more times in the past few days, and some were even BIGGER!
I've had so many plans for our strawberries this year.  I want to make some jam, and strawberry shortcake.  But I wonder how I'll have enough at one time.  Maybe I can freeze and collect them until I have a good amount all at once?  If they make it to the freezer.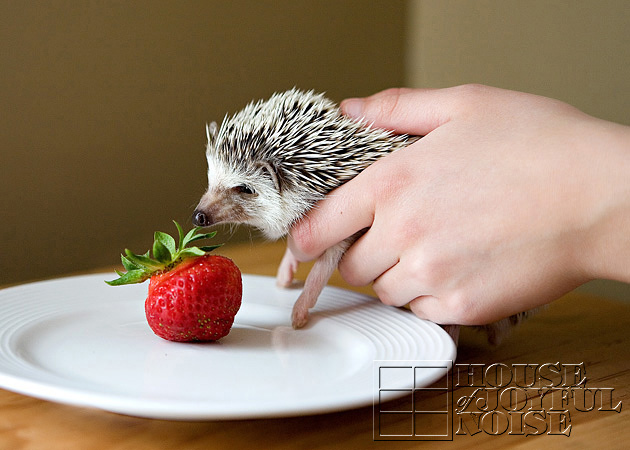 It's good for a hedgehog's diet, to eat certain fresh fruits and vegetables, too.   So we were SO excited to let Pixel try a strawberry!
She's going to LOVE IT, right?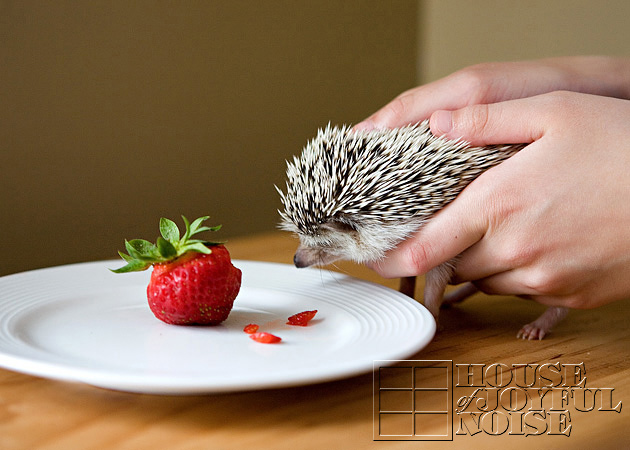 Not so much. She put her visor right down. We even tried cutting off little bits, since she wouldn't take a bite.
WHAT?! We all just love them so much.  Strawberries are so GOOD!
This couldn't be true.  She MUST love them too!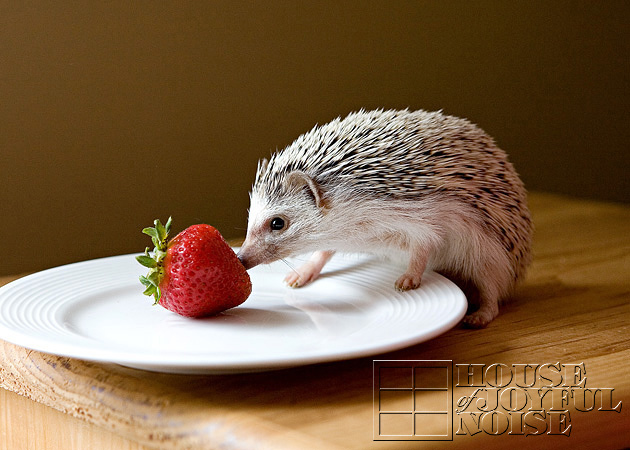 So we tried again the next day, and felt hopeful, for a moment…..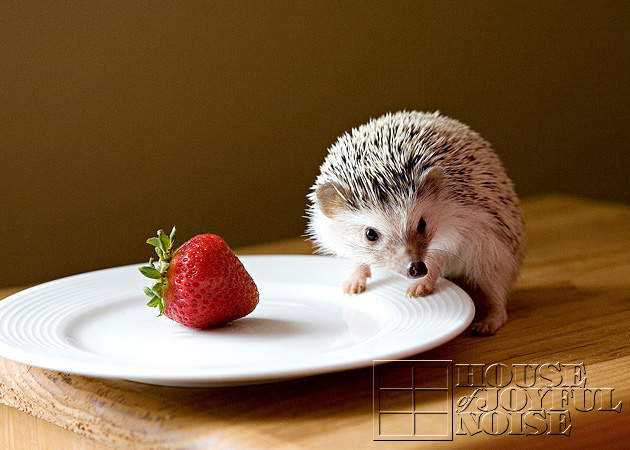 ….but she turned away again.  What in the heck.  We'll keep trying to introduce her to different things.
She has grown, hasn't she?  She doesn't fit in a t.p. tube anymore.
I am still working on posts about our front yard transformation/gardening progress.  It's going to have to be a 2 or 3 parter, with what I have right now.  I think you'll love seeing how things are going, and what the plans are.  The future plans include growing other fruit as well.  But right now, strawberries (& tomatoes) are the only fruit we're growing.  Although we do have a wild raspberry bush out back.
Are you growing any fruit this year?  What are you growing, and how is it going?
That's a wrap with this post. It's Sunday night as I type, and we did a lot this weekend.  I'm tired!   I promise the next blog post will not be about our strawberries. In fact, I believe the next will be in the Home Schooling section.  But thanks for sharing in our amateur gardening excitement with us! We hope to hear from you.
Let's have a great week!
Save