This recipe is one that came to mind, in a memory from years ago.  I had no idea what it was called though, so I googled the ingredients to figure it out.
I guess it's called  Soda Cracker Toffee.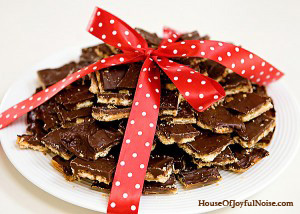 Which brings to mind a pressing question for me:  Does ANYONE actually say 'soda crackers' anymore?  I can't imagine.  So if you don't mind, while I share this recipe, I'm just going to refer to this type of crackers as 'saltines'.  After all, I'm just a kid.
But before I get to that, I wanted to share the memories that this treat brought to mind.  I remember the  first time I ever tried it.  I was working as a teller in a bank.  (Do I hear people snickering?  lol.  Yes, I realize, for anyone who knows me at all, it is comical that I ever worked in a bank.  But I did. For like 3 or 4 years!  You may wonder how I pulled that off.  Well, that's easy.  I was a struggling artist at the time, living at home with my parents.  A very, very good friend of my family's (still today), was the president of the district of that bank, or something like that.  He encouraged me to apply for a job at that bank.  As much as I questioned him that they would ever hire me, he assured me all would be fine.  ; )  I worked there for 2 years, and even was successfully transferred to the south shore when I got married.  Until I couldn't take it anymore…being like, and dressing like, someone I was so NOT.  So then I quit, and became a married, struggling artist, in my first own home.
But in that last year, there was a girl that worked at my branch for a few months.  There are 3 things I remember about her:
1) She was very bubbly, and always smiling.
2) She once turned to me after I said something or other, (I swear, I forget what..) and said, "You know, you are soooooo…..ABRASIVE!"  Michael and I have laughed about that for YEARS since.  Well, except I always forget the word she used, and he reminds me. And THEN we laugh again.  But anyway, it's not the truth. She was very sensitive, and just didn't get my humor.
3)   One day she brought in this recipe.
–
Now…..if you have a sweet tooth, THIS recipe is for YOU.  It's junk food, at it's best.   So I hear.  I'm not really into stuff this sweet, but I know others who are LOVING it.  ; )
It is SOOOO Easy to make. And only 4 ingredients.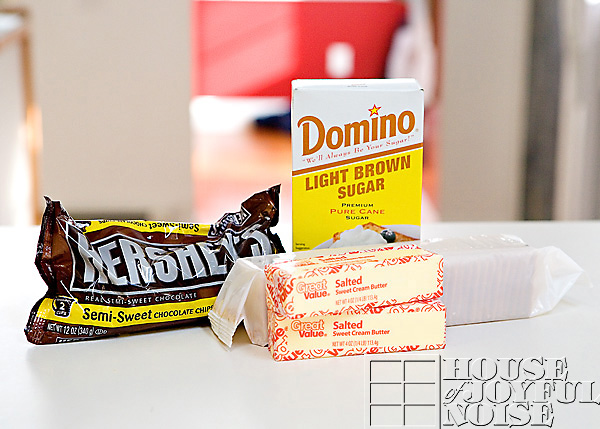 Participating Ingredients:  a sleeve of SALTINES, 1 cup of light brown sugar, a 12 oz bag of chocolate chips, & 1 cup of butter. (2 sticks.  Holy…)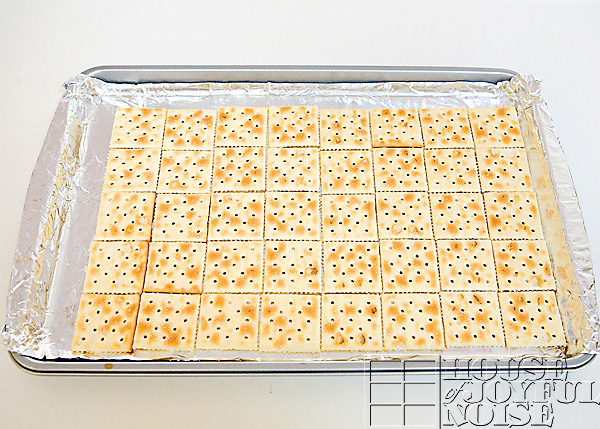 Spread a whole sleeve of the crackers as a single layer,  on a 10×15 jelly roll pan, or, if you don't have one of those (like us), we used a 17 1/4 x 11 x 1 inch cookie sheet, which should be covered with tin foil first.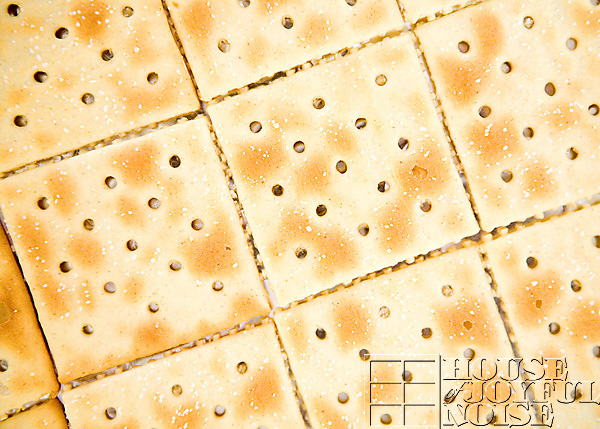 I took this photo just for fun. (So take a break. ; )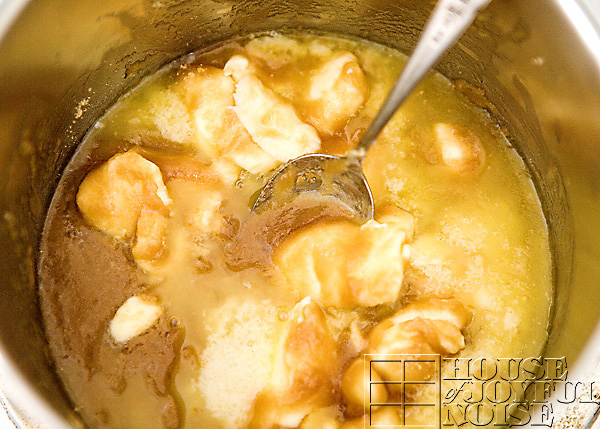 In a saucepan, melt down the 2 sticks of butter and 1 cup of brown sugar.
This would be a good time to preheat your oven to 350 degrees.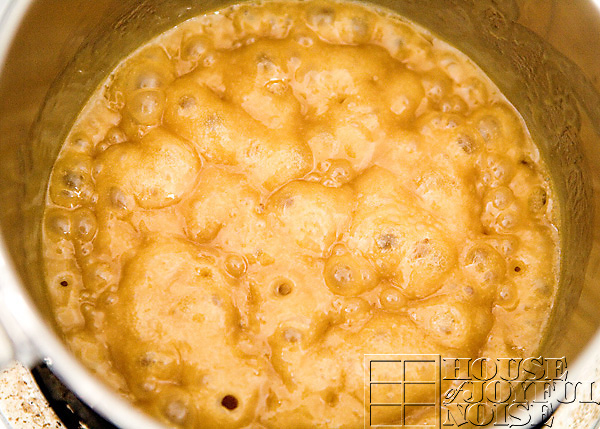 Bring to a boil, and while stirring frequently, boil for 4-5 minutes.
When the time is up, I saw lots of  'pockets' of butter or brown sugar, so I used the back of the spoon to press them out against the side of the pan, and mix some more, until it looked truly combined.  Took a minute is all.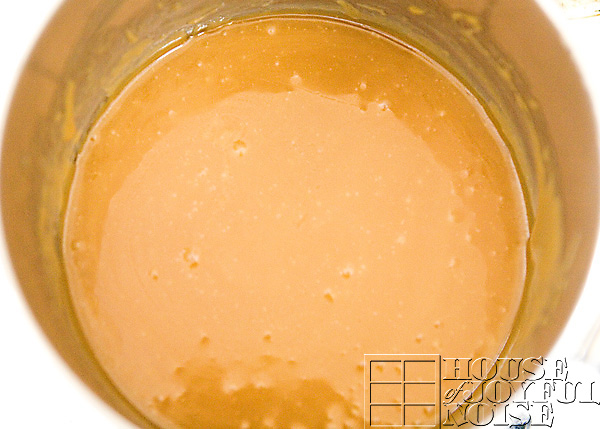 So then you have warm toffee, and it should look more like this.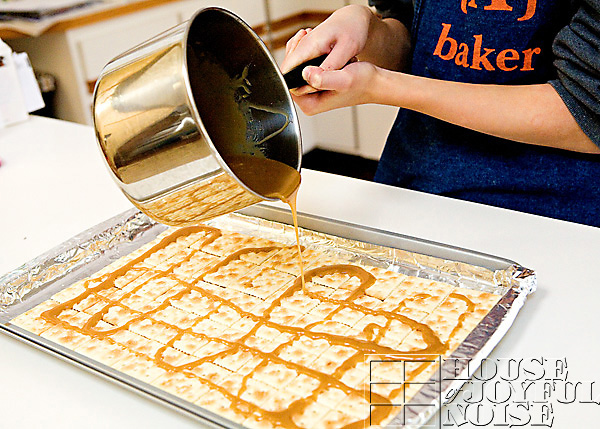 Pour as evenly as you can over all of the crackers.  You need to work some quickly because the toffee will start setting if it cools too much. Once it is all poured, quickly spread it out more evenly over the crackers.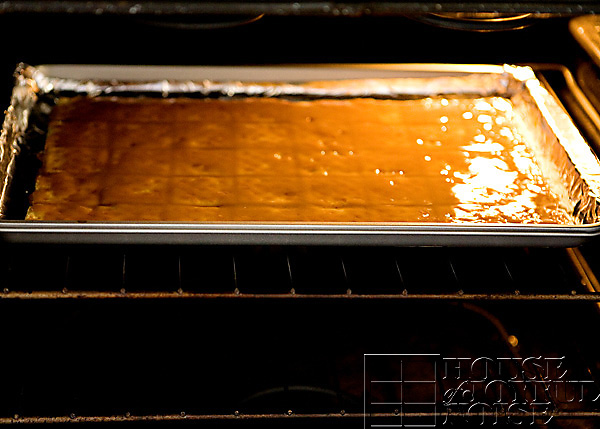 Once it is spread out, put it in your pre-heated oven and bake for 5 minutes.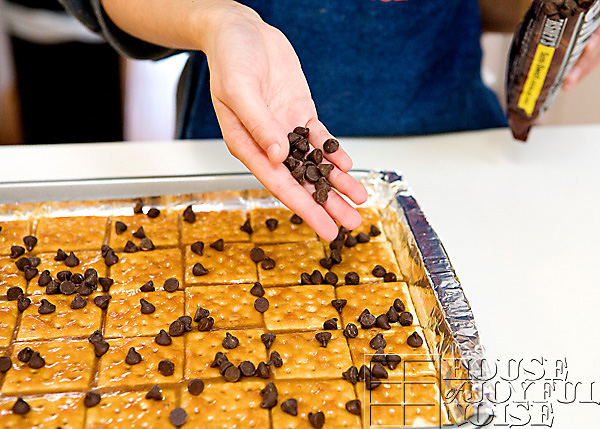 Remove pan from oven, and then turn off the oven.
Quickly spread the entire bag of chocolate chips all over the toffee-covered Saltines.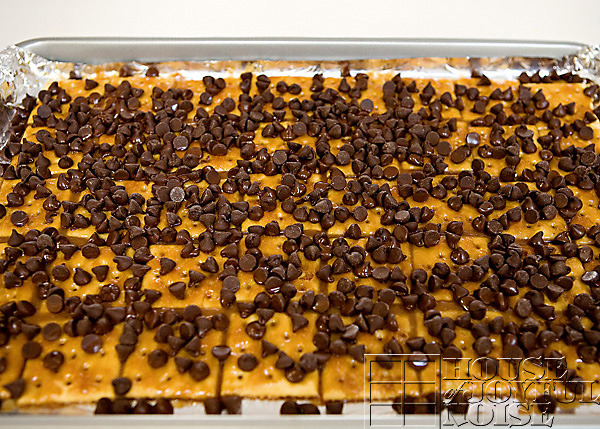 Then put the pan back in the oven for 4-5 minutes, which should still be pretty hot.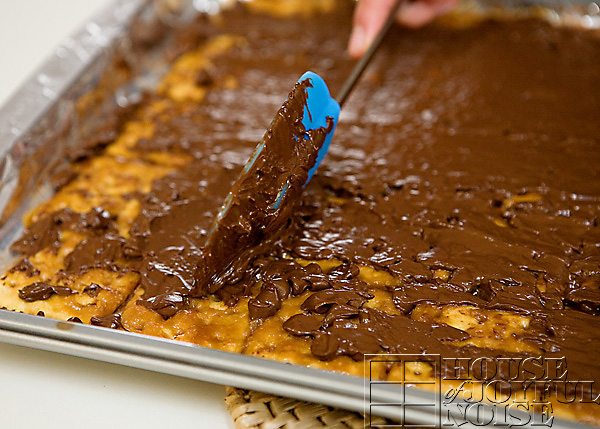 (In my attempt to see if the chips were indeed melt-y enough, I grabbed the spatula off the counter, which got caught on a pair of kitchen scissors, sending them flying INTO the oven, and falling to the bottom.
Metal tongs were necessary to remove the scissors, which were now on fire.  But you can skip that whole step! : )
When the chips look melt-y enough, remove the pan from the oven again, and spread the chocolate more evenly over the cracker base.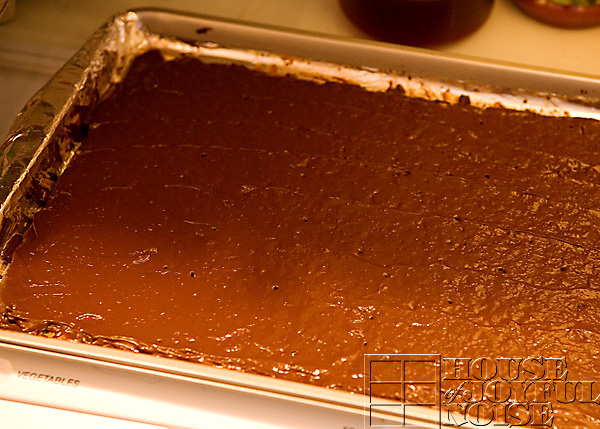 Now place the pan in your refrigerator, to speed up the process of chilling and setting the chocolate.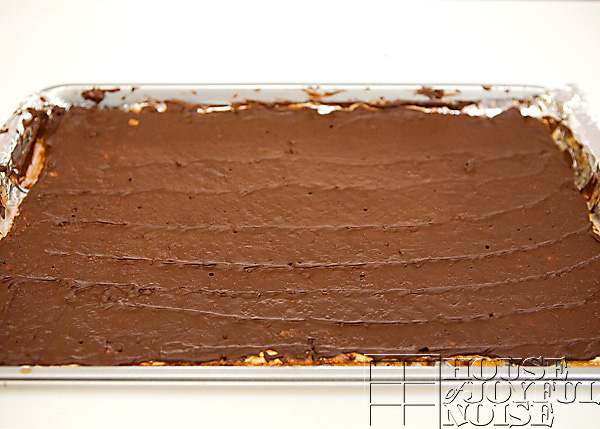 When it is set, remove from fridge.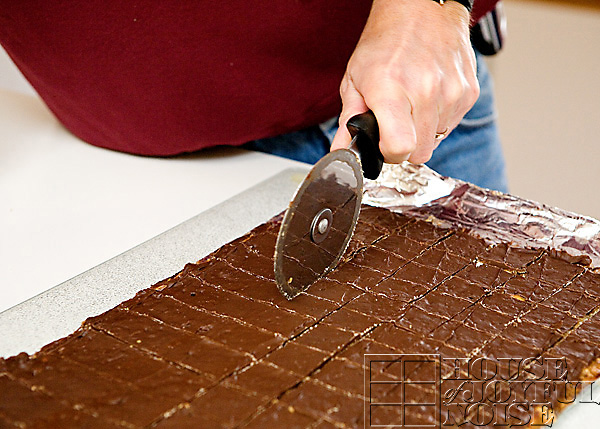 And cut into 1 inch squares with a pizza cutter.  (You can actually do this yourself!!  Michael just did it for me, because I'm weak, and have a life-long broken finger.) (I know what you are thinking by now….Yes, I am accident-prone.)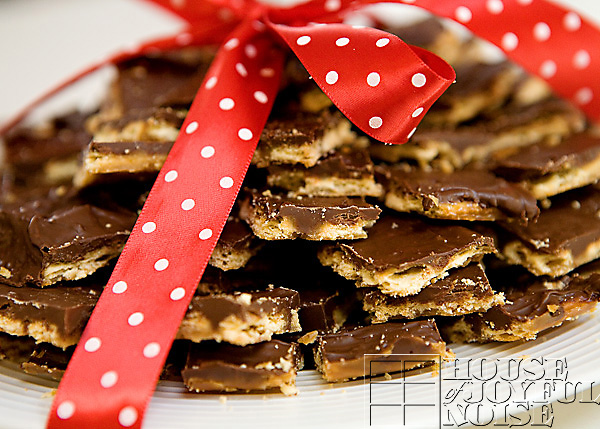 You can store it all in an air-tight container.
This treat is really a nice little gift, or a sweet addition to your own Christmas or New years festive celebration!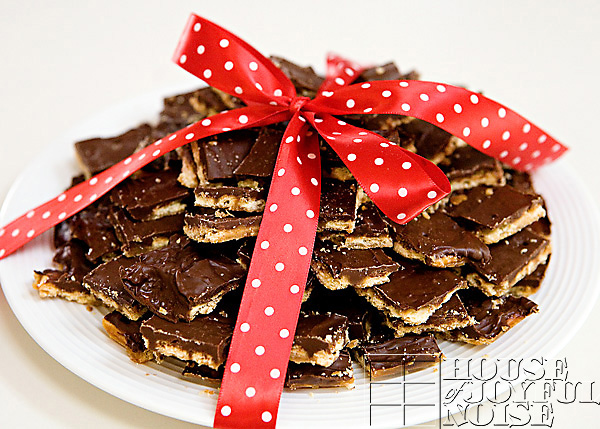 Enjoy!!
(And don't forget to brush your teeth after!  Seriously.)
Save
Save