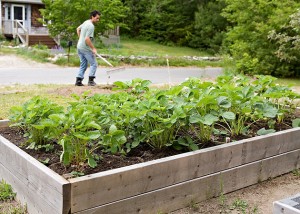 It's Monday evening, at the close of our long Memorial Day weekend.   It's a bit sad the weekend has gone by so fast, but we've got to be happy with all we got accomplished outside!  I have been taking photos like crazy, and can't wait to show you all what we got done, and what the drawn out plans are for our front yard transformation, into a garden wonderland!  But for this post, I want to share with you the excitement over our strawberries!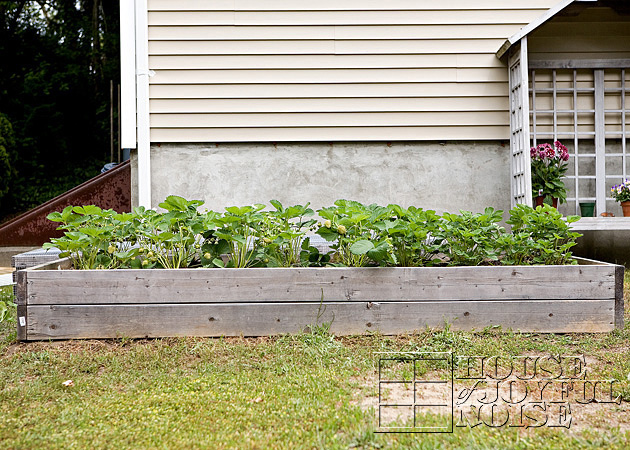 As some of you, who have been following us for some time now, know, our strawberry bed was just planted last spring.  We planted Everbearing, and June Bearing.  So while we got a small handful of strawberries, there was really never enough at any given time, to really do anything with. But THIS year, they are more established, and maybe we don't know what we're talking about….(and as new gardeners, there's a good chance of that….)…..but it looks like we're in for an amazing strawberry season!
To start, once our plants broke through the straw mulch with their green leaves, and we raked most of the mulch off, things just started growing like mad!  To see how much things change, day to day, is nothing short of full-scale excitement, in my simple little world here!
Check it out……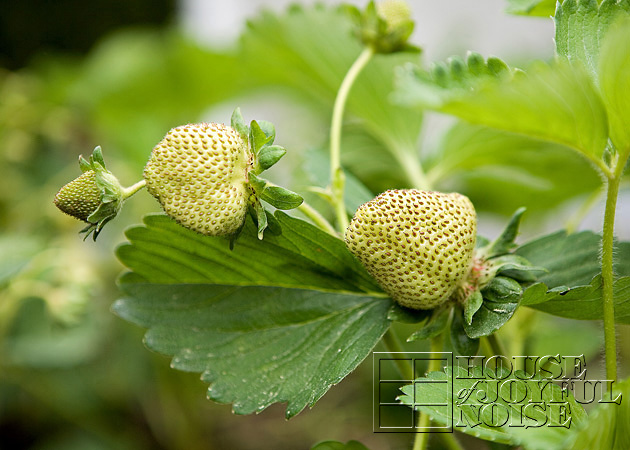 I took a photo of these strawberries on the late afternoon of Friday the 28th.  These are the Everbearing, that are producing fruit right now, of course.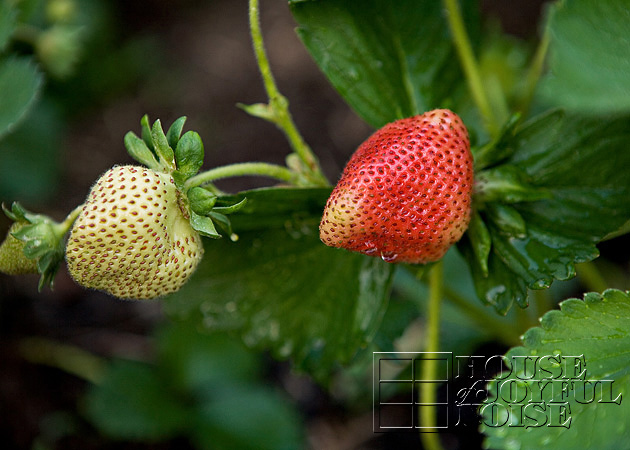 This is the same strawberries this evening, Sunday the 31st.  I have to admit, it wasn't a big surprise, that just smacked me in the head out of nowhere.  I watched it grow from a tint of pink, to a richer and richer red, with about 100 visits to my gardens in those 3 days.  RiiiiiighT.  I have nothing else to do.  I only have 4 kids, who live in my house ; ), who want to eat all of the time (like meals 3x a day?  Is that normal?), love to dirty the clothes they where, not to mention themselves, etc.  What else could I possibly have to do?  Nada!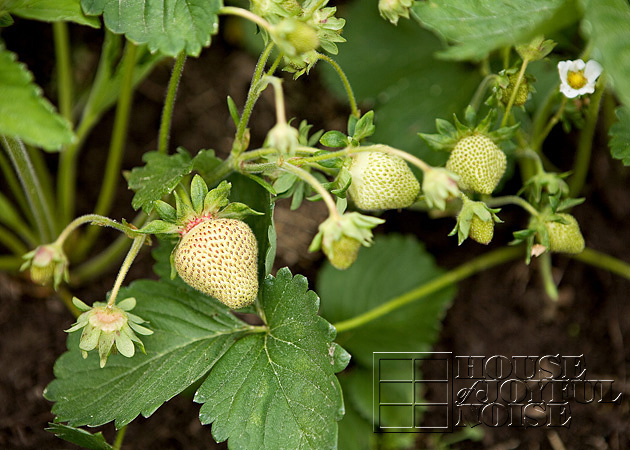 As to not look too pathetic, you need to know I wasn't watching just that strawberry.  They are all over the place!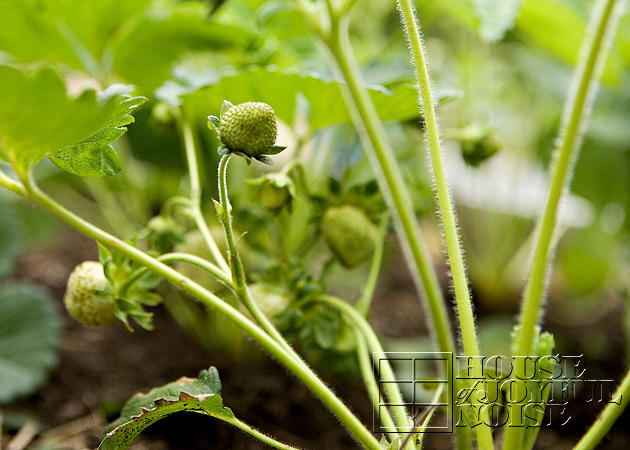 Honestly, it's a jungle in there!  I am sure the occasional neighbor driving by, is wondering what in carnation I am doing, bending over so extremely with my big-bum to the street, as I peek under all of the leaves and into the strawberry forest.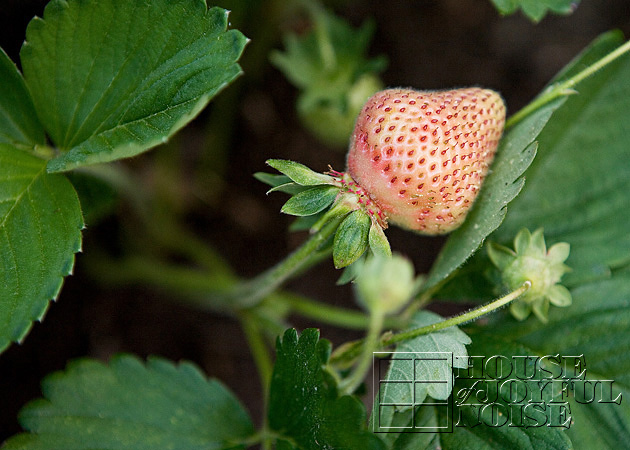 The more I look, the more I find!  They seem to be multiplying like, like, like…. rabbits!  Or…. Catholics!  lol.  (Just a little joke there.  I can joke about that if I AM a Catholic, right?) (I think so.  Errr…I'm pretty sure. I mean, I'm fine with it.)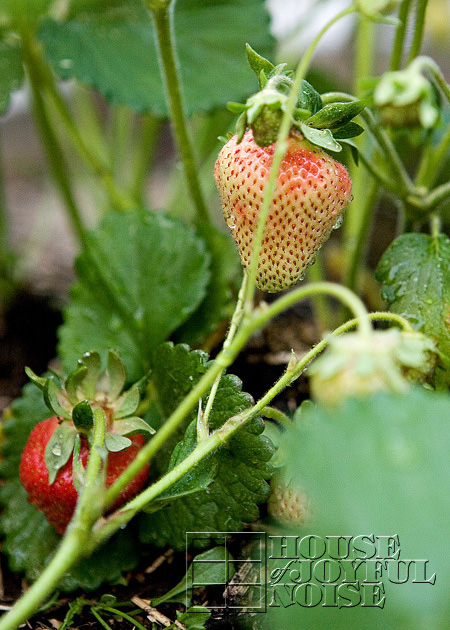 Here's another!  And I'm telling you, there are lots that are just GIGANTIC!  Or, you know, HUGE.
Ok…it's our first year, and maybe we are overly-impressed.  BIG, anyway.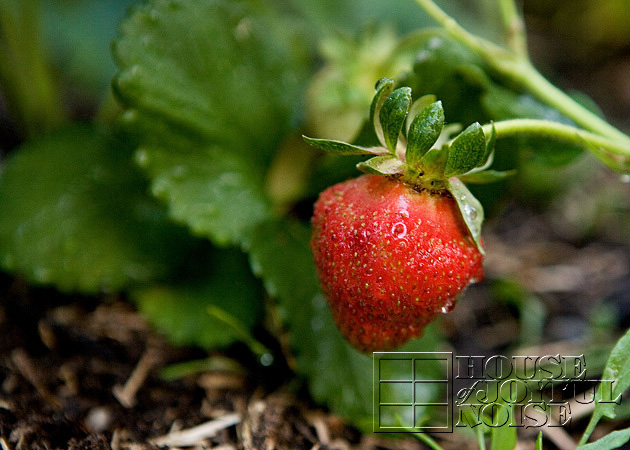 Look at this baby!  It's the only one that is THIS juicy red.  I think it's going to be red for pickin', like,  tomorrow!  Whatever would we do with ONE strawberry?  I say, whoever finds it ready first, gets to have it!
I am sure someone visits the gardens frequently.
Save