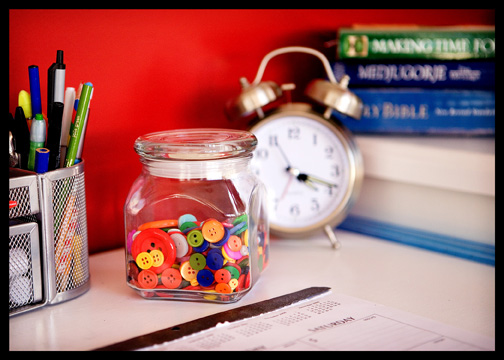 (My Button Jar)
Like many women, I am sure, I feel that a home is a place in which you should be surrounded by the things that make you happy. Things that touch your soul, lift you up, comfort you. Aside from one's family, I think that these are the things that make the house, a home. They could be meaningful pieces, that perhaps have a family history, or were passed down to you. Maybe it's something that brings back cherished memories. Perhaps it's something created just for you, or given to you by a very special person in your life. Or maybe it's just 'things' you collect, because they speak to you, for reasons you aren't even sure of. (And don't really feel the need to figure out.) You just like seeing them there. Whatever those things may be for you, they matter, and should be part of your 'sacred environment'.
My button jar is one of those things in my home. I simply just started getting and collecting buttons in this jar, because I liked the idea of it. I love buttons, and I knew seeing a bunch of them, in all of their colors, in a clear jar, would just give me one of those quiet inner-smiles. And they do.  But for even more reasons than the visual appreciation I have for it, now.
It started with my husband's comment in the store on that late summer day, as my oldest daughter and I excitedly spun the button rack, plucking off little packs we loved. He asked "What are all these buttons for, again, Honey?". It was the way he said it. So gently. He knows better than anyone, how I get when I get an idea. I go on an urgent mission. He doesn't always understand it. But he is always so understanding of 'me' and my simple needs, and you can just hear the love in his voice, when he asks these questions, trying hard to understand the purpose behind the urgency of my latest mission.
So he asked, in that sweet way he does.
By the grace of God, an answer came to me, that didn't sound quite so crazy, as the truth it initially was. I said "Well, I'm going to keep these in the school room, and they'll be great manipulatives to have on hand for the kids, in helping them understand math concepts and stuff, for kindergarten." I surprised myself, and thankfully, the answer seemed to suit him just fine. So then I honestly added, "And also, I just want a button jar." Which made him laugh, in a way that I knew, he knew, that was the bigger of the truths.
Turns out, those buttons have been used a whole lot! They don't 'just' sit there, looking pretty.  At the beginning of the kids schooling, they used the buttons for the building of math skills, on their number charts. I would call out a number, and they would see how fast they could find that number on their chart, and mark it with a button. Or we would teach them about numbers that come before, after, or in between, other given numbers.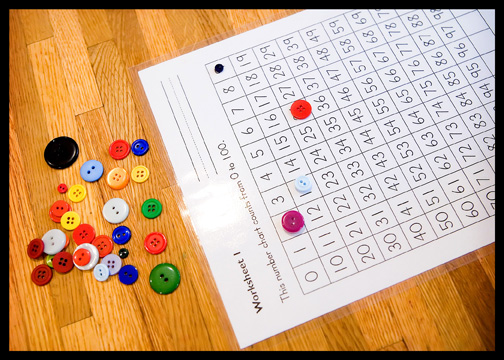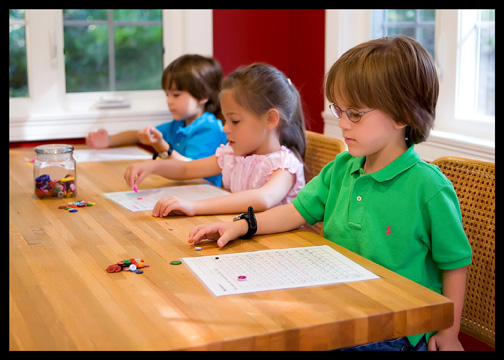 As the beginning of the year wore on, we also used them for lessons on counting higher, comparison, direction and position (right, left, up down, next, last, over, after, before, etc.) They also came in handy for number theories (ordinal numbers, even, odd) , and sequences such as first, 2nd, 3rd, last. etc. At this point in the year, we mostly use them to show them the visual concept of addition and subtraction.
I'm not the only one that has truly enjoyed having this jar of buttons in our home! The younger kids ask all of the time "Mama, can I play with your buttons?", and the 'your' part always makes me chuckle. (But I don't feel the need to correct them 😉  Of course, I always say "Yes". They 'play' with them, making up their own games that incidentally, re-enforce every mathematical concept we have taught them. Everything they learned with those buttons, was FUN to them, and so they just want to do it more. And I think 'Keep playing.'
When I first got that jar of buttons together, and sat it on my school cabinet, the sight of it, as I said, just gave me a quiet inner-smile. Maybe they represent my surpressed urge to start sewing. (For all of the beautiful sewn things I just totally make up in my head, and then so surprisingly, cannot find in the stores!)
But more than anything now, seeing that jar already brings me warm memories: Of the thoughtfully put question my husband asked me in the store that day, or the fun the kids have had with them during school time, and the value in the various lessons they've learned while using them. Or the many times I watched any one of the children at the table, buttons scattered about, 'playing'. Suddenly, the vision-turned-reality of my button jar just sitting there, holds true purpose, life-long lessons, family value, and cherished memories. It's times like these I am really glad I had such a crazy idea.
And as it sometimes turns out, so is everyone else in our family.
Save