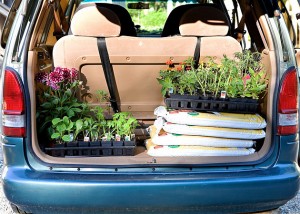 There is so much to catch you up on, where our front yard gardens and transformation goes, that I'm lost in my own thoughts, in trying to figure out where I tell you what we've gotten done, and where I tell you about where all of this work in progress is heading.  So, if it all seems a little mixed up at time, that's pretty much where my head is at.
But to brief you, in case you are new around here;  Our front yard was basically just a big square sandy lot, with no purpose or beauty of it's own, for all of the years we have owned our home.  We have had a side yard that we have utilized well, but the front yard, parallel to the (dead end) street we live on, was never safe enough for our very-young kids at the time, nor private enough to relax in.
But then early last spring, we decided to start a couple of gardens.  Once we got our feet wet, we fell in love with gardening, and the dream gardens and front yard transformation plans began to unfold, and take on a life of it's own.  The big progressive goal, is to change our front yard, into a beautiful, charming semi-private garden wonderland of our own. We'll be sharing the details of those plans as we go along in the posts like these.  We've got a long way to go, but we've come a long way too!  But for this post, I'm going to show you the kick-off of our gardening work this second spring, and very soon I will be posting how things are looking right now.  The growing in the gardens change so much by the day, it's hard to blog about!  By the time I take photos, and edit them, and get a post started, the gardens look completely different once again.  But I'm doing my best.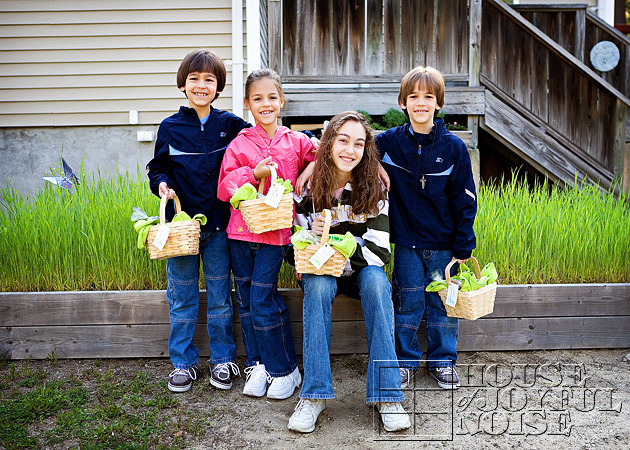 First, I just wanted to share this photo from the first day of May with you, because I never took a photo in the winter as I should have!  What I am showing you, is not the beautiful children I am happy to call my own, but the beautiful green winter rye, in the garden bed behind them.  When we had first built these garden beds, I was concerned about how ugly they would look in front of our house, in the dead of winter with no snow.   Then, it was recommended to us to plant winter rye, which would grow through the winter, and was good for the soil too.  In the spring, we were to till it into the soil to nourish it.  I can't tell you how beautiful it looked all winter long, with this fresh green rye coming up through the white glistening snow. (We had lots more snow this year, than usual.)
About mid-May, we cut it all down and tilled it into the garden beds.   It was sad and a tad painful!  I couldn't get planting fast enough, to add oomph to the drab looking place, after that.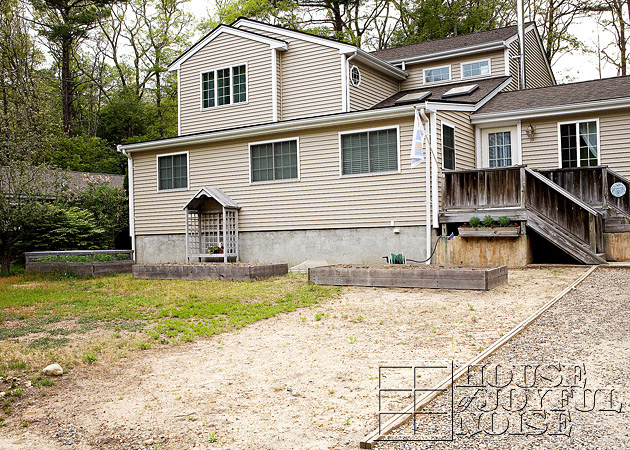 Here is a glimpse of the state of it all, before we got planting for the year.  If you recall , we expanded the front (grass-less) yard last year, by sacrificing some of the extra-wide rock driveway we didn't really need.   That made more room for a 3rd bed across.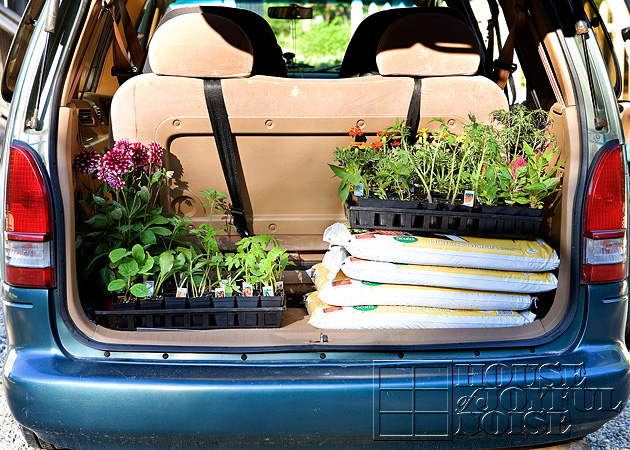 Our trip to the local nursery gave us most all of the starter plants we needed, to get things going.  We got various vegetable plants, some we are growing again, and some new ones too, as well as helpful flowers that make our gardens prettier, keep some pesky things way, and also draw the right insects for much needed pollination.   We'll have a closer look at all of these plantings very soon.   You also see some bags of compost, which I'll be getting to in a moment.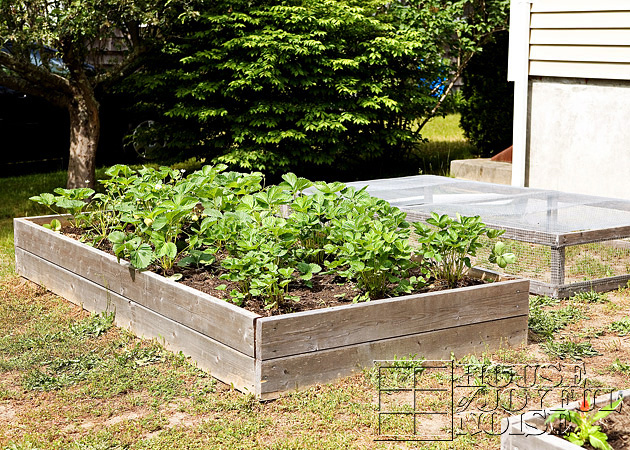 Our strawberry bed, here in mid May, was doing fabulously in it's second season.  You have seen some strawberry posts since, of the berries it has given us.  It's grown SO much since this photo, but we have tended it well, having learned much last year.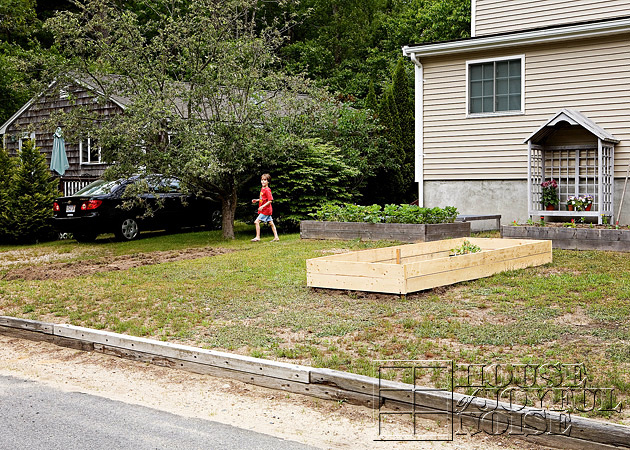 Michael built a 4th garden bed, once we mulled over the layout that the whole transformation will ultimately be.  He was going to build a 5th too right away, but we never got to it, before early spring had gotten away.  That's o.k. There is always next year!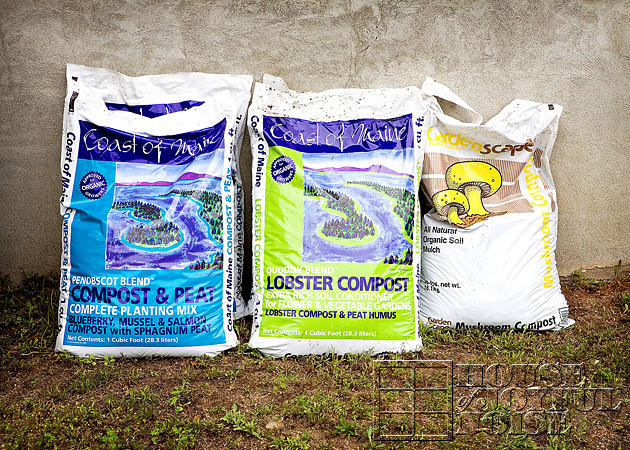 This is new compost we are trying, all recommended by the nursery we frequent.  We have mixed this stuff into all of our beds, and I can tell you, it's doing some amazing stuff!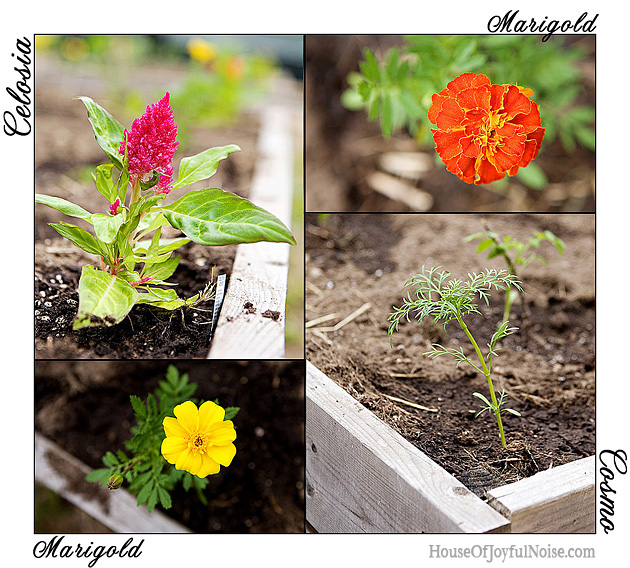 These are the flowers that we have planted along the inside edges of the beds.  They are all just baby plants here!  They have grown to ridiculous sizes since.  No doubt due to the new compost we added!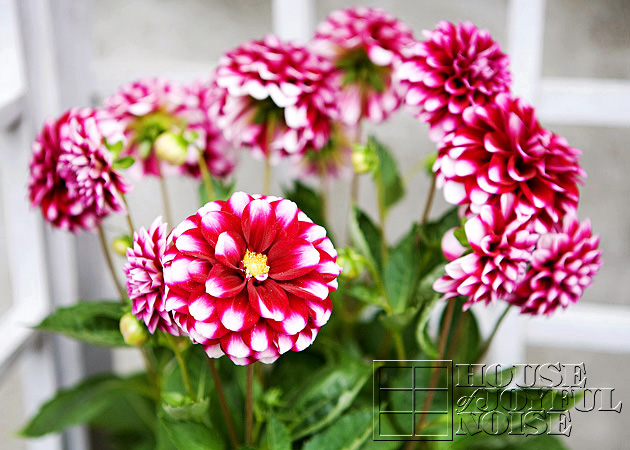 Dahlias.  Oh how I love dahlias.  Big, big, big plans for dahlias of all kinds, in time.  But for now, this pot of them sits on bench.   Michael really did not want to spend the money on them, so I am doing all I can to make sure it keeps growing and thriving and spewing beauty.  Because he loves to remind me, it was $12.99, and if it dies, I can tell you I will never hear the end of it, for as long as I live.
The verbenas have been thriving and growing, in 2 colors.   I love them.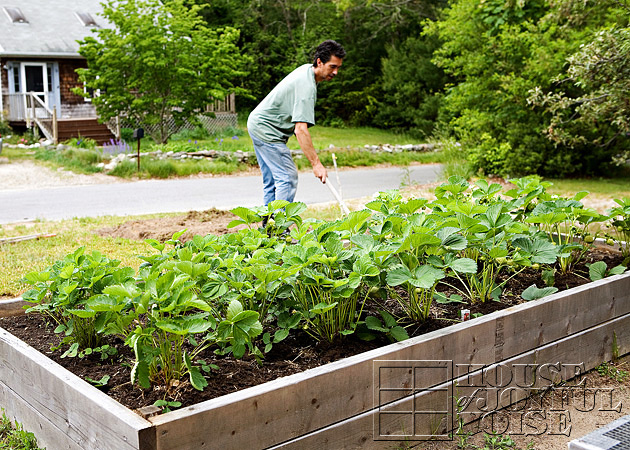 On the other side of the strawberry bed here, Michael is working very hard, at a new and exciting addition to our gardens….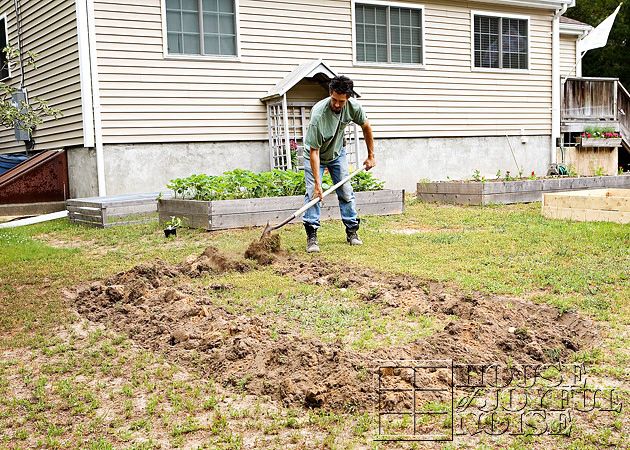 ….our very own little pumpkin patch! <squeal!!>   If you all have been around in the autumn months here at OHOJN, you might know how much we love pumpkins around our home in autumn!  We go pumpkin crazy, and get pretty creative with them too.  It's an expensive fetish, when you are paying by the pound.  So we decided to try growing our own!!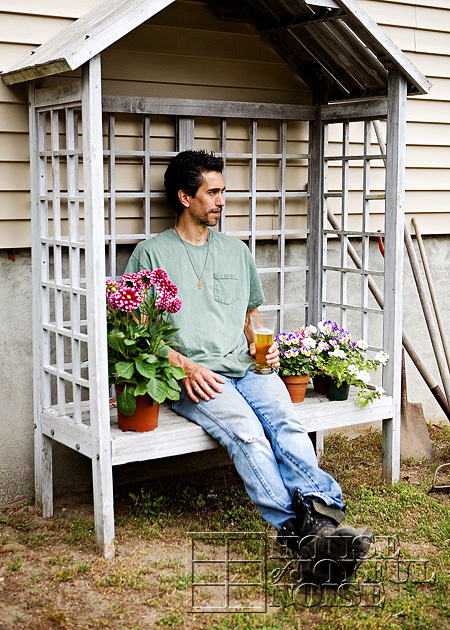 After all of the cutting out, digging and turning-over-of-earth for our pumpkin patch, Michael decided to take a little break.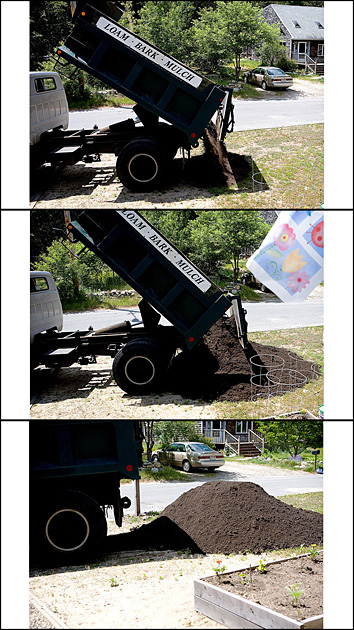 About a week later, we had 5 yards of loam delivered.   A bit of it was for the 5th bed we never got to.  The rest was for the 4th bed Michael did build, and to add some healthy loam to our sandy pumpkin patch.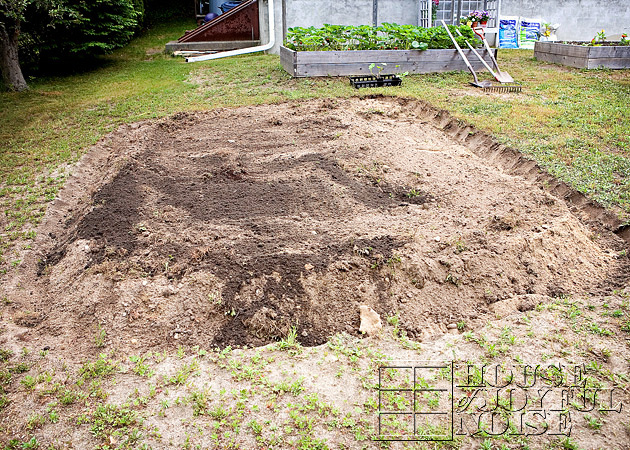 Michael really built it up the patch, and NOW it's looking real good.  Wait until you see, in our Pumpkin Patch post coming right up soon, too.
So here is a view from the corner of our front lot.   I know…..it's not looking all that pretty yet.  But you know what I see, when I look at this photo?  All it is GOING to be!   Honest to Pete, (….I've always wanted to know who Pete was….anyone know?….), you are not even going to recognize the place at all, when we are done.  Major, major make-over, by the time we are through with the renovations.   You know…years from now.  But won't it be fun  for you, watching it all happen, little by little?  You don't even have to work hard with us!  Well…..you could come over and help, if you really wanted.  But really….we're not minding the hard work involved here.  It's ever so rewarding!
So, as I said, we've got at least 2 posts right on the heels of this one, to show you all that is growing so beautifully, now that we are at the end of June!   We'll also be sharing more and more of the details of of our garden/front yard transformation plans.  We can tell you, so far we're pretty excited with where it is all going, and pretty happy with where we are at so far this year….
….which happens to be suddenly SUMMER!  And feeling like it, here in New England, I'll tell you!  If you haven't been to the Home Page, you may want to pay it a visit!  ; )
We're kicking things off with this cheery little Give -Away…..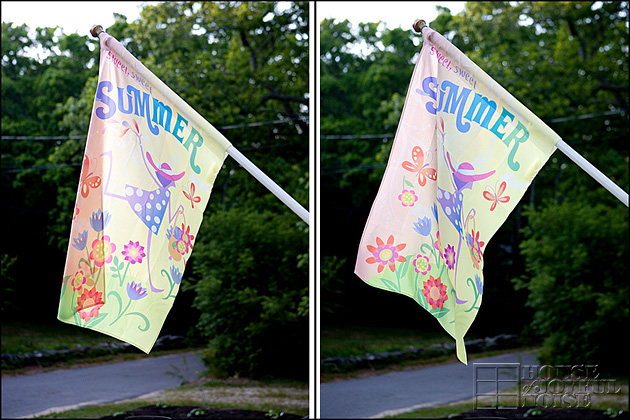 ….Flying and flapping in the breeze, over our growing  gardens, is this happy summertime flag!  It really brings a smile to my face, to see it there, over all that is colorful and thriving.  It's a bit of color in the air!  It's a quality-made flag, and to me, it has the happiness of summer, all over it!
If you love it too, we've got one for you!
All you need to do, is leave a comment tot his post, and you are in the drawing for a summer flag of your own! If you follow me on Twitter or Facebook, I'll make an announcement when the comments are closing for the drawing.  Don't have a pole?  Why not hang it as a banner on the side of your house? Or, you could even give it as a gift, to someone you care about.  Surely, it'll make someone smile, as much as it does us.
Good luck, and HaPpY SumMeR!!
Save