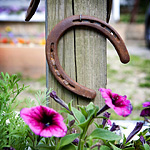 Awhile back, my sister-in-law messaged me asking if we might have any use for some horseshoes. She lives out in Arizona, and found a bunch on her property from some horses they had boarded. She thought maybe we could use them for some creative project or other.
She even sent a quick photo of them . . . . . .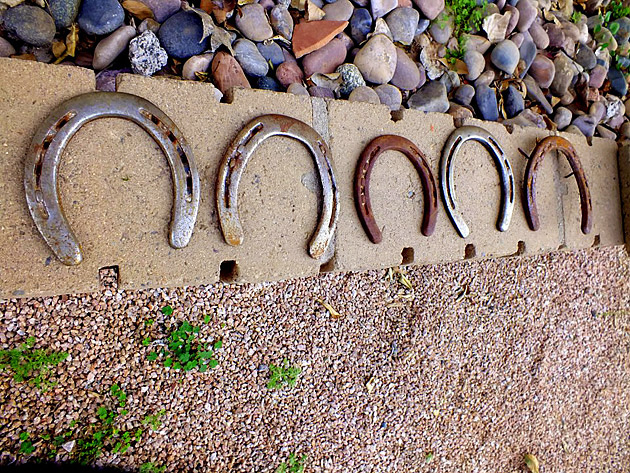 I thought it was really nice of her to think of us, and offer them. I said "Sure!", of course. Although I really had no idea what I'd do with them. I loved the idea of creatively using horseshoes for something, but nothing was coming to mind. The HEAVY package arrived, and I took a look at them. And then I put them back in the package, and it sat under my desk in view, reminding me every day to brainstorm about it. Still . . . . . . nothing popped in my head. So then I Googled, and looked on Pinterest, hoping to find some inspiration, or even an idea I really liked. I did find lots of ideas, but none of them struck me.
And then one day, I had an idea, and as super simple as it was, it was the first that finally got me excited! I wanted to just hang the horseshoes all over our mailbox post.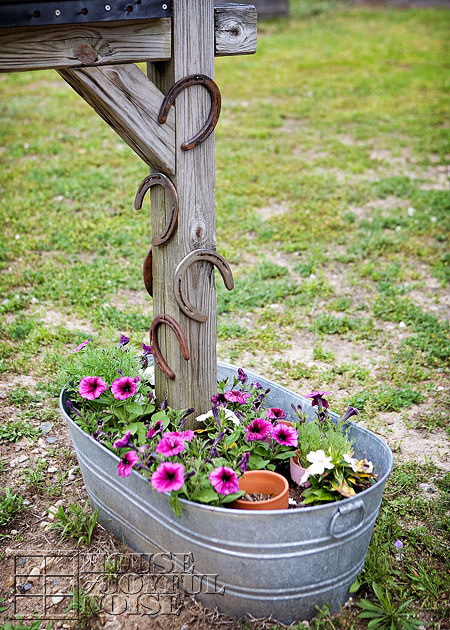 So that's just what I did, and I love it. My sister-in-law only sent 5 horseshoes, actually, because that's what she happened to find. But it made me a little sad, because 6 is our special number around here. But I never said so. So it was funny when I went to hang them on the post, my son said, "Oh Mama, we have another one down in the basement!", and he ran down to get it. Then we had 6 horseshoes! Perfect!
–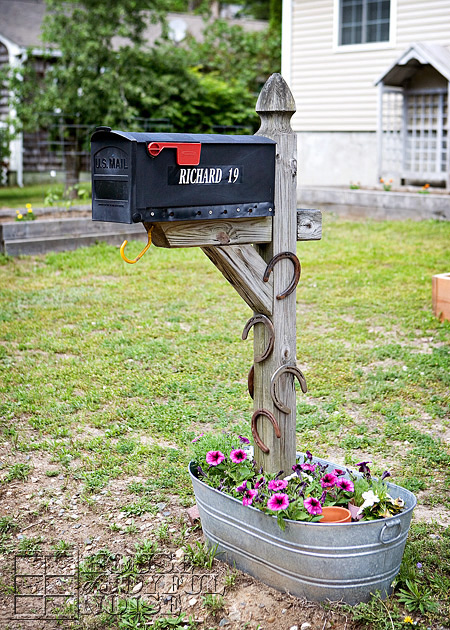 So there's 2 on the front, and 2 on each side.
–

I've really wanted to do something new for the mailbox itself. But I haven't come up with what just yet, and have a long enough list of projects and plans going right now anyway. But it will come to me, I'm sure. Meanwhile, I'm happy with this little change.
–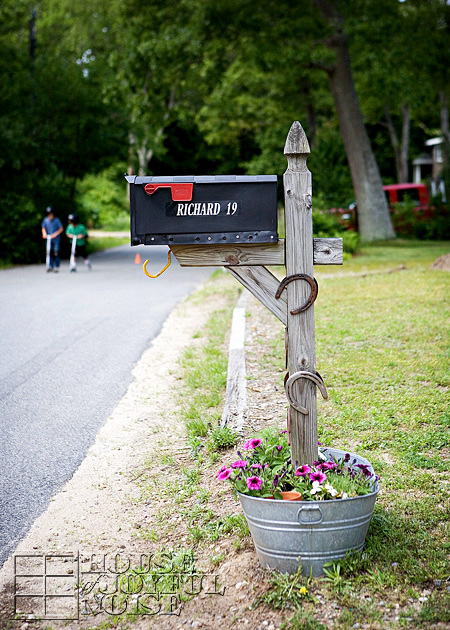 I really love to just add interesting details to our little homestead. I would not doubt it a bit if people visiting us saw things sometimes here and there and thought, "What the -". As long as they think it's interesting. Of course, THAT is the exact word people use, that really camouflages their true thoughts…..right? "Oh…...interesting.", they say. That could mean anything. Right? What a handy word that is.
But with me….as long as they mean it. ; ) LOL
–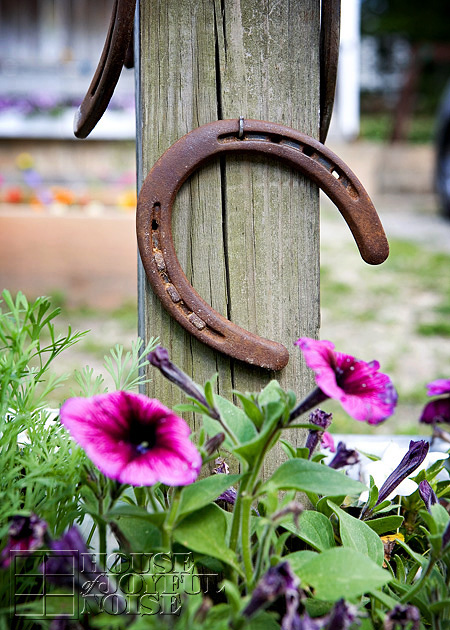 What matters to me most, is that we love it, whatever it is, and that all of these interesting things have a story to tell, behind them. And I think our horseshoes on the mailbox post do.
–
Here is another interesting tidbit, and you'd think this would have been the answer, as to what to do with our horseshoes . . . . .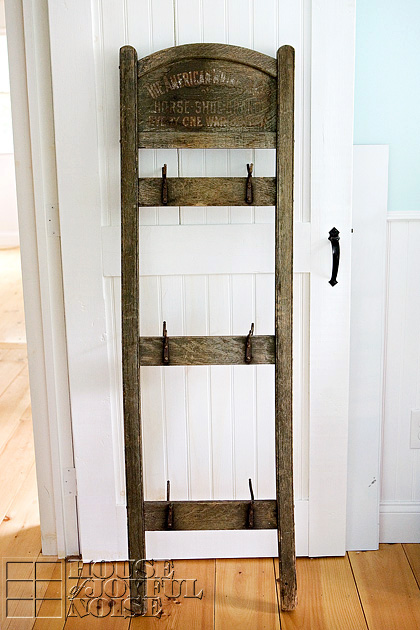 Michael and I happened to pick up this very unusual piece quite recently, at an antique shop. It's actually a commercial stand for displaying horseshoes for sale.
It has hooks on both sides, to hold plenty of horsehoes. You'd think we would have just leaned it up against a wall, hung our horseshoes on it, and called it decor. But, no. We bought this stand, which is missing a base I think, for another *very specific purpose. And it just wouldn't be normal to actually use something for what it's intended for, around here. And no……we won't be hanging hats and coats on it either. Although, I do like that idea. If all goes well, we'll be using it for a very strange accent piece. And when we get to that, we'll of course show it to you.
* 2017 Update: We never did repurpose this piece for the intention we bought it for. We leaned it up against a wall in the corner in the sunroom, and kind of fell in love with it right there! So it's been there ever since. But, you never know if we'll follow through with our original plans, at some point. If we do, you'll see it on the blog here.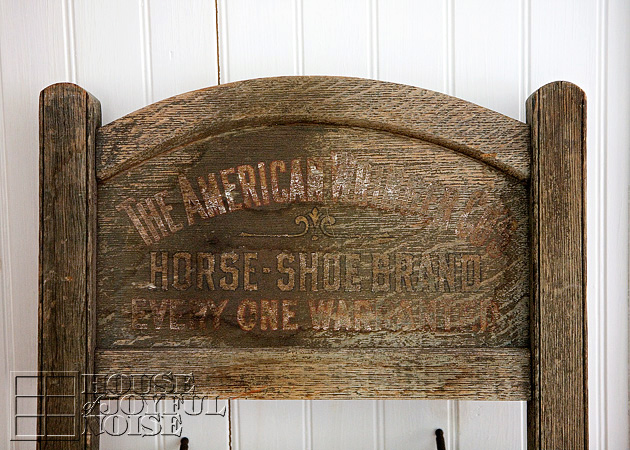 It's hard to read, but it's 2-sided, and it says, "The American Wringer, Co. – Horseshoe Brand – Every One Warranted"
Lots more posts on the roster, to catch you all up. As I've said, we've been very busy DOING, and not taking the time to blog about it. But there is much to show and tell. So stay tuned, Friends. And thanks for stopping by today. Please do say 'Howdy' or more to us below, and let us know you were here.
* * * * * *
Please come follow me here and there:
Save
Save
Save