Fall is here, and while nature readies itself to bless us with the year's annual grand finale display of beauty in New England, our gardens had found it time to wither and fade, with an early prep for a long winter rest. Especially since we opted to not plant anything new for a fall harvest this first season in our new garden area. We still have lots of carrots in the ground, and we're still picking peppers of all kinds. But everything else was pretty much done. So with a good wait in front of us before a pure blanket of white snow covers all that is post-life and ugly, we wanted to keep the beauty going a little longer, with some festive Fall garden and home outdoor decor. We thought you might enjoy seeing the photos of our efforts.
We worked with an abundance of the typical Fall elements: Glorious mums in a variety of shades, pumpkins of various kinds, straw bales, cornstalks, and gourds. But we also planted our first big arrangement in a huge whiskey barrel, and we're excited to show you that!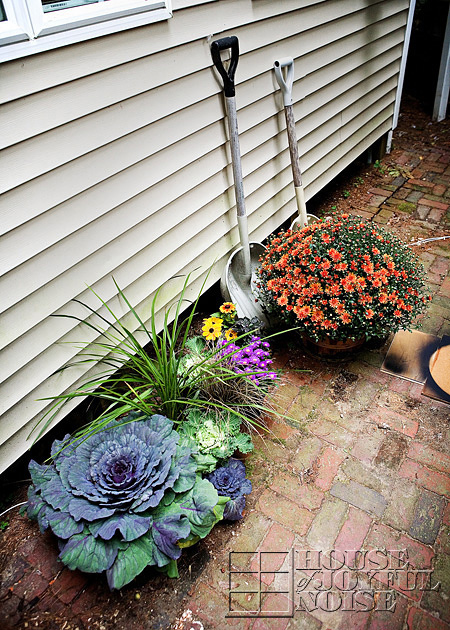 We had started getting everything ready to go, but then Storm Jose' was heading our way. So we put many plants out behind our house in a more sheltered area to wait. Besides, we were also still having some days that felt a whole lot like summer. The heat is no good for many of these cool-loving plants, so keeping them in the shade until things cooled down a bit, was the right thing to do, also. (Even though I was so excited to get working on making everything FALL TIME, like the calendar said!)
The days came where I couldn't wait any longer. So we got to work over a weekend, and banged it all out.
Then we smiled.
–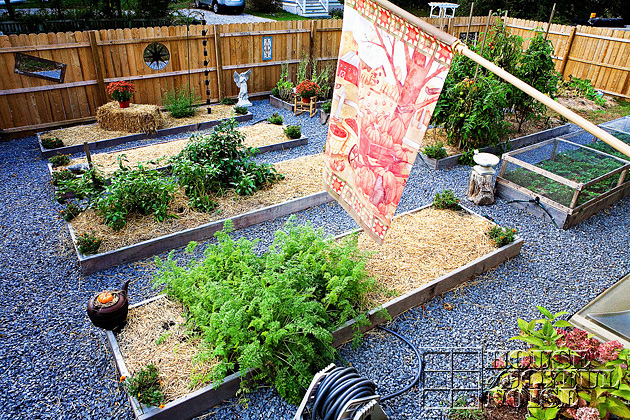 Here's an overvew of the fenced garden. We'll give you a closer look around in a minute. But let's talk about the fresh layer of straw over all of the beds first. We use it all gardening season long around the plants in the beds as a mulch, to protect the soil from the sun. It does a great job of keeping the beds moist, and not drying out to a dush in the heat. It's important to be sure you are using straw in gardening though, as opposed to hay, because hay has seeds, and unless you are going for wheat fields, you really don't want all these seeds falling on your garden soil.
The straw is not only a beautiful golden color for a Fall look, but throughout the bitter winter here in New England it helps protect any perrenial plants buried in the garden beds, holding in some heat from the earth. Come spring thaw, what is broken down can just be turned into the soil with other more enriching compost.
Ok, less talk, more photos, now.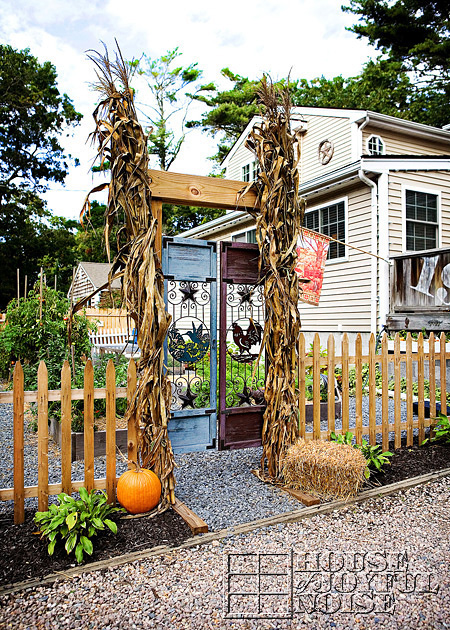 Our garden-entry gates.
Come on in.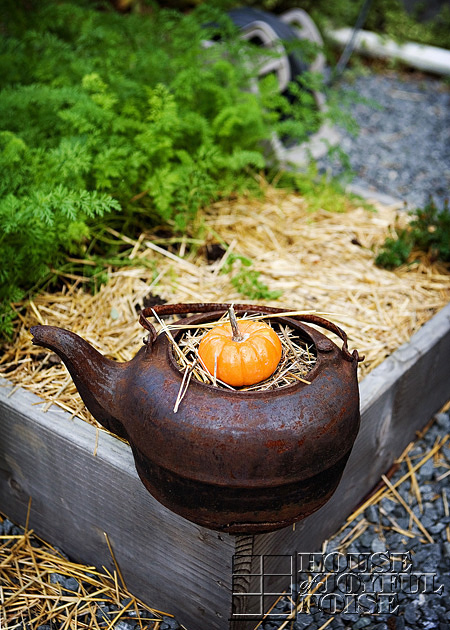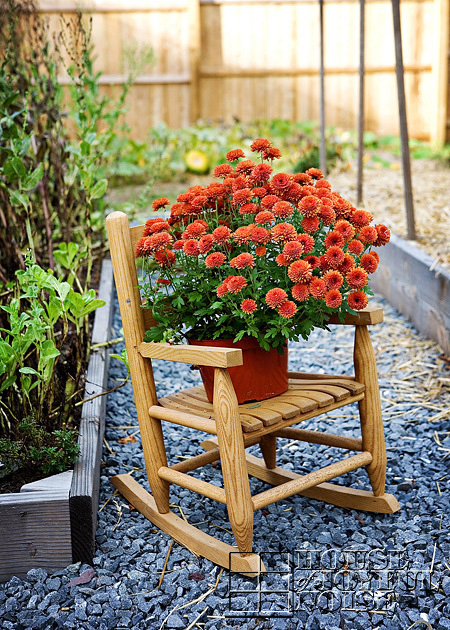 I spotted this child-sized wooden rocking chair in our basement that I had forgotten about, and decided right away it was going in the garden.
I love it out there. But if you let your gaze look just beyond the mums, you'll begin to focus on a rather sorry site . . . .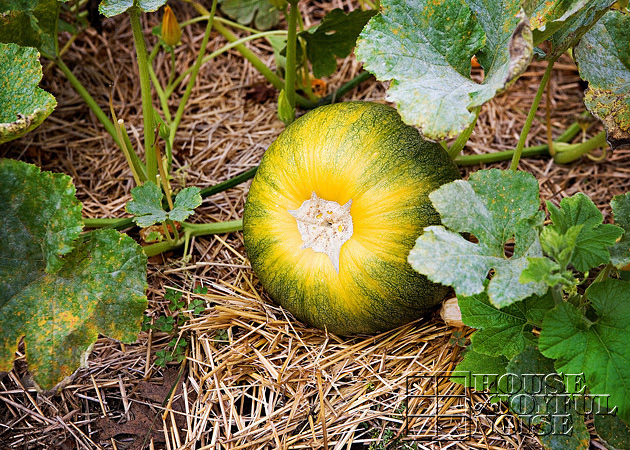 Our pumpkin patch was not all that successful this year. The beds are all on a watering-hose-system, so all we had to do was turn the hose on. But the pumpkin patch and few other things needed to be watered manually. And we just didn't do it regularly enough. And it does have to be done regularly.
Then come to find out, Michael was watering the patch sometimes in the evening . . . . which explained the powdery mildew that developed! We treated it with some organic stuff but, it didn't make the leaves pretty green again. And in the end we got ONE pumpkin. (Well, everyone says there is another one in there somewhere. But I'll be damned if I can find it.) The bottom line is, I had to buy all of our pumpkins this year. And I'll tell you what: The money I spent per pound on pumpkins has motivated me to get it right next year!
To tell you the truth, do you want to know what I think the biggest factor was in the pumpkin patch not producing much of anything? NO BEES. There are not enough bees in our garden. I'm going to do something about that, too, come spring. I love bees. And we need them. Save the bees, People!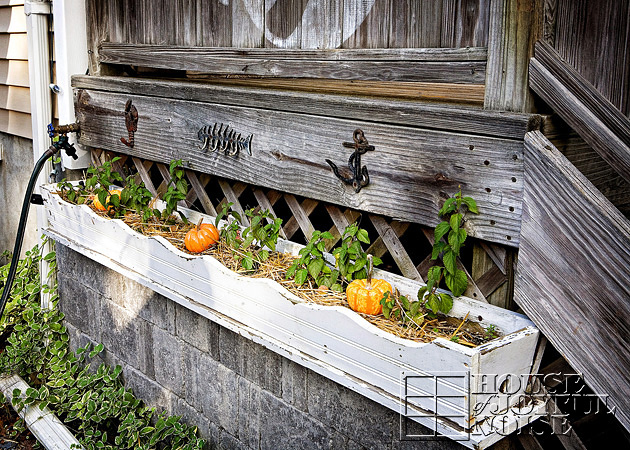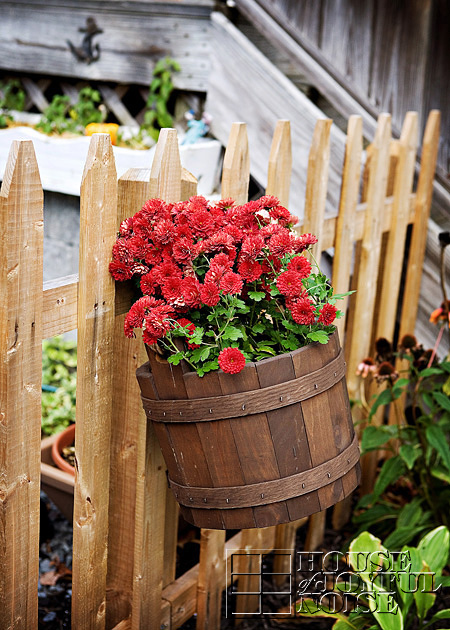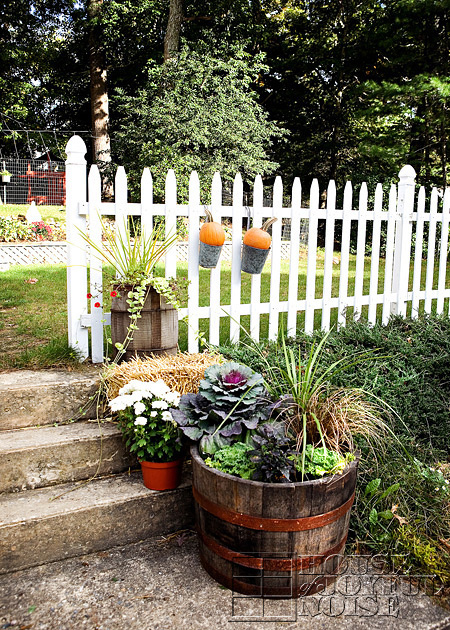 Here is my huge new (old) whiskey barrel! Bona fide Jack Daniels, too! I thought I'd try fill it with an arrangement of true cool-weather fall plants. I've never had these before, but I'm sure loving it! It makes me happy to see that beautiful barrel there, every time I see it.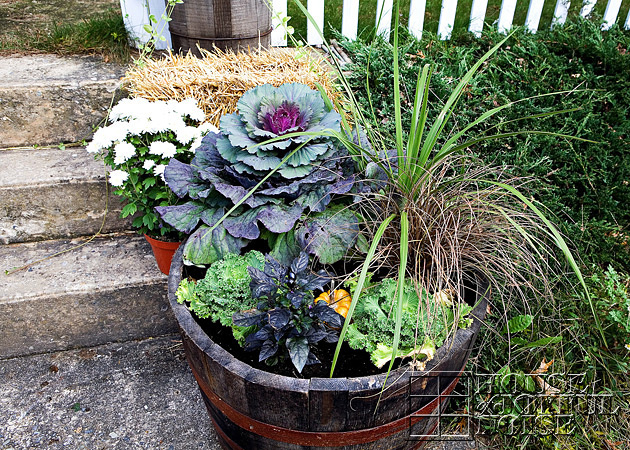 There are two variaties of cabbage in there, two different ornamental grasses, a purple pepper plant and a little gourd as a surprise for anyone who gets close enough and peeks in.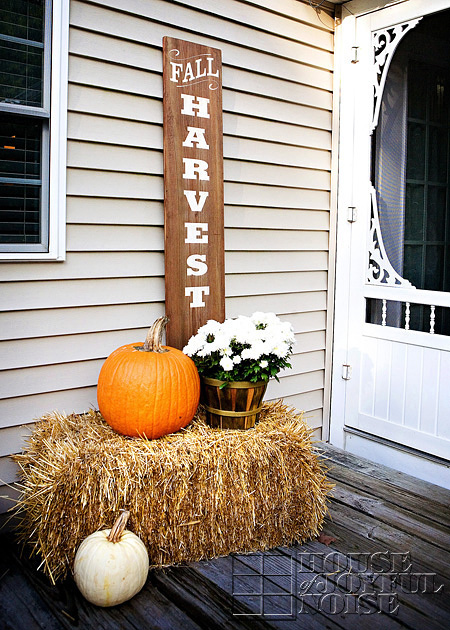 Up on the deck, now! The front door area.
If you like my tall board sign, I'll be sharing more about that in an upcoming post, at some point.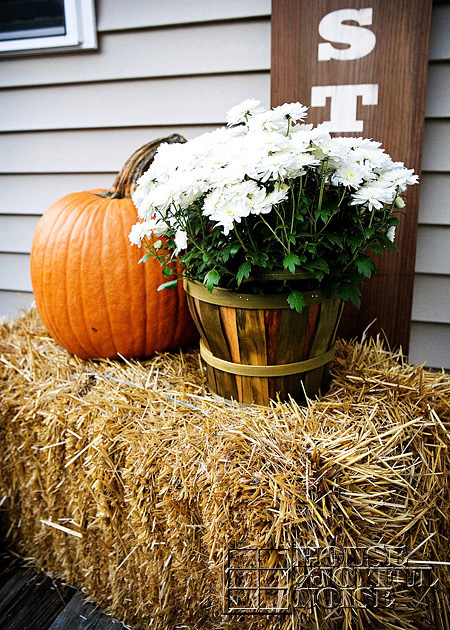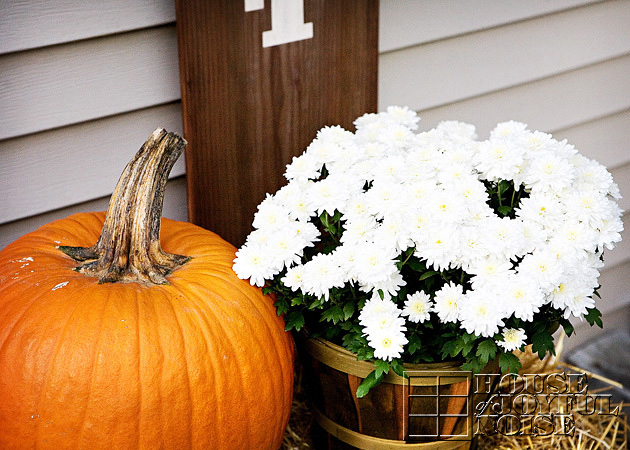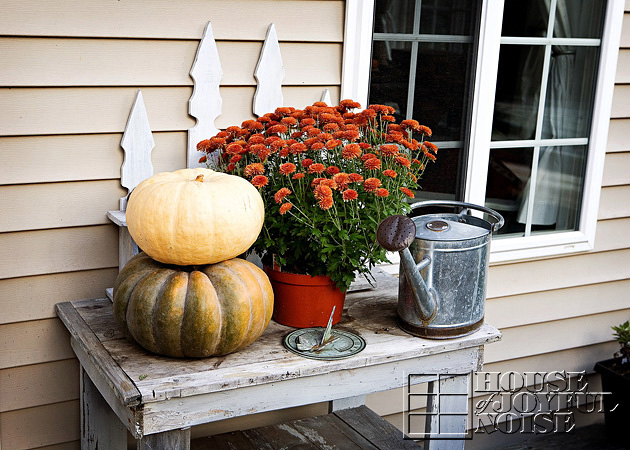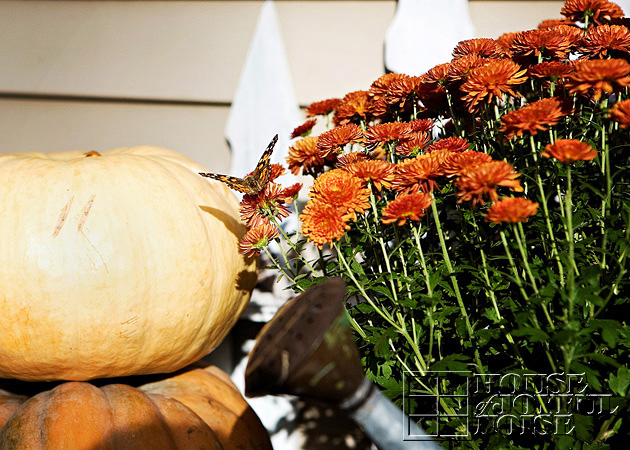 See the butterfly? It came fluttering out of nowhere, landing here and there on the mum
plant, as I was taking the photo.
I was like…thanks! What a nice touch!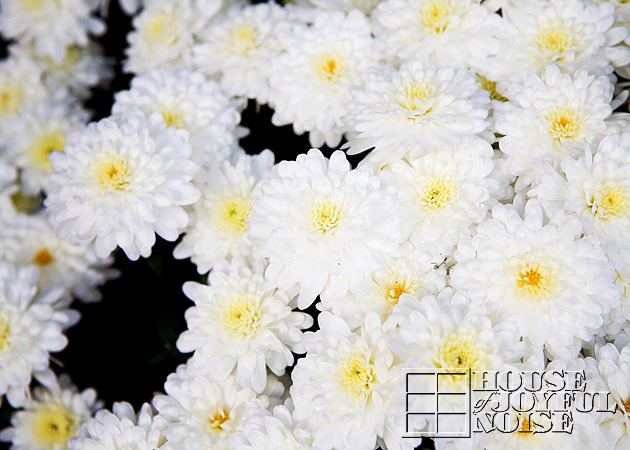 Well, that is all we have for you today, Friends. We do hope you enjoyed this stroll around our Fall gardens and home outdoors.
It was sure ice to have you!
We have a lot going on inside, that is even more exciting, if you ask us! And we'll be itching to show you when it's all done! If you haven't heard on our Facebook Page, we are creating the authentic Farmhouse bedroom we always wanted, and it's coming along beautifully! I'll be sharing little bits along the way on our Facebook Page and InstaGram too, so hope you're getting notifications from us if you're interested in seeing it all come together.
Thanks so much for coming over.
Save