I really enjoy laying out designs for signs and making them myself. I've thought much about starting a small business of custom made farmhouse signs, but just haven't. Yet. However, sometime early last Fall, I did make a few handmade farmhouse signs I had in mind for our own home. And today, I am getting around to sharing them with you. They are super simple and rustic in design, which is pretty much my style, and fitting for our home, where much of everything is made by us, in just that fashion.
I hope you enjoy checking out these farmhouse signs.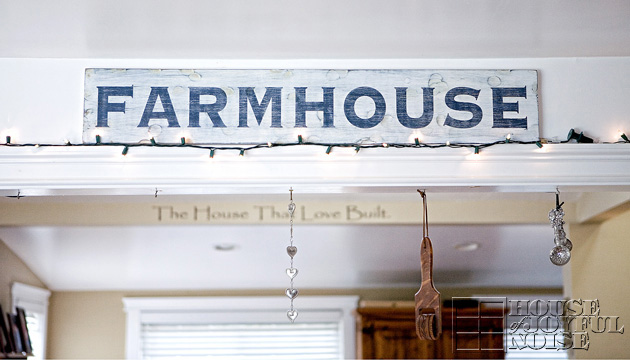 The first one reads as simple as it gets: FARMHOUSE.
It's in our kitchen, over the breakfast bar opening.
STORY:
My Dad visited not long ago, saw this sign, and said out loud:
"Farmhouse, huh?", as he kept his gaze on it, gave a little sniff and rocked forward onto the balls of his feet a little bit, like he does when he's really trying to figure something out. My Daddy-O, he was born in Vermont in his living room, and he grew up on the REAL kind of farm, with allll of the animals. So, we can't fool him one bit. He's too old to catch on to the fact that these days, you can have a farmhouse (in style), and not have to go out and milk the cows every morning. The folks back in his day, they didn't live in a farmhouse because they loved the decor style. They lived in a farmhouse because it just was; their house sat on farmland, full of animals to care for, and the house was filled with all of the basic necessities of living a very simple life, peppered with a some handmade pretties.
Nowadays, some of us just try to make our house look like that's the actual case.
So yeah, I like to believe we live in a real bonafide farmhouse. And I think we kind of do! We have gardens and chickens and everything. And our house looks a whole lot like a farmhouse. We've worked really hard to see to it! On the inside anyway.
Nothing like having your Dad to come burst your bubble and give you a reality check, huh?
My eyes might have welled up a bit, as I wiped my hands on my apron.
I think he really got a chuckle out of the next sign he saw . . . .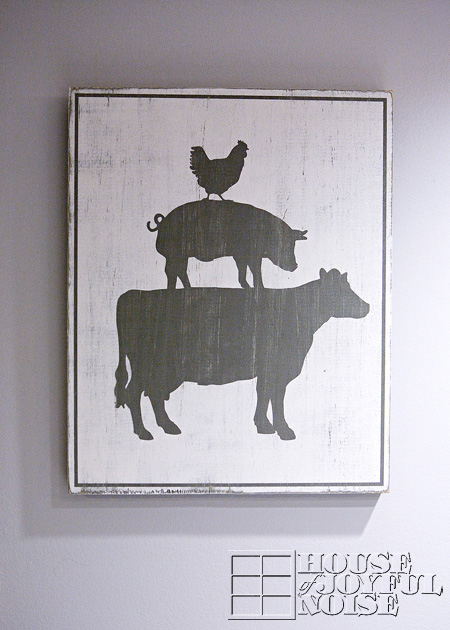 I think he really liked it, though!
This is not really my design. I've seen something similar here and there, and I am sure if you're the farmhouse pretender I am (or not), you have, too.
Michael and I did put the design together ourselves, though. We found each animal in his compilation of clip-art, and pig-piled them up ourselves.
I love this sign so much.
And guess where I put it? . . . .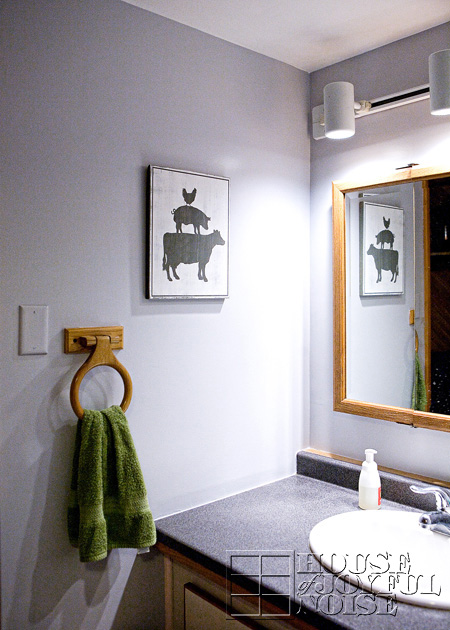 In the first floor bathroom, next to the sink. Because, why not? I had moved the Jesus and Germs sign I originally made for this spot, up to the kids' new bathroom, so this wall needed something again. And I think this fun and simple farm animals sign was perfect.
It makes me smile every time I see it.
This next farmhouse sign is much bigger than it appears, measuring 11″ wide x 58.5″ tall.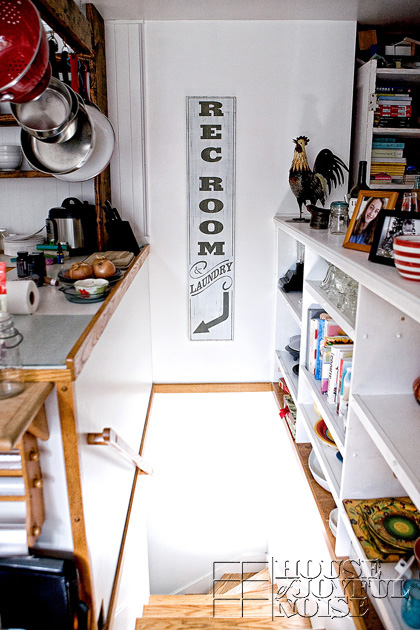 It hangs over the very tall blank space over the stairs, that as you can read, leads to the Rec Room and Laundry Room. So, if you would like to go down and play a game of pool or darts, or say, sort some laundry and throw in a load for me, now you know how to get there. Down the stairs and to the left.
Be careful on the stairs down there at the bottom, though, as I tell everyone. People on stairs . . . . makes me wicked nervous. Especially my kids in socks, on stairs – one of my biggest fears. (Heart palpitations right now, I swear, just thinking about it.) Maybe because of all of my own accidents on stairs. But, anyway. Just be careful if you go down. (I probably need a sign for that.)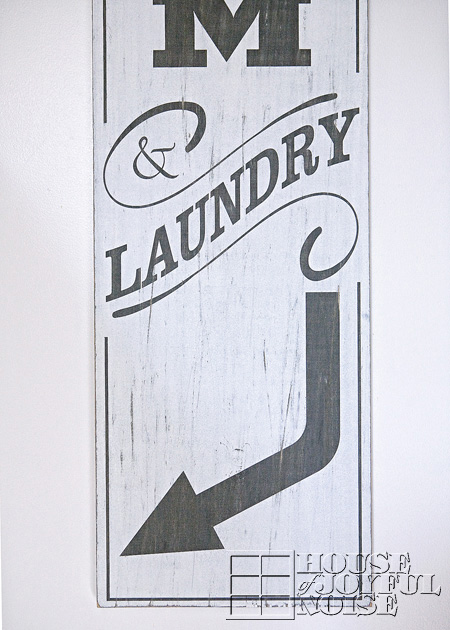 Just a little closer photo of the lengths I go to to make my farmhouse signs look older. Lots of beating up and sanding, for a more worn look.
Don't they look old? Probably could fool anyone, but my Dad.
Up next, very soon, is our newly-renovated but-looks-old-on-purpose, farmhouse bedroom, that I have taunted you with for months and haven't shared still. It's really coming. Stick around.