Will you love it? Or will you hate it?
Well, that's the question! We're pretty sure we'll have some mixed opinions on this idea we'll be sharing with you today, on our unique house numbering. And we are really o.k. with that!
Because, if you've caught on yet, you may have noticed that our style within this sacred space which we call home, definitely leans towards the creative and eclectic side. (And if you haven't caught on to that yet, you'll be seeing a whole lot more proof in the upcoming posts!) The fact of the matter is, as two artists keeping a home and raising a family together, and who do most everything needing to be done, ourselves, we don't really thrive much on making everything around us match, or looking normal and conventional. With many projects, we simply enjoy pushing ourselves to think outside of the box. It gives us incentive, to get tasks done.
How can we do this project, and make it functional and efficient, but different than the expected?
How can we complete this project, in a way that will make us smile every day at home?
These are the questions we ask ourselves. And so that's the mindset that came into play once again, with this idea of uniquely numbering our house.
WHICH by the way was a project we did last spring; 2016
That's important to note, later on.
Now, lots of people come to our home, for various different reasons. Some will love all of the very different things they see, and some will not. We don't even aim to please anyone but ourselves. We want our home to be a place we love to live. Just like everyone else, we imagine. But what we do hope, is that people who come here will look around, and just keep see things they find very interesting. And in doing so, we hope that they will feel….intrigued. Or amused! Maybe inspired. Any of the above, or something else entirely.
The fun for us, in most projects that have to be done, is the creative process. We say that all of the time. Brainstorming new avenues . . . . being excited about pulling together even a slightly unique idea . . . . presenting something that stands out, as different, or unexpected . . . . those are simply forms of joy to us. Not all projects we have to do, or choose to do, but as often as we can, when we feel so inclined.
So before we get to the unique house numbering, we'll first share with you a very quick little conventional home improvement project, for our conventional reading-friends . . . .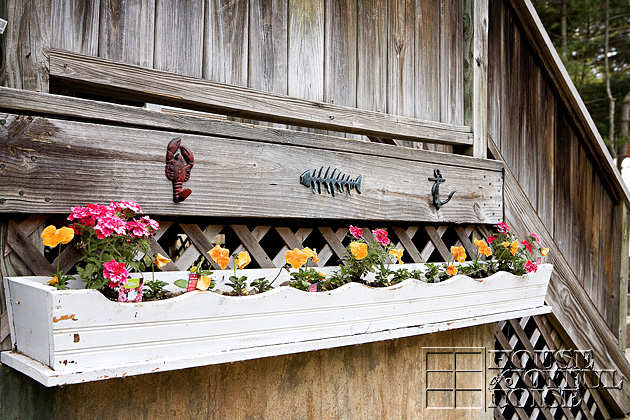 . . . . the wall underneath this flower box in the front of our house. UGH! I have always hated it. We have more of this hideous material, as concrete steps to our mid-level yard, and then as the back retainer wall; both of which we will also rectify the appearance of, in due time.
But here is our solution for this concrete wall you see there first.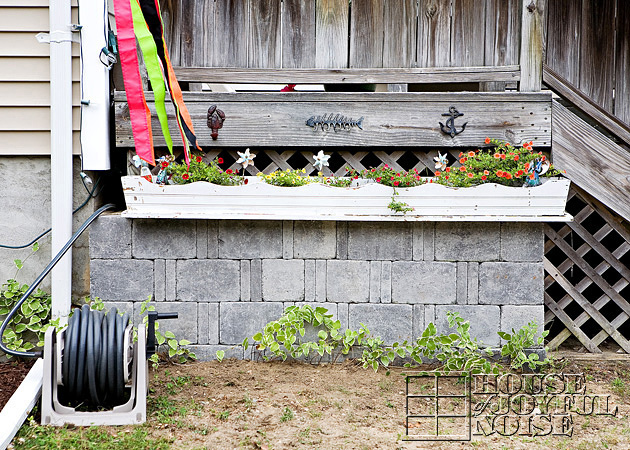 Michael simply refaced it, with these rumble stone pavers, adhering them with construction adhesive. Big improvement if you ask me. Even as conventional of a solution as it is, it is much more pleasing to the eye. Don't you think? I can't even wait to blanket the ugly stuff everywhere else, one way or another. (Who knows what we'll come up with!)
But let's get to the main project of this post; the unique house numbering. Thanks for you patience.
First, you really should know though, about the sketchy comings and goings at our house . . . .

. . . . that, many people a day, who have nevah-evah been to our home, need to find our house. We're talking an unusual amount of people. One might suspect illegal activity, if they didn't know the facts. Or know us. The reason we have such high people-traffic though, is because Michael refurbishes green license plates, and many of those customers, acquired through this blog and from car-lover-forums out there on the internet, prefer to drop them off and pick them up, themselves. (Many others mail it first class, with a return envelope.)
So we have a drop-off/pick-up box on our front porch, as to not having strangers knocking on our door 24/7. Michael is at work, the kids and I are often schooling, or otherwise busy, and frankly, I'm not that sociable, to be standing at the door talking to people all day, every day. (I mean, sometimes I do, and I have met some really sweet, story-telling kind of people, doing so. But standing at our front door chatting the day away with strangers is less than productive, and I'm all about being productive! It's a thing about me.) Anyway, the drop-off-pick-up box is a system that works for us, and customers are instructed to use it, via email correspondence and arrangements, to get their license plates refurbished.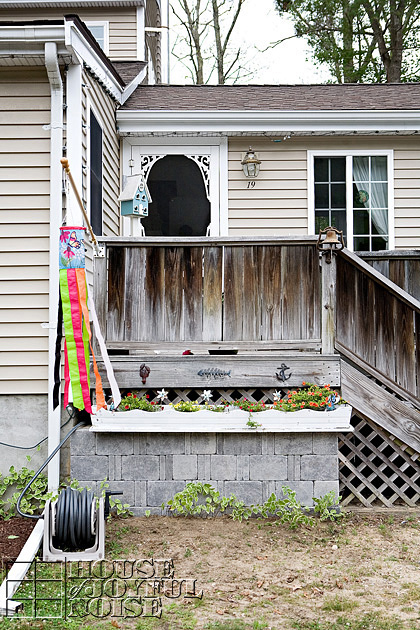 Anyway, all too often, despite the fact that there is a 19 right there under our front porch light, on the house where it is expected, 😉 , and on our mailbox out front, where it is also expected, we often notice cars slowly driving up and down our dead end road, trying to figure out which house they are supposed to drop their plate off at. (Picker-uppers have usually been here once before, dropping off, of course.)
So, clearly, the two 19's we had here and there, weren't doing their job well enough. It was that realization that prompted me to start brainstorming ideas in which we could uniquely display our house number in a way that you just could not miss it.
And, I think maybe, I figured something out . . . .
.
.
.
.
.
.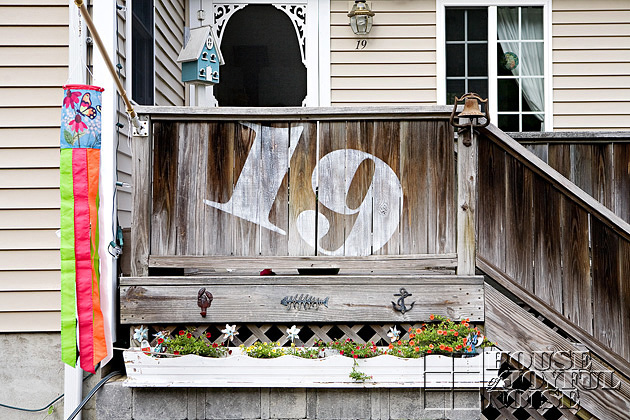 HELLO!! If we don't look like house #19 now, well, we probably can't help you!
Once I had this vision-idea in my head, I was personally in love. As sign-makers, we've got a thing with letters and numbers, anyway. So maybe that's why I was all over my idea. Still, Michael was just a bit hesitant. He was worried about painting on the perfectly weathered wood, and not liking how it came out. I was stuffing that fear down a bit, myself. But in the end, I still wanted to do it, and he rolled with it, because he knew, if nothing else, he'd get over it. He knows he usually ends up loving all of our crazy ideas.
(He's kind of a Recovering-Conventional, People. So it takes him just a little longer to come around to some ideas, than it does me. But he's brave, and he loves me, and loves to make me happy. 😉 ) He decided he liked it.
So Here's How I Did It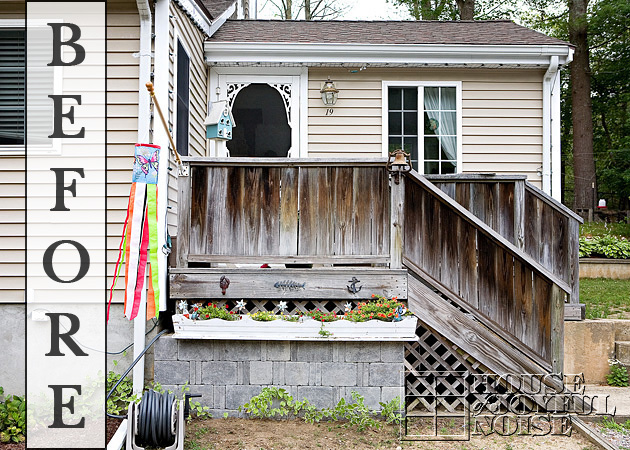 The BEFORE . . . . as bare, perfect weathered wood.
But here goes nothin', as they say.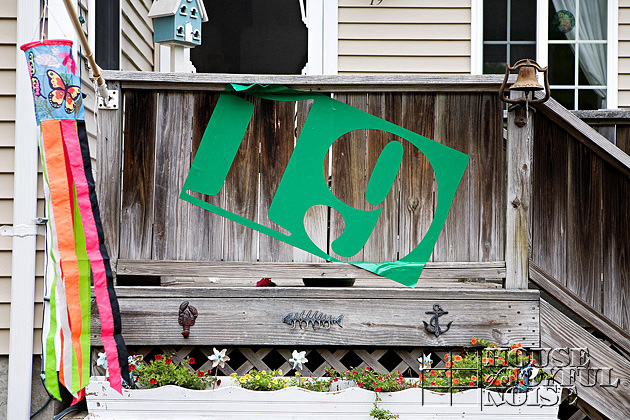 Michael and I measured the area, and Michael cut a stencil out of some vinyl he didn't need. Then we weeded it, and applied it the way we wanted it. I actually wanted the house number to be a bit oversized, so that the numbers went off the edge a bit. Literally, outside of the box. But Michael cut it a somewhat smaller than I hoped. Oh well – close enough.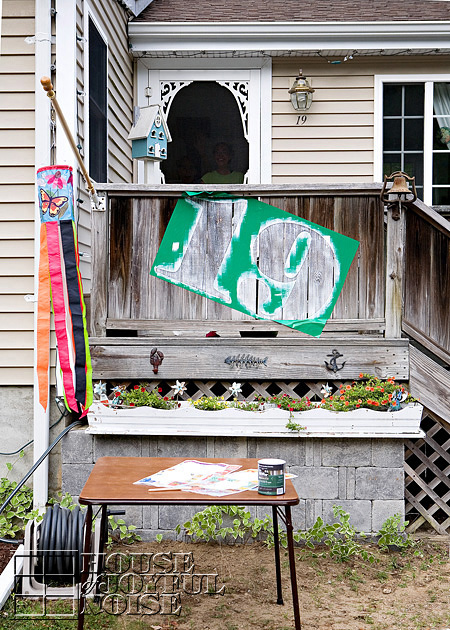 And then I painted it in, using a very dry-brush technique. I did not want it painted in solid. The effect I was going for, was to make it appear like it was painted on there years ago, and wore off with time. Because we all know, I don't like many things new! Solid fresh paint, on this old wood, would just like strange. I'll tell you what though, it's not easy not painting much on! It takes more patience and restraint. (Both of which I tend to run low on.) But I did my best.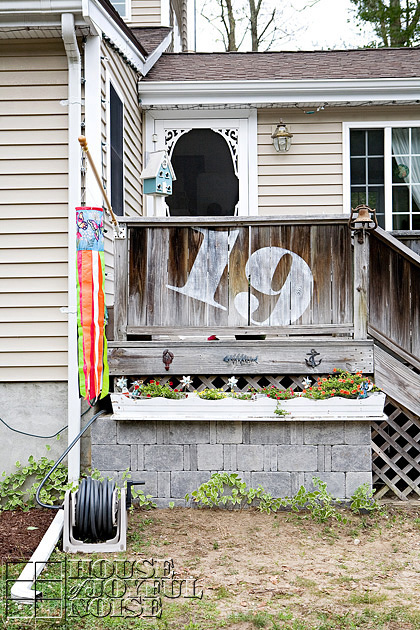 We removed the stencil, and actually sanded just a bit, to increase the worn look a little more. It was still more prominent than I wanted but, I knew the sun, and the gift of time, would fine-tune it. It's looking more worn than this already, a year later.
The Good News Is . . . .
Nobody drives by our house anymore, because they missed the house number! They see that 19 now!
We're going to give you a glimpse of how it looks from the street, but first, we want to say . . . .
NO JUDGING OUR (former) DREARY FRONT YARD!
As we said, this house number project was done last spring. A YEAR AGO. Last year was the year we took completely off from gardening (what a sad year – I missed gardening so much), and actually dismantled garden beds (only started below), to start all-new with our dream gardening space!
Well, with the space we have to work with, in the front yard by the street here.
So, anyway, please overlook the horrendous front yard being stripped in this photo, and just take a look at how effective our new house number is, if you too, were driving down the street, looking for #19 . . . .
Now tell us, is there any way you'd miss that?
We're confident enough that we went ahead and took the little metal numbers off the house by the door.
If you like the idea of making your house number more relevant . . . .
. . . . brainstorm what unique idea you could make work, with your unique property!
What is visible from the street?
Does it need to be seen from both directions?
Could the number be put on a fence, or painted on a big rock?
Can you use unexpected materials?
Light it up?
Fly it on a flag?
The possibilities are endless, and yours to dream up.
Back to the state of our front yard, in the photo above. That is so yesterday.
Take in that awful BEFORE view, because the AFTER is a whole new concept!
It is truly in a state of transformation, and beautification, now!You will see, soon!

We've been working hard on it last year, and this spring. Even people who have been to our house many times before, almost drive by, simply because the front yard looks SO DIFFERENT than that now. BUT . . . . the 19, shouts out to them, that they know they are indeed at the right place. Still, they are WOWED at all we have done. While other years we have had beautiful garden beds, at least, the rest has always been kind of UGH.
So, we can't even wait to show you our progress, of what we have been turning this front space into!
It's private, and pretty, and unique . . . . of, course. And that 19 fits in with all of the new changes that have come to be, since.
We've got the transformations, maybe some artwork, and more, coming up soon.
Stay with us, Friends!
And feel free to let us know in the comments what you think about our 19! (You can be truthful.)

Save
Save
Save
Save
Save
Save
Save
Save
Save
Save
Save
Save
Save
Save
Save