Basic Home-Style Bread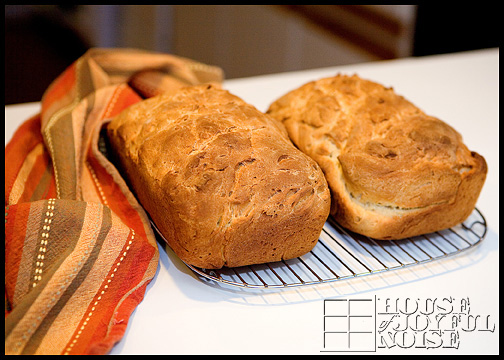 :
House of Joyful Noise (.com) blog / Based on James Beard Recipe
1 package of active dry yeast
2 cups of warm milk (100 to 115 degrees, approximately)
2 tablespoons granulated sugar
¼ cup melted butter
1 tablespoon salt
1 cup whole wheat flour
~ 4 cups all-purpose flour
*additional flour as needed when kneading
*NOTE: The directions below are all done by hand. However, if you have a Kitchen Aid or other large mixer, as we do now, it is much faster to make this dough!
Warm 2 cups of milk.
Add the yeast to ½ cup of warm milk, along with 2 tablespoons of sugar, and stir well until the yeast is completely dissolved. Allow yeast to proof.
Place the remaining milk, the melted butter, and the salt in a large bowl.
Stir in the flour, *1 cup at a time, with a wooden spoon.
*Start with first cup of whole wheat flour, and then for rest of recipe use all-purpose.
After the third cup of flour, add the yeast mixture.
Continue stirring in flour until the mixture is rather firm, which should take ~ 4 cups.
Remove the dough to a floured board or smooth surface, and knead, adding more flour as necessary if it gets sticky, until it is satiny and no longer sticky.
Butter a bowl and place the dough in it, turning and using your hands to coat all sides with the butter. Cover with a with a kitchen towel or other suitable covering.
Options for Rising:
Place covered dough bowl in a warm, draft-free spot until doubled in size (approx. 1.5 - hours)
-OR-
Heat oven to 170 degrees, and when it reaches temperature, turn the oven OFF, and place the covered dough bowl in the oven. ( ~ 1 hour)
Once dough is doubled in size, punch it down firmly 2 or 3 times, and return to floured surface.
Knead 4 or 5 minutes more.
Divide dough into 2 equal parts, and shape into loaves.
Place each in well-buttered 9 x 5 x 3-inch loaf pans.
Cover and allow to rise again, in a warm, draft-free spot (or warmed/off oven again) until doubled in size.
When loaves are risen, preheat oven to 400 degrees.
Slash the loaves with a sharp knife.
Bake in 400 degree oven for 40 - 45 minutes, or until bread sounds hollow when taped on with knuckles on the bottom.
Optional: Remove from pans and put them in oven a few more minutes longer to become crisped.
ENJOY!
Recipe by at https://houseofjoyfulnoise.com/one-fine-bread-maker/